Duwili Ella is one of the best and biggest dream hikes in Sri Lanka and is at the top of the Knuckles mountain hiking list. All types of travel lovers are waiting and hoping to achieve this experience to add to their travel bucket list. I am sure You will add this hike to the top of your Sri Lankan hiking list. Unforgettable memories will have always given Duwili Ella's walks to you. This is the best way to touch and feel Knuckles mountain range. 
This is a really challenging and nature-friendly hike with 16 Km. Before and during this hike, you should be prepared well to increase your safety and comfort. If you are unfamiliar with these correct hiking routes, we suggest getting guidance from Knuckles Adventure.
You can find a few routes to arrive at Duwili Ella. Those are Atanwala road, Rabukoluwa, Ranamure road, Meemure RKP, and KMP wadiya through Lebanon Estate. According to our experience, we suggest the best route to Duwili Ella for your comfortable journey. We also present the correct route map, top completed guidance to Duwili Ella, and the best things to do in Duwili Ella and this journey.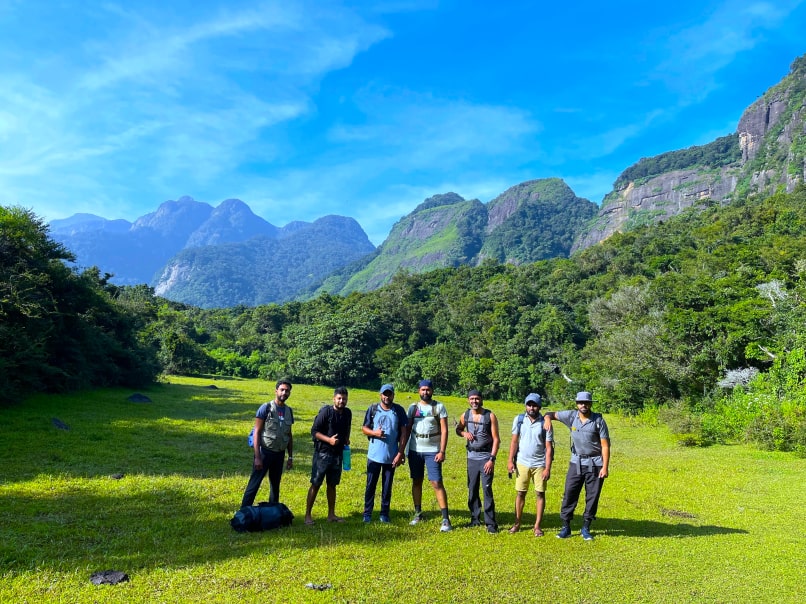 Best time to visit Duwili Ella & Knuckles Mountain Range
Knuckles' hiking season runs from February to October. November to January is a moderate chance of rain. March to July is also an excellent time to hike in the Knuckles because the risk of rain is low, and most waterfalls are activating and beautiful at this time of the year. August through October make the dry and strong winds, and this is the ideal time to visit Knuckles if someone is scared to leechers.
February to July – The best time to visit Riverston
August to October – Dry and with strong winds
November to January – Generally the wet season
How to start Duwili Ella hike
We planned to hike Duwili Ella from Atanwala. This is the best route to visit many spots and plan your hike easily with suitable stays and correct guidance. If you can plan 3 days journey, that is the best period to hike freely.
As well as, this trip will be significant with our travel guide. On this journey's first day, you can visit Riverston and find things to do in Riverston.
According to our experience, you have 2 types of optional plans with 3 days to Duwilli Ella.
Plan A
1 Day night – Choose place to Stay from Atanwala hotels
2 Day – Start Duwili Ella hike from Atanwala
2 Day night – Camp in Duwili Ella cave
3 Day – Return to Atanwala
Plan B
1 Day- Start Duwili Ella hike from Atanwala
1 Day night – Camp in Knuckles (Dumbara Ella, Kaludiya Pokuna or in the forest)
2 Day night – Camp in Duwili Ella cave
3 Day – Return to Atanwala
Note:The Mostly international travelers planning their journey in Sri Lanka traveling Colombo, Anuradhapura, Polonnaruwa, Trincomalee, Sigiriya, Pidurangala, Dambulla, Kandy, Nuwara Eliya, Ella, and Down south (Galle, Unawatuna, Hikkaduwa, Matara).
I suggest if you are a foreigner, plan this Knuckles trip after your Dambulla tour, and then after finishing this hike, you can travel to Kandy. This is the perfect route to saving your time and managing all things to do in Sri Lanka.
This is the biggest hike in Sri Lanka, so if you are unfamiliar with Knuckles forest and routes, do not forget to book your Duwilli Ella hike guide for your safe journey. As well as try to start the hike in the early morning. That will give you and your friends more advantages to managing hiking time.
Duwili Ella hike starts from Atanwala. After a short drive, you will come across a three-way junction (Atanwala road, Manigala road, and Duwilli Ella road). So do not turn to the left and go ahead to Duwili Ella.
This hike also should pay attention to Leech like another Knuckles forest hike. Leech accidents can last for several days in your legs. So that you should be ready for Leech and Insect pests before you hike. You can use anti-leech socks, Dettol spray, Citronella spray(Pagiri), and Salt liquid as protection. Don't forget to add these items to your Duwili Ella hiking checklist.
When this hike, you will meet gorgeous waterfalls, the coolest water stream, beautiful landscapes, incredible photography locations, the safest bathing spots, ideal camping sites, and native animals. As a human being, you must remember to protect these valuable places and keep in your mind to "Take only memories, leave only footprints."
During this journey firstly you can see Walpolamulla (The smallest village in Sri Lanka).
After you pass the Walpolamulla village, then you will see natural spots like Nugathalawa Oya, Weddha Hena Oya (Paadaru Oya), Polwatte Ella, Dumbara Ella, Kaludiya Pokuna, Naran Aththa Oya, Infinity Pool, Sansun Ella, and Duwili Ella. Below we present unforgettable hikes and the best places to visit during Duwili Ella's journey. This will be more supportive of managing your time and planning your events during the hike.
The Hidden Waterfalls into the Duwili Ella and Knuckles Mountain Range, Sri Lanka
01 Dumbara Ella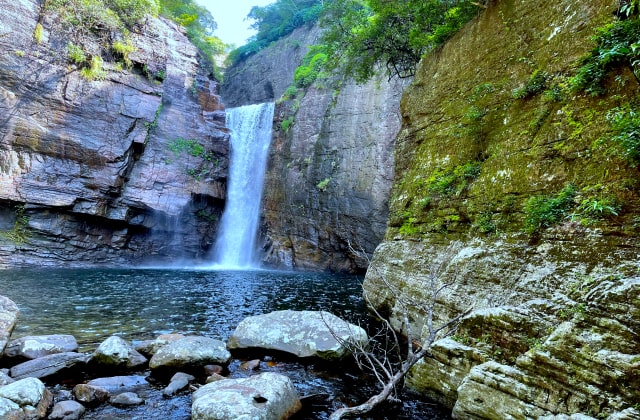 After passing Walpolamulla and a few water streams, you will see the gorgeous waterfall is Dumbara Ella. This is located 12 Km from the Atanwala, and If you found Dumbara Ella, that means now you have completed 12 Km from 16Km hike.
I can tell confidently that your hiking travel fatigue will disappear after seeing this waterfall. This is the ideal place for getting your lunch after a bit of wash as well as you can select this location for the first night of two-night camping. Tenting is permitted in a few spots near the waterfall. The perfect place is atop a flat granite outcropping about 50 meters away from the waterfall. In addition to being secure, it affords the best possible view of the waterfall from the tent itself.
You can gather wood for a campfire near the area and prepare food for it. There's no need to worry about getting sick from drinking the fall's water because This water is pure. After a short break, you can walk to the next spots. The next 4 km is more challenging than before you passed because this route faces a steep hillside. So don't retreat and Walk boldly. After finding Infinity Pool and Duwili Ella, I assure you that all your stress will release.
Note: When you plan to camp in this place, please pay attention to the rain and water level of the river and waterfall.
02 Kaludiya Pokuna
Kaludiya Pokuna is the next attraction place during the Duwili Ella hike. This is not a famous place among the people, but this is a real nice place to visit. If you skip the first-night camping in Dumbara Ella, this is the place for it. After relaxing, you can find Infinity Pool as your next must-see place in the Duwili Ella hike.
Suggested Trailoka: 12 Best visiting & Relaxing places in Sri Lanka
03 Infinity Pool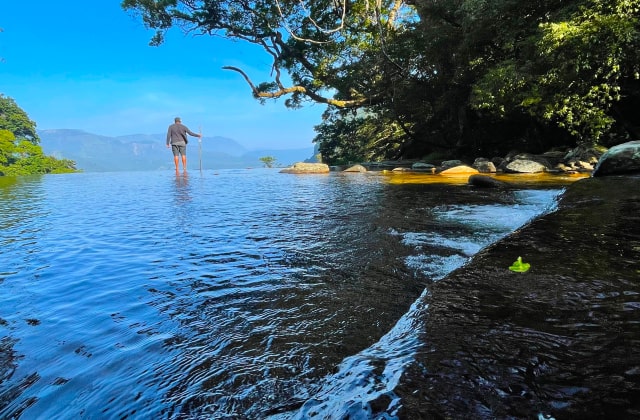 The Knuckles Mountain Range's Infinity Pool is one of the most beautiful and cleanest natural swimming pools in the area. It's also the most popular destination for travelers in Sri Lanka. This is a magnificent location for nature lovers and photographers.
Infinity Pool is located 3 Km away from Dumbara Ella. This is ideal for a short bath to relax your mind and body. Do not forget to take a photograph in this place. If you can't get a photo, don't worry about that. You can get a fresh picture when your hike returns the next day.
04 Sansun Ella
Another waterfall in the Knuckles Mountain Range is Sansun Ella. You can find these Calm waterfalls just a short distance from the Infinity Pool. In the Sinhala language, "Sansun" means "calm." Looking this fall is a great way to relax your mind.
05 Duwili Ella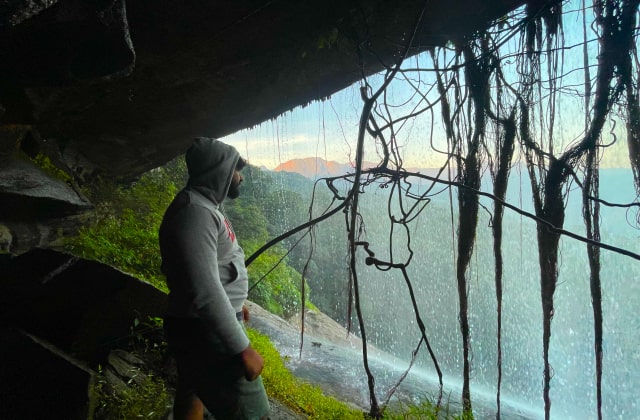 Finally, you found your dream destination with successful hiking. Duwili Ella has located about 1 Km from Infinity Pool. This is the cave waterfall and rare location in Sri Lanka. This waterfall is unique in that it has a tunnel built into the base of the fall that allows hikers to pass behind the waterfall.
Duwili Ella flows with a hidden forest waterfall with a drop of 40 meters. Drinking water is not a concern in this location. You can find water for bathing, cooking, and drinking with these falls. But remember about safety when you are bathing in this place.
You can set the tent inside the cave. This is the safest method of camping in Duwili Ella. In the morning you can see picturesque sights with the sun rising. This is one of the coolest spots, so don't forget to add a blanket or jacket to your Duwili Ella hiking checklist.
The next morning, you can plan to pack your backpack and return home. After breakfast, start your journey without too much delay to Atanwala. That will be more supportive to you walk freely with time managing. This is the end of Duwili Ella's hike story, and We think this will be more supportive to you and your friends. So don't forget to share with them and find below tips and details for your comfortable and safe journey. We wish you happy hiking to Duwili Ella.
Duwili Ella Hike Route Map
Tips for Happy Hiking
Remember to get ready your backpack only with the most wanted clothes and other accessories(To reduce backpack weight).
If you can increase your fitness before the hike, that will benefit you.
Book early your guide and accommodation (Camp or Hotel).
You will need to prepare for the leeches. Put on leech shocks or at least two pairs of thick socks, and tuck your jeans into them. Prepare Anti-leech socks, Dettol spray, Citronella spray(Pagiri), or Salt liquid for leech.
Drinking water is plentiful, which means you can save space on your back by not bringing as much water. Maintain proper care for it.
Take cash. The town lacks anything resembling an ATM. Accommodations before and after the hike, as well as the final payment to your guide, are also your responsibility to fund.
Bring everything you will need for the hike with you from Kandy, Matale, or Rattota(The last main town) town including your food. Pitawala is home to a tiny convenience store where you can pick up some soda and biscuits. It's appreciated if you make a purchase to help keep the store open but don't plan on buying all your trail snacks there. Keep everything as clean as possible.
Duwili Ella Hike Checklist (What to pack for Duwili Ella hike)
Paper map, GPS tool, or downloaded offline map
Backpack
Rain jacket
First aid kit
Lamp, Head lamp, Candle and Torch
Sleeping bag or blankets
Fire matchbox or lighter (For cooking or bonfire)
Good condition shoes
Foods and Cooking equipment
Mini Gas cooker and Gas can
Brush & Toothpaste
Power Bank & Camera
Compass
Cloths for planning days
Hat or cap
Knife or multi tools
Camping tent with accessories
Fire starter
Water Bottle
Walking Stick
Dettol spray, Citronella spray(Pagiri), and Salt
Aluminium pot or cup(For heat water and food make)
Glucose and energy drinks
Rope / Para Cord
Drone
Contact your Duwili Ella Guide
Duwili Ella Hike Picture Gallery
Useful Links:
Best things to do in Riverston & Knuckles mountain range
Best Hotels in Riverston & knuckles Mountain Range
Take only memories, leave only footprints