If you are a real scuba diver or snorkeler, you shouldn't miss Scuba diving & Snorkeling on Pigeon Island. Trincomalee is one of the world's most beautiful natural deepwater harbors. It is located on Sri Lanka's eastern shore, about 245 kilometers from the capital, Colombo, as well as Trincomalee, is one of the leading diving and snorkeling spots in the world.
Sun rising, Scuba diving, and snorkeling are the most enchanting activities you can enjoy at this location. Crystal Clear water beaches in Trincomalee offer visitors to observe coral reefs and colorful reef fish in shallow waters.
The best time travel to Trincomalee is from March to November. We provide the best time to visit Pigeon Island, Top stays in Nilaveli, the Best diving sites in Trincomalee, the Best diving center, the best route to Pigeon Island, and the best things to do in Trincomalee to make your perfect journey.
Why is Trincomalee best for diving?
Trincomalee is located on Sri Lanka's East Coast and has the country's largest natural harbor. As the second-largest natural harbor in the world, it's also a significant tourist attraction. You can find several scuba diving sites in Trincomalee; from them, Pigeon Island is the best and most popular scuba diving and snorkeling spot. In addition, You'll have a lot of things to do and see while on this trip to Trincomalee.
Pigeon Island
What is special Pigeon Island, Nilaveli?
Pigeon Island was designated as a Marine Sanctuary in 1963, and it was named a National park in 2003. The Pigeon Island Marine Sanctuary covers 470 hectares, with just 9 hectares. This is the only national park home to a population of gorgeous blue rock pigeons and features some of the best-preserved coral reefs. The park consists of two islands, Coral reefs with over 300 varieties of tropical reef fish, and over 150 amazing & colorful coral species can be found on this island. It's the perfect place to do surfing, boating, snorkeling, scuba diving, or just taking in the scenery.
Coral reef & Marine Wildlife in Pigeon Island
Coral reefs, colorful reef fishes, olive ridley, Blacktip Reef Shark, and turtles such as the Green Turtle, Leatherbacks, Leatherbacks, and Hawksbill Turtles are regular visitors to the island's beaches.
The Faviddae, Acropora Spp, Montipora spp, Poritidae, and Mussidae coral species are the most common breeds of marine plankton life found in the ocean. In addition to extremely soft corals, Sarcophyton, Lobophyton, and Sinularia, there are a variety of hard corals.
Tropical fishes that can be seen include Black Wedged Butterfly fish, Raggedfin Parrot fish, Emperor Angel fishes, Mellon Butterflyfish and Angel Fish.
Snorkelers can see black tip reef sharks, both juveniles and adults, in the shallow coral regions. They are apparent but don't worry, and they are usually not harmful to people. Anyway, Stay a safe distance and study even the newborn sharks. You could receive a small bite if you move your feet too close to them.
The best route to Pigeon Island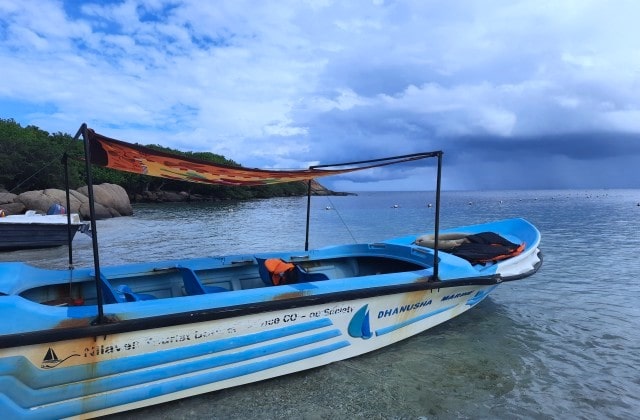 Pigeon Island, is located 2 kilometers off the shore of the world-renowned Nilaveli beach in Trincomalee. Firstly your arrival at Nilaveli beach, you should get a ticket from Pigeon Island national park ticket counter; then, after you can go to Pigeon Island for your Snorkeling and diving trip. You will ferry to the island through a 15-minute boat trip. During this journey, do not forget to follow our instructions for your protection.
Pigeon Island route map
How to Snorkeling & Diving on Pigeon Island?
I recommend renting a boat and suitable snorkeling equipment to have a truly amazing experience. I also suggest hiring a guide to join you on your boat journey, as their extensive local expertise will disclose the ideal spots to observe what creatures exist and assist you in avoiding prohibited regions. If you are a diving beginner you can get training with Divin Guru.
If you are planning to Dive deep-sea, I suggest you book your certified diving constructor before your arrival because they will have a lot of bookings during the season. According to our experience, I recommend Pigeon Island Diving Centre for your comfortable diving experience and they will be pickup you from Nilaveli.
I suggest you refer to our Scuba diving essential guidance before your dive tour to make you more comfortable and pre-ready for a confident deep sea journey. You may even take a sea bath if you want to chill.
Best time to visit Pigeon Island
To maximize visibility and your snorkeling experience, you should go between 8 am and 2 pm when the sun is directly overhead, and visibility has peaked. The best months to visit Pigeon Island is April to September when the weather is dry and warm.
Your diving journey will be more exciting according to the selected time, so I suggest booking your dive early morning, considering this matter most important to choose your best stays near Nilaveli beach. We recommend you Pigeon Island Beach Resort as the best hotel near Nilaveli beach. This is not the best luxury, but this is a clean, friendly welcome and middle budget hotel in Nilaveli, Trincomalee.
Instruction for Pigeon Island Diving and snorkeling
These activities are not safe for children under the age of six.
Wear a life jacket even on your boat trip.
Wearing silk clothes is better.
Before wearing, check the Scuba mask and Snorkel if have any damage.
Do not forget to wear shoes or slippers since the dead corals have sharp edges that might injure your feet.
Pigeon Island is no longer as secretive as it once was; thus, the beaches on the coast sometimes grow busy. Because of that, you do not scared about the first snorkeling or diving experience.
Always follow your guide instructions.
Refer to our Scuba diving essential guidance before your dive tour.
Best 24 Scuba Diving sites in Trincomalee
This is a British aircraft carrier wreck that was sunk off on 9 th of April 1942 by the Japanese Air force during World War II. HMS Hermes recommended for 50 meters technical training divers.
08 Kotuwey Gala (30 m)
This is located nearby about 1 km east of Swami Rock. Ideal for Mantis Shrimp, Schools of Snappers, Lionfish, Lobster, Moray Eel, Anemonefish, Pufferfish, and soft coral.
This is ideal for seeing many stingrays, Eels, and reef fishes.
11 Eel Rock (18 m)
This is Ideal for seeing various types of Moray eels and giant Moray Eels.
12 Small Grouper Rock (15 m)
This is fully covered by colorful hard and soft coral. This consists of large square slabs that look like a man's work than a work of nature.
This has anemones, groupers, clownfishes, and a Blue-spotted stingray.
This is ideal for seeing torpedo rays and reef fishes.
This is ideal for seeing different types of stingrays.
This has knife-shaped rock and can see reef fishes.
This is a wreck 18th-century steamer. Ideal for seeing corals reef, mollusks, anemones, and nudibranchs.
This ideal for seeing reef fishes, hard and soft corals, eels and rays, Christmas tree tube worms, and bubble mushroom and cup corals.
19 Coral Island North Reef and South Reef (5 – 12 m)
This ideal for seeing all types of anemones, clown fishes, leather and sponge corals, and hard and soft corals.
20 Red Rock (6 – 12 m)
This is Ideal for reef fishes and hard corals.
21 Ghost Rock (15 – 22 m)
This has different types of reef fishes.
22 Anemone bed (20 – 23 m)
This has different types of Anemone.
23 Sand Hole (25 – 35 m)
This is the best site for advanced divers.
24 High patch (20 – 25 m)
This is ideal for seeing big fish.
Best things to do near Trincomalee
Nilaveli beach
Koneswaram temple
Scuba Diving and Snorkelling on Pigeon Island
Seruwawila Rajamaha Viharaya
Velgam Vehera
Pathirakali Amman Temple
Surfing & Boating
Uppuveli beach
Trincomalee harbor
Kinniya bridge (Sri Lankan longest bridge)
Maritime and Naval History Museum
Whale & Dolphin Watching
Lanka Pattuna
Viewing Sunrise
Marble beach
Fort Frederick
Pigeon Island National Park
Trincomalee War Cemetery
Arisimale Beach
Orr's Hill Army Museum
Take only memories, leave only footprints