Grenada(The Spice Island) is positioned in the most beautiful southern Caribbean, and that has an unforgettable spicy taste and is known as "the Spice Island" in the Caribbean. Because of its abundance of fragrant spices like cocoa, nutmeg, cloves, cinnamon, and vanilla. Grenada is a popular spot for tourists to taste the real Caribbean experience.
Grenada is surrounded by Other tiny islands. Many spice farms may be found on the island's hilly central portion, dubbed the "Spice Isle." St. George's is also located here, with colorful residences, Georgian architecture, and Fort George overlooking Carenage Harbour. You can find resorts and bars on Grand Anse Beach, to the south.
Also, Grenada is a gorgeous Caribbean island. Lovely landscapes include lush mountains and rainforests surrounded by plantations and colorful seaside settlements. You can find top beach activities like scuba diving, snorkeling, and surfing in Grenada. You may relax on a magnificent beach flanked by flamboyant trees adorned with Frangipanis.
Another best thing in Grenada is country control without military or army force. This is one of the best countries for governance without armed forces in the world. a
Where Is Grenada Located?
Best time to visit Grenada
Grenada's climate is generally humid or tropical, with a dry season running between January and May as well as a rainy season running between June and December.
December is the ideal time to visit Grenada. During this month, the rainy season comes close, and the holiday crowds arrive, making it the most delicate time of year and getting both sunlight and deals.
Yearly weather of Grenada
Best visit places & things to do in Grenada
01 Grand Anse Beach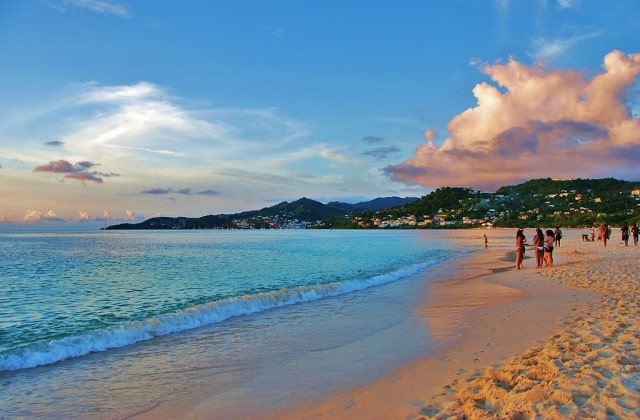 Grenadine's most famous beach is Grand Anse which lies on the island's north coast. This popular destination is a 3 Km stretch of moderate waves and golden sand. Swimmers will enjoy a variety of colors and shades of blue, which range from crystal-clear water to deep cobalt. 
Another popular destination is the Grande Anse Craft and Spice Market, It is located midway along the beach. You can find the best and fresh collection of spicy from this market. 
Grand Anse's coastline is home to Grenada's most famous lodges. Spice Island Beach Resort is among the island's most famous luxury resorts and one of the top luxury all-inclusive hotels in the Caribbean.
02 Underwater Sculpture Park
The Grenada Underwater Sculpture Park is located on the west coast of Grenada, just a short drive north in Saint George's, in Moliniere Bay. It is a one-of-a-kind underwater gallery that acts as an artificial reef inside a marine protected area and is open to the public.
Scuba divers, snorkelers, and passengers on glass-bottom boats can all enjoy this underwater exhibition, but getting up and personal with the statues below sea level is the most excellent way to truly admire their artistry.
03 Morne Rouge Bay & BBC Beach
Morne Rouge Bay is a popular tourist destination. White sand and shallow waters make this a famous beach, which Quarantine Point protects. This offers visitors a Spectacular beach with beautiful scenery and a bouncy, inflatable playground in the ocean water.
According to certain sources, Morne Rouge Beach is also known as BBC Beach. The beach is known as Morne Rouge, but I'm not going to spread stories and innuendoes because I couldn't locate a reliable source to tell you strictly what BBC stands for. If you question LaPlywood Bar & Restaurant, they might say to you that BBC stands for "Beach Bar Cafe." I'll say that.
Suggested Trailoka: Top 5 Natural Wonders in Venezuela
04 St. George's
St. George is the capital of Grenada. Its horseshoe-shaped harbor and surrounding volcanic hills make St. George's one of the Caribbean's loveliest port cities.
St. George's, is a favorite destination for boaters, who may dock at the busy Carenage harbor. Residents sell crafts and spices on the sidewalks in front of their red-tiled, brick-and-and-stone homes.
There are two major historical landmarks. There are Fort George and Fort Frederick. Fort George was built in the 18th century by the French. You can have beautiful views from either location.
St. George's House of Chocolate is another must-see attraction. You can find exhibits on the local cocoa business here and delicious sweets to take home as mementos.
You can fetch a taste of the local culture and stock up on tropical fruits and spices at St. George's Market Square's famed Saturday morning market.
You can find one of the world's Prettiest Campus in Grenada
05 Annandale Falls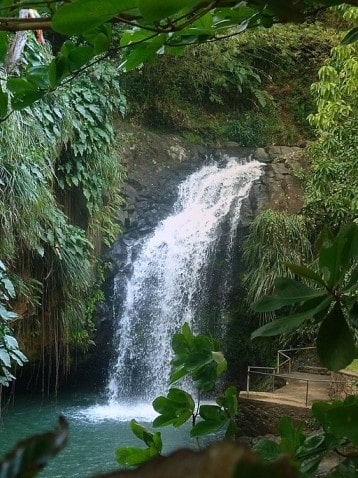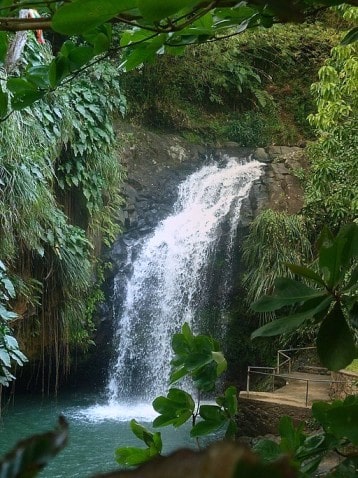 Annandale Falls, located in the hillsides north of St. George's, is a 10-meter waterfall that plunges into a pool surrounded by lush tropical vegetation. Along the short hike, you'll discover a variety of lovely tropical flowers and greenery, including wild ginger and ferns, among other things.
A highlight of each visit is watching daring local divers jump into the sea from above – but be aware that they may ask you for a donation in exchange for your attendance. The cascades are also accessible by swimming, and changing rooms are offered at the bottom of the falls.
06 Welcome Stone
The Welcome Stone journey begins at lovely Bathway Beach. It takes you via rustic and original Grenadian villages and farmland before arriving just at Welcome Stone, where spectacular vistas of Grenada's North East coast will take your breath away.
On Grenada's North East coast, this magnificent viewpoint, top Levera Hill (Piton), is known by two names: Welcome Rock and Welcome Stone. You can see the attractive views of Sugar Loaf Island, Green Island, Sandy Island, and Levera pond in this stone.
07 Seven Sisters Waterfalls
Seven Sisters Waterfall is located at Grenada's Saint Andrew. The trek is a 2.1-kilometer moderately traveled out and back trail that includes a waterfall classified as moderate. The trail is available year-round for hiking, nature walks, and birdwatching.
People who wish to learn about nature without putting in a lot of physical effort will like this short trip very much. You can walk to the Waterfall in less than three hours, including the time it takes to return. Found the fed by gushing waterfalls and Swimming in natural springs highlights this guide.
08 Paradise Beach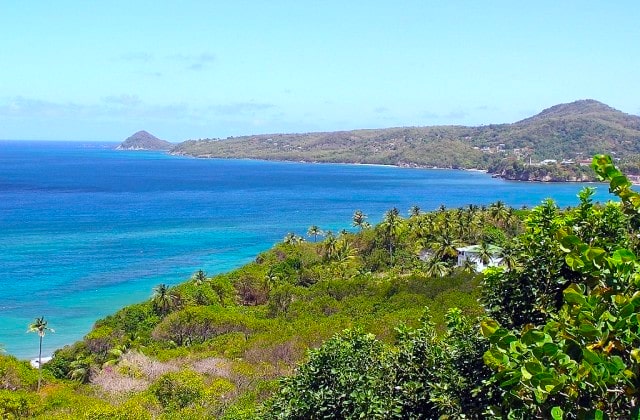 Paradise beach, located in the town of L'Esterre, sits Gorgeous. Guests can enjoy a shallow shoreline with transparent blue waters from its short, narrow strip of soft white sand. Further up the shore, at a bar and restaurant shaded by large coconut and almond trees, you can bring your fill of fresh seafood, light snacks, and drinks. Changing rooms and a souvenir shop, which sells handmade crafts and souvenirs, are provided on the premises.
09 Mt Carmel Falls
Suppose you're looking for a more relaxing waterfall trip. In that case, Royal Mount Carmel Falls, located on the island's east coast, is well worth a visit. The trek is a short walk, and you will have the opportunity to slide down these rocks and cool down as in crystal-clear pools.
Mt Carmel Falls Located two miles to the south of Grenville, this waterfall, also known as Marquis Falls, is the highest point on the island, containing two falls tumbling 70 feet into pools below. To get there, all it takes is a 30-minute walk through a private estate where some of the region's fruits and spices are cultivated. It's impossible to get lost because the sound of Mt Carmel Falls will guide you there. The property's owners charge an entrance fee, and if you need a guide, they're on hand to help.
10 Chocolate factory & Spice Tours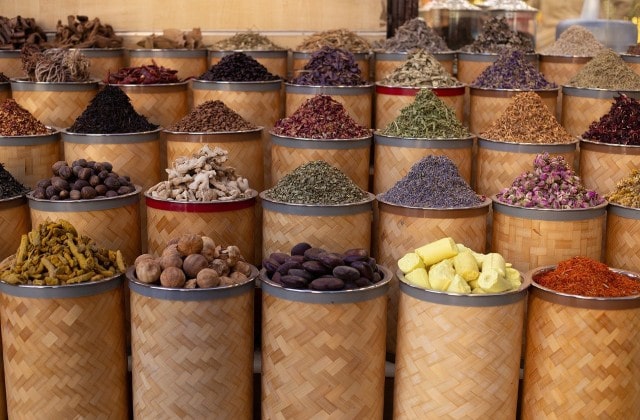 One of the most engaging things to do in Grenada is tasted the aromatic spices cultivated on the island. In addition to learning about the spice trade and seeing how the plant is cultivated, there are a variety of interesting locations to explore in the area.
The Belmont Estate, located about one hour drive from St. George's, offers a range of tours that allow visitors to learn about the organic farm's fruits and spices. Sign up for a journey, including a delicious three-course lunch that features chocolate in every meal for serious chocolate lovers. In addition, you can learn about the planting of cocoa and the process by which the fruit is transformed into chocolate.
Travel to the Dougaldston Spice Estate if you're looking for something a little more rustic. Spices are cultivated and processed on the island in this exhibition area, where you may browse through old wooden buildings and sample the many flavors.
Following these visits, you may fill up on all kinds of spices and other treats at the on-site stores.
11 Carenage
The Carenage, or anchorage and inner harbor, is the heart of St. George's, and it is a lively place. It's a beautiful harbor, and a stroll along the water's edge is a fantastic way to take in the scenery, including the colorful fishing boats and the hustle of supplies getting loaded for delivery to neighboring islands.
You may also walk through the shops or relax at one restaurant, which serves fresh seafood and light dishes. Wharf Road stretches along with the port, providing spectacular views of the surrounding area.
12 Petite Martinique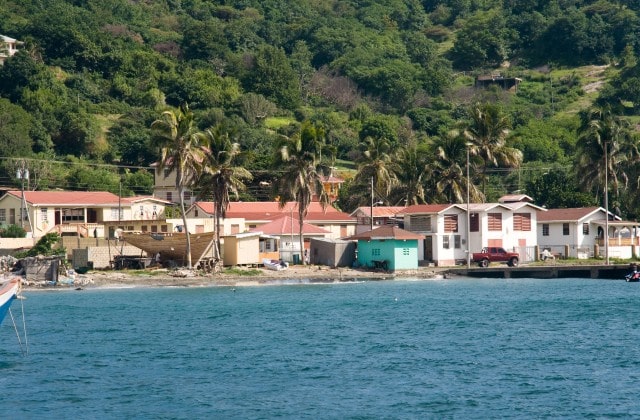 The island is genuinely a get-away destination, with rare tourist facilities (apart from several homestays and family-run eateries). Still, there are plenty of local flavors to be found. The Piton is the island's highest mountain and a popular destination for boaters who want to dine at one of the restaurants or trek up to see the spectacular views.
Fishing is the primary source of income on this small island. You can observe the natives bringing in their catch while walking along the shores and talking with boat builders while they build their boats. You can go to the island by boat or water taxi from Carriacou.
The Country with No Army
Is Grenada worth visiting?
Grenada sparked curiosity because it offers everything the Caribbean has to offer on a single tiny island, including breathtaking natural beauty (ocean, beaches, rainforests, mountains, waterfalls, rivers, and lakes), friendly locals, interesting history, delicious local food culture, and a wide range of accommodations to suit any budget.
Things to know before traveling to Grenada
Grenada is a top tourist attractions place in the Caribbean Sea
Available favorite and best beaches in Grenada
Be aware of the best time for a trip to Grenada
Be aware about the best places to get spices
Background of "Happy Island"
The kind of currency needs to carry to Grenada
Grenada is one of the best countries for governance without armed forces globally
Take only memories, Enjoy your trip, & Leave only footprints

TEL