The Knuckles Mountain Range, also known as the Knuckles Massif or Dumbara Kanduvetiya, is a magnificent natural treasure located in the central highlands of Sri Lanka. This hiker's paradise is renowned for its stunning natural beauty and challenging trails. This rugged mountain range derived its name from its unique shape, resembling a clenched fist or a set of knuckles. The range spans over 155 square kilometers and is one of Sri Lankan natural wonders and designated UNESCO World Heritage site recognized for its exceptional biodiversity and ecological significance.
The Knuckles Mountain Range is characterized by its mist-shrouded peaks, deep valleys, cascading waterfalls, and lush forests. It creates a breathtaking landscape that appeals to nature enthusiasts and adventure seekers alike. The region has abundant flora and fauna, including endemic and rare species. Its diverse ecosystems support a wide variety of plant life, including tropical evergreen forests, cloud forests, and montane grasslands.
The Knuckles Mountain Range offers various exhilarating hikes catering to different skill levels and choices. One of the most popular hikes is the Sri Lankan biggest hike, Duwili Ella and Knuckles Summit Trail, which takes trekkers to the highest point in the range, offering breathtaking panoramic views of the surrounding landscapes. The trail is known for its steep ascents, narrow paths, and rewarding vistas.
It is important to note that hiking in the Knuckles Mountain Range requires proper planning and preparation. It is recommended to hire a local guide like Knuckles Adventures, who is familiar with the area and can provide assistance during the hike. Additionally, it is advisable to carry sufficient water, snacks, and appropriate hiking gear to ensure a safe and enjoyable experience.
The area is also popular for camping, bird watching, and wildlife spotting, with sightings of elusive species such as leopards, sambar deer, and various bird species. In addition to its natural beauty, the Knuckles Mountain Range is culturally significant, as it is inhabited by local communities who have preserved their traditional way of life for generations. The villages scattered throughout the range offer visitors a glimpse into the rural lifestyle and an opportunity to engage with the warm hospitality of the locals.
The Best Time to Visit the Knuckles Mountain Range
The Knuckles weather is always changing, and no one can predict it correctly. But according to Sri Lankan weather conditions, it can identify roughly to find the right time. In my experience, Knuckles are most beautiful in the middle of the wet and dry seasons, which typically run from February to May. But sometimes it won't be easy because of rain and leechers.
The region experiences a tropical climate, with temperatures ranging from 15 to 25 degrees Celsius(59 to 77 degrees Fahrenheit). The best time to visit the Knuckles Mountain Range in Sri Lanka is during the dry season, typically from June to October. This period offers more favorable weather conditions for hiking and exploring the range. As well, because of the dry season, rain is lower, and leechers are unavailable during this period.
During the dry season, rainfall is generally lower, resulting in drier and more stable trails. This makes it easier to navigate through the rugged terrain and enjoy the breathtaking landscapes without the inconvenience of slippery paths. The clear skies and reduced cloud cover also provide better visibility, allowing panoramic views of the surrounding mountains and valleys.
It's important to note that even during the dry season, the weather in the mountains can be unpredictable, and occasional showers can still occur. It is advisable to be prepared for changing weather conditions by carrying appropriate rain gear and wearing suitable hiking attire.
It's worth mentioning that the Knuckles Mountain Range can be visited throughout the year, but the dry season offers the most optimal conditions for hiking and outdoor activities. If you prefer to avoid crowds, it's recommended to plan your visit during weekdays or outside of major holiday periods when the trails are likely to be less crowded.
February to May – The best time to visit
November to January – Generally, the wet season
June to October – Dry and strong winds
Knuckles Mountain Range Hiking List
Duwili Ella​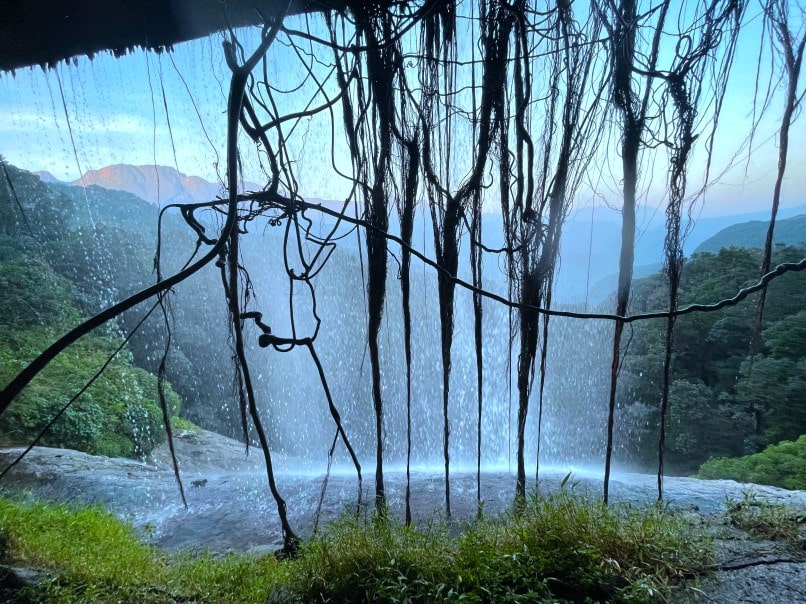 Knuckles Duwili Ella is a beautiful waterfall and the biggest hike in Sri Lanka. The waterfall is enveloped by lush green forests and towering mountains, making it a popular destination for hiking and nature lovers.
The best time to visit Knuckles Duwili Ella is during the dry season, from February to April and July to September. During this time, the waterfall is at its fullest, and the weather is pleasant. The journey to Knuckles Duwili Ella is one of the dream and challenging hikes in Sri Lanka. During this journey, you can explore Walpolamulla village, Dumbara Ella, Kaludiya Pokuna, Infinity Pool, Sansun Ella, Duwili Ella, and Duwili Ella cave.
Once you arrive at Knuckles Duwili Ella, you can camp in the Duwili Ella cave and hike up to the top for stunning views of the surrounding area. You can also explore the surrounding forests and see local wildlife like monkeys, Elk, birds, and leopards.
A journey to Knuckles Duwili Ella is a great way to experience the natural beauty of Sri Lanka. The waterfall is a stunning sight, and the surrounding area offers plenty of opportunities for hiking, camping, swimming, and wildlife watching. The best way to explore Duwili Ella is to find the right travel guide. This journey will be safe with a guide, so we recommend selecting Knuckles Adventures as your guide partner.
Days – 02
Total Distance – 32 Km (20 Miles)
Hike time – 6-8 Hours (Per day)
Difficulty – Challenging
Travel guide – Knuckles Adventures
Read more: Duwili Ella Hike
Dumbara Ella
Nestled within the picturesque Knuckles Mountain Range in Sri Lanka, Dumbara Ella is a hidden gem that showcases the mesmerizing natural beauty of the region. This waterfall you will meet during the Duwili Ella hike. This Dumbara Ella Hike is prepared for people who have difficulty walking to Duwili Ella. You can camp in front of the Dumbara Ella and near places but remember to consider the falls' water level before selecting a camping place.
The journey to Dumbara Ella unveils a stunning landscape characterized by lush greenery, pristine waterways, and a tranquil ambiance. Hikers are treated to panoramic views of cascading waterfalls, glistening streams, and the rugged beauty of the surrounding mountains.
The allure of Dumbara Ella lies in its untouched charm and secluded atmosphere. As hikers make their way through the verdant trails, they are enveloped by the soothing sounds of nature and the refreshing mist created by the waterfall. The sight of Dumbara Ella, with its impressive cascade plunging into a crystal-clear pool, is a sight to behold and offers a serene spot for relaxation and rejuvenation.
The surrounding area of Dumbara Ella is also home to a diverse range of flora and fauna, adding to its natural splendor. The vibrant colors of the wildflowers, the melodious songs of birds, and the occasional sightings of wildlife create a harmonious symphony of nature that captivates the senses.
Days – 02
Total Distance – 24 Km (15 Miles)
Hike time – 6 Hours (Per day)
Difficulty – Challenging
Travel guide – Knuckles Adventures
Manigala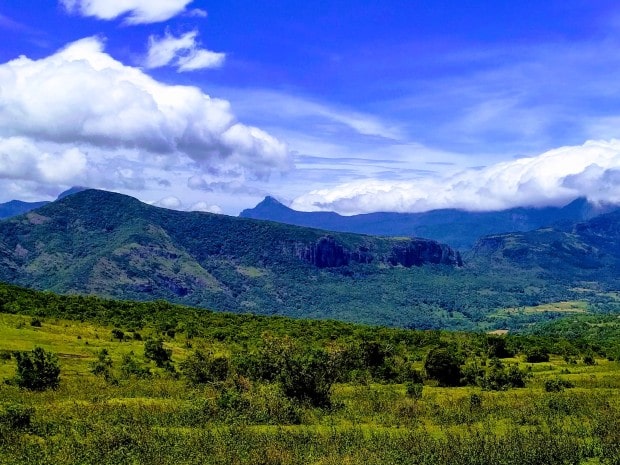 Manigala, nestled in the enchanting Knuckles Mountain Range of Sri Lanka, is a haven of natural beauty that captivates the senses. This breathtaking peak offers a mesmerizing experience for hikers and nature enthusiasts seeking to immerse themselves in the rugged charm of the region. As adventurers ascend Manigala, they are greeted with awe-inspiring vistas of lush green valleys, mist-covered mountains, and panoramic views that stretch as far as the eye can see.
The natural beauty of Manigala is accentuated by its diverse flora and fauna. The trail leading to the peak is adorned with vibrant wildflowers, adding splashes of color to the landscape. It is not uncommon to spot endemic bird species and other wildlife along the way, further enhancing the allure of this pristine mountainous terrain.
Reaching the summit of Manigala is a rewarding experience that offers a sense of tranquility and a feeling of being on top of the world. As hikers stand atop the peak, they are treated to breathtaking views of the surrounding mountains, valleys, and winding rivers, creating a picturesque setting that leaves a lasting impression.
Manigala beckons adventurers to explore its natural beauty, breathe in the crisp mountain air, and witness the raw majesty of the Knuckles Mountain Range. With its captivating landscapes, diverse flora and fauna, and panoramic vistas, Manigala is a testament to the awe-inspiring wonders of nature in Sri Lanka.
Days – 01
Total Distance – 6 Km (3.7 Miles)
Hike time – 3 Hours
Difficulty – Moderate to Moderate High
Travel guide – Knuckles Adventures
Mini World's End Trail (Pitawala Pathana)
The southernmost point of the Knuckles range is where the mini-world ends. The area gets its name because of its similarity to World's End in Horton Plains, from which the cliff drops by 1,192 meters, providing panoramic vistas for miles in every direction. The track begins at the Knuckles Conservation Center and is around 1.5 kilometers long, taking just over an hour to hike. Tiny towns in the valleys below were visible on a clear day.
You'll begin your hike by heading towards the little 'Deanston' lake located behind the conservation center. After crossing a bridge, you'll continue along the lake's shore until you reach a woodland and eventually a pine tree grove. You have come to a fork in the route that loops around Mini World's End and back. The Mini World's End Observation Deck can be reached by turning left and walking through a flat region before entering pine forests once more and then climbing the cliff's steps slowly.
Days – 01
Total Distance – 1.5 Km (1 Miles)
Hike time – 1 Hours
Difficulty – Moderate to Moderate high
Travel guide – Knuckles Adventures
Lakegala
Lakegala Mountain, located in the breathtaking Knuckles Mountain Range of Sri Lanka, is a formidable peak that offers a thrilling and challenging hiking experience. With a hike distance of approximately 6 kilometers, this majestic mountain beckons adventurers seeking an adrenaline-pumping trek. The ascent to Lakegala is known for its rugged terrain and steep inclines, making it suitable for experienced hikers.
Upon reaching the summit, hikers are rewarded with awe-inspiring panoramic views of the surrounding landscapes, including lush forests, cascading waterfalls, and distant valleys. Lakegala Mountain is a natural landmark, captivating explorers with its untamed beauty and serving as a testament to the diverse and awe-inspiring landscapes in the Knuckles Mountain Range.
Days – 01
Total Distance – 12 Km (7.5 Miles)
Hike time – 6-8 Hours
Difficulty – Challenging
Travel guide – Knuckles Adventures
Sunset Peak
The climb up Sunset Peak is suited for hikers of all skill levels due to its gradual but steady ascent and abundance of scenic views. Sunset Peak is a good starting point for those who want to experience the high peaks of Sri Lanka's central hills but are afraid of heights. If you're an experienced hiker, you can get a bird's-eye view of the island's most famous peaks, including Hunnasgiriya, Hantana, Ambuluwawa, Alagalla, Adam's Peak, and Brandy Point.
As a whole, the climb up Sunset Peak is one of our favorites. As you make your way from Sunset Peak, where you can take in breathtaking views of the Kandy urban area, to Simpson's green tea farms, you may relax with a cup of your much-anticipated HIGH TEA on the infinity edge of Simpson's pool deck. Two freshly squeezed tropical juices, a cup each of Simpson's Black Tea and Ceylon Coffee, and a baker's dozen of croissants. Because your stomach will be satisfied by the five different kinds of sweets and five different kinds of hot savories, and your mind will be satisfied by the beauty of the wonderful sunset, a simple dinner is in order.
Days – 01
Total distance – 3.8 Km (2.4 miles)
Hike time – 2.5 hours
Difficulty – Moderate to Moderate High
Travel guide – Knuckles Adventures
Five Peaks
The Knuckles Five Peaks are widely regarded as one of Sri Lanka's premier trekking areas. Those who enjoy hiking and trekking will find this area to be perfect. The name "Five Peaks of Knuckles" was given to it at some point. The five summits of this mountain range form a knuckle, hence the name "Knuckles." The Knuckles region, which includes the Gomare estate, is where the clenched-fist-shaped mountain range is visible. For hikers, this is the best and most scenic route along Knuckles. From Katugastota, take the Madawala-Bambarella route to Wattegama. It appears that all five peaks are of the same height. However, at an impressive 1864 meters, the second peak is officially the highest point. Other than that, it is the Knuckles massif's second-highest summit, behind Gombaniya (1906 m). From the highest of the five peaks in the Knuckles range, you'll descend to the tiny settlement of Thangappuwa, known for its supply of cardamom.
Days – 01
Total distance – 15 Km (9.3 miles)
Hike time – 10 hours
Difficulty – Moderate to Moderate High
Travel guide – Knuckles Adventures
The Knuckles Mountain Map
Knuckles Mountain Hiking Tips And Tricks
Remember to get ready your backpack only with the most wanted clothes and other accessories(To reduce backpack weight).
If you can increase your fitness before the hike, that will benefit you.
Book early your guide and accommodation (Camp or Hotel).
You will need to prepare for the leeches. Put on leech shocks or at least two pairs of thick socks, and tuck your jeans into them. Prepare Anti-leech socks, Dettol spray, Citronella spray(Pagiri), or Salt liquid for leech.
Drinking water is plentiful, which means you can save space on your back by not bringing as much water. Maintain proper care for it.
Take cash. The town lacks anything resembling an ATM. Accommodations before and after the hike, as well as the final payment to your guide, are also your responsibility to fund.
Bring everything you will need for the hike with you from Kandy, Matale, or Rattota(The last main town) town including your food. Pitawala is home to a tiny convenience store where you can pick up some soda and biscuits. It's appreciated if you make a purchase to help keep the store open but don't plan on buying all your trail snacks there. Keep everything as clean as possible.
Knuckles Hike Checklist (What to Pack for Knuckles)
Paper map, GPS tool, or downloaded offline map
Backpack
Rain jacket
First aid kit
Lamp, Head lamp, Candle and Torch
Sleeping bag or blankets
Fire matchbox or lighter (For cooking or bonfire)
Good condition shoes
Foods and Cooking equipment
Mini Gas cooker and Gas can
Brush & Toothpaste
Power Bank & Camera
Compass
Cloths for planning days
Hat or cap
Knife or multi tools
Camping tent with accessories
Fire starter
Water Bottle
Walking Stick
Dettol spray, Citronella spray(Pagiri), and Salt
Aluminium pot or cup(For heat water and food make)
Glucose and energy drinks
Rope / Para Cord
Drone
Take only memories, Enjoy your trip, & Leave only footprints

TEL