Australia is one of the coastal heavens in the world. Because of that, you have a real challenge to select the best of the best places from Australia's vast destinations. We suggest the 12 best relaxing places to visit in Australia for your easy selection. As well, we provide a Safe travel guide to a comfortable journey.
Australia's cultural and geographic scope is incredible, with a coastline that stretches for more than 16,000 miles and a community of Aboriginal people representing the bloodline of the world's oldest continuous culture.
The Commonwealth of Australia is a sovereign entity that includes both Australian continents, Tasmania islands, and many smaller islands. Australia has a total area of 7,617,930 square kilometers, making it the largest country in Oceania and the 6 largest country in the world.
In Australia, you'll find deserts and beaches, from the dry to the lush. Some of the most challenging living habitats globally, from tropical jungles to snowy mountains, may be found in this country.
Do not forget to check out these must-see attractions and activities in Australia on your journey. You can take a skydive from the chopper, snorkel at the Great Barrier Reef, and sail and surf in the azure waters. To summarize, both locals and visitors to Australia will find many enjoyable activities. For a day of relaxation, wildlife viewing, or an adrenaline-pumping challenge.
Sometimes, you may not know where to begin with so many choices and information available. So we filter and suggest Australian travel directory with safe travel guide.
Best time to visit Australia & weather of Australia
The ideal time to visit Australia is spring and fall when the nation is most beautiful. Flights to Australia are less expensive than they would be during the height of the tourist season.
If you are traveling within Australia and want to travel to the airport via car, then check out Flyparks. You can find great deals on airport parking and book online in minutes! Check out the Cheap airport parking Sydney?.
The Australian tourist season runs from September to November and March to May. During these months, the majority of tourists visit Australia. The temperature is neither too hot nor too cold during these seasons, making it ideal for a walk throughout Australia.
In Australia, the hottest months are December, January, and February. You may want to move south in the summer to avoid the oppressive heat. In June, July, and August, the coldest months, it's a great time to travel to the north.
Best tourist attraction places location map in Australia
Best Visit Places & Things to do in Australia
01 Sydney Opera House
The Sydney Opera House is Australia's iconic reminder world the uncommon building type to all travelers. A performing arts complex in Sydney, Australia, has various performance spaces. The Sydney Opera House is one of the world's most unique buildings and a masterwork of 20th-century design. It is located at Port Jackson (Sydney Harbour) in New South Wales, Australia. White sail-shaped shells are used as the roof's unique construction.
Denmark's Jørn Utzon, who triumphed with a spectacular design showcasing two main halls facing out to the harbor on a massive podium, was awarded the contract. To finish each hall, precast concrete panels in the shape of sails connect to form a roof and walls.
Choir performances, Symphony concerts, and popular music shows are held at its 2,679-seat Concert Hall, a multifunctional performing arts complex. Three theaters of varying sizes and configurations are on-site to accommodate film screenings, stage plays, or intimate musical concerts. The Forecourt, located at the southeast end of the complex, is utilized for outdoor events. Additionally, the building is home to a recording studio and several restaurants. The Opera House was nominated as a UNESCO World Heritage Site in 2007.
02 Great Barrier Reef
The Great Barrier Reef, the most bio-diverse coral reef ecosystem globally, is visible from space. It's listed as a UNESCO World Heritage site. Even if you just got certified, you don't want to miss out on the most exciting dives. When you first start diving, you'll even find that Australia is an excellent spot to receive your certification.
A remarkable 2,300 kilometers long, this massive living structure stretches along the north Queensland coast, starting in the northern part of Queensland and ending near Bundaberg. It covers 135,135 square miles and has more than 2,900 reef systems. The numerous things that you can observe at the reef include around 1,600 fish species and over 600 varieties of coral.
Moreover, there are also other types of animals that are not found anywhere else. It is also noted for some macro at the diving locations. Examples of what can be seen when scuba diving in the Great Barrier Reef include minke whales, turtles, bottlenose dolphins, manta rays, and eagle rays. Visiting the Great Barrier Reef is best between June and October. Travelers are likely to find the following benefits in this busy season. The water temperature changes from the low 60s to the mid-80s, and there's very little rainfall, which means a clean diving environment.
Read More: Things to Know Before Scuba Diving in Great Barrier Reef for Beginners
03 Uluru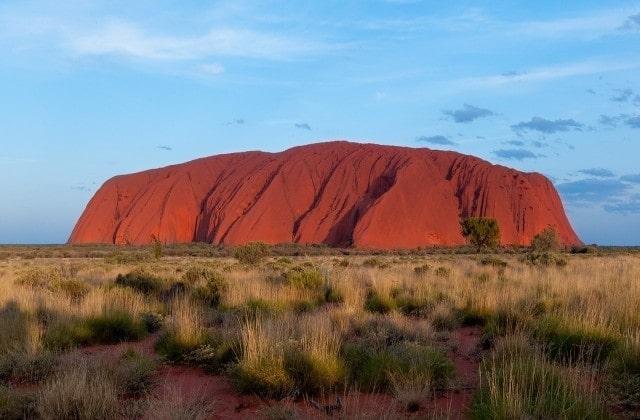 Uluru, or Ayers Rock, is the most famous natural wonder in Australia, a giant sandstone monolith in the arid "Red Centre" of the Northern Territory. It's part of Uluru-Kata Tjuta National Park, which also features the Kata Tjuta (colloquially "The Olgas") formation's 36 red-rock domes. Alice Springs, 450 kilometers away, is the nearest central town. Uluru is considered sacred by aboriginal Australians, and it is believed to have formed roughly 550 million years ago.
Anangu Aboriginal peoples own the national park and lease it to Parks Australia, which they jointly manage. Uluru-Kata Tjuta National Park has plenty to keep you busy. However, you could be excused for wanting to spend all of your time staring at the Rock as the light shifts throughout the day. Yulara, a little town about 12 miles from the Rock, is the only place to stay. One of the best hotels near Uluru is Sails in the Desert.
The best time to visit Uluru is from mid of May to September when the average daytime temperature is  20°C to 30°C. It's safer and more enjoyable to walk in the cooler weather, and there's very little rain.
Read More: When is the Best Time to Visit Uluru?
Things to do in Uluru
04 Sydney Harbour Bridge (best holiday destination in Australia for families)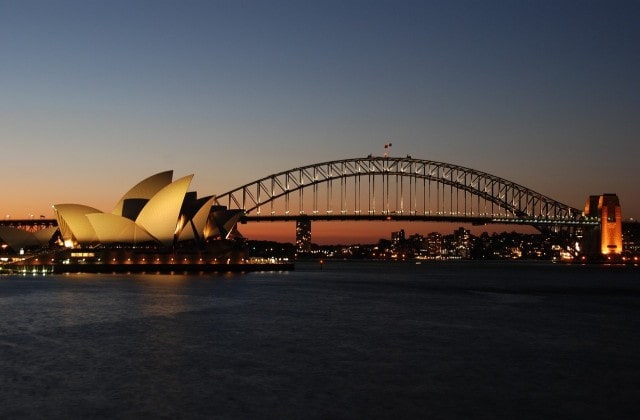 There is no way to experience Australia without crossing the Sydney Harbour Bridge. Historic steel through an arch bridge connecting the central business area to the north shore of Sydney Harbour, Sydney Harbour Bridge is a must-see attraction for anybody visiting Sydney. As a symbol of Sydney and Australia as a whole, many people associate the Sydney Harbour Bridge with the iconic opera house that sits atop it all. As well as do not forget to plan to do your few special things to do in Sydney Harbour Bridge.
Things to do in Sydney Harbour Bridge
Walk on the bridge
Face your fear of heights in the way
Enjoy stunning views at dawn or twilight
Celebrate your special day on the bridge
Climb the Harbour Bridge's main arch
Pylon Lookout provides historical context for the Harbour Bridge
Celebrate special events on the bridge
05 Blue Mountains National Park & Three Sisters walk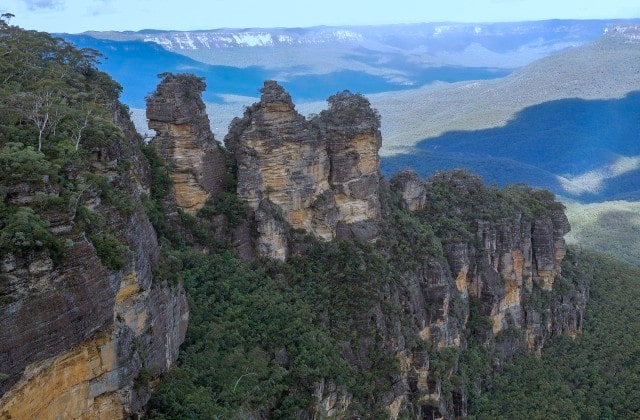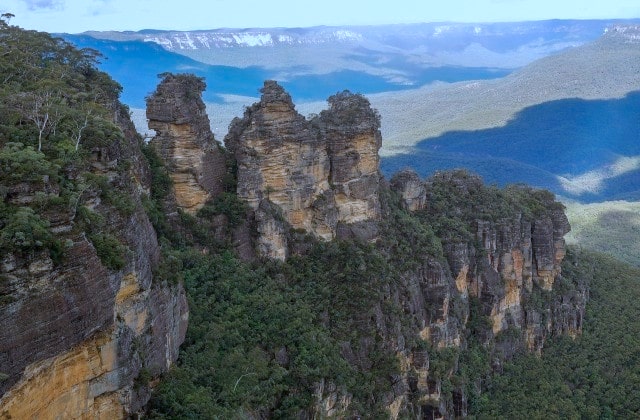 In Australia's Great Dividing Range west of Sydney is Blue Mountains, National Park. An Aboriginal holy place and towering sandstone formation known as the Three Sisters may be seen from the Echo Point lookout in Katoomba, New South Wales. From lyrebirds and red rosella parrots to the Giant Stairway that descends to Jamison Valley, trails lead through the wilderness home to these birds.
The ideal time to visit the Blue Mountains is between December and February when temperatures are milder, suitable for avoiding the scorching heat.
Best things to do in Blue Mountains, National Park
Three Sisters walk
Visit the Blue Mountains Cultural Center
Follow the Katoomba Heritage Walk
The Prince Henry Cliff Walk
Ride the Scenic Railway
Visit the Leura Cascades
Visit underground Jenolan Caves
Wentworth Falls
Marvel Gordon Falls From the Lookout
Descend the Giant Stairway
Ride the Scenic Skyway
Search for Lyrebirds
Explore Govett's Leap
Stroll Through Mt Tomah Botanic Gardens
Suggested Trailoka: 10 Best things you can do in Adelaide
06 Kakadu National Park (Best Holiday Destination in Australia for Families)
Kakadu National Park is located in Australia's Northern Territory, approximately 171 kilometers (106 miles) southeast of Darwin. It is a UNESCO World Heritage site. It is home to more than 2,000 plant and animal species, including flatback turtles and saltwater crocodiles, and a wide range of birds and other fauna. Aboriginal rock drawings, some of which date back thousands of years, can be found in Nourlangie, Nanguluwur, and Ubirr.
It's the second-largest national park in Australia, behind Kakadu, and is larger than Wales, Tasmania, and Switzerland combined. The park encompasses the Explorer Uranium Mine, one of the world's most productive uranium mines.
The most suitable time to visit Kakadu National Park is between May and September when it is dry. In most cases, the roads are accessible, and the weather is stable enough for travel. In some circles, it's said that June through August is the finest time of year to visit because it's the coolest.
Best things to do in Kakadu National Park
Bushwalk in Kakadu
Moline falls
Hangi lunch
Jim Jim falls
Helicopter tour of Kakadu National Park and its waterfalls
Take a refreshing dip in Maguk's crystal-clear pools
Learn more about Kakadu by visiting its visitor centers
Fishing for barramundi in the early morning light
Gunlom falls
Yellow waters sunset cruise
Motorcar falls
Discover sunset viewpoint and the best Aboriginal rock art in the world at Ubirr
Drive to Jarrangbarnmi with 4WD (Koolpin Gorge)
Mamukala wetlands is an excellent place to see birds
Nourlangie's rock art and viewpoint
Rock art and a viewpoint at Gunawarrdehwarde
07 Daintree Rainforest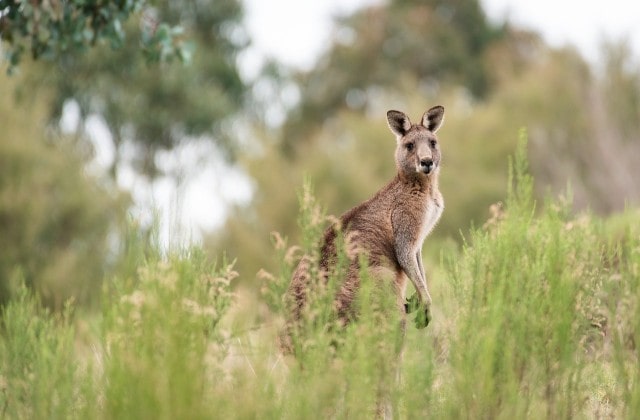 The Daintree Rainforest is located on Queensland's northeast coast, north of Mossman and Cairns. The Daintree rainforest covers an area of around 1,200 square kilometers, making it the biggest continuous stretch of tropical rainforest on the continent of Australia.
The ancient Daintree rainforest, recognized as a UNESCO World Heritage Site, is a lush green rainforest dotted with prehistoric-looking ferns, fan palms, and twisted mangroves. It's ideal to go between May and September when it's cooler and drier. During this time, the humidity is low, and the high is around 26 degrees Celsius, making it a pleasant time to be outside.
Best things to do in Daintree Rainforest
Canopy walks
4WD trips
Kayaking
Tours and tastings in tropical fruit orchards
Interpretive boardwalks
Self-guided walking trails
Horse riding
Crocodile-spotting cruises
Touring the region at night to look for wildlife mountain treks
08 Hamilton Island (Best Holiday Destination in Australia for Couples)
Hamilton Island is a Whitsunday Island located near the Great Barrier Reef in Queensland, Australia. Coral reefs line the coast of the car-free island, which is mostly covered in bush. Tours give up-close observations of kangaroos, koalas, wallabies, and kookaburras. Some trails lead to Passage Peak east of the city, where you can see all of the nearby islands.
The best months of April to June are ideal for visiting Hamilton Island because of the beautiful skies, little rain, and lots of sunshine. It's the best time to visit Hamilton Island now that the weather is cooling off, with an average temperature of 24°C.
Best things to do near Hamilton Island
Kayak, Sail & SUP at Catseye Beach
Hike to Passage Peak
Stay at Reef View Hotel
jet-skiing
Bushwalking and hiking Hamilton Island Wildlife Sanctuary
Biking, bugging, and off-roading
Bowling and Go Karting
Hamilton Island tours & day trips
Visit Heart Reef
Hamilton Island Sunset Cruise
Visit Whitehaven Beach
Swim at the resort pool
Cruise around the island in a Buggy
At One Tree Hill, sip on a sunset cocktail.Relaxing with spas
Golfing
Swim with turtles
Whitehaven Beach
Scuba diving & Snorkeling in the Great Barrier Reef
09 Bondi Beach
Bondi Beach is one of unforgettable Australia's most famous beaches, thanks to its wide white sand crescent. Surfers go to the Icebergs ocean pool year-round, while intrepid locals take a dip year-round. Healthy-minded Sydneysiders visit the laid-back cafes and informal pubs on Hall Street. At the same time, young travelers hang out in the area's trendy bars and clubs. The Bondi to Coogee Coastal Walk, which follows the cliffs from Bondi to Coogee, is popular with walkers and joggers.
Summer is perhaps the most suitable time to visit Bondi Beach from December to February. People throng to the beach to enjoy the beautiful Sydney weather.
10 Lake Hillier
Saline Lake Hillier is located on Middle Island, the Recherche Archipelago off the south coast of Western Australia's Goldfields-Esperance region's islands and islets. It distinguishes out for its vibrant pink.
Have you ever wondered why Lake Hillier is a pink color? Due to the high salinity of this water, baking soda or salt-loving algae (Dunaliella salina) may have reacted with the saltwater to produce this color.
Summer is the greatest season to visit Lake Hillier because the lake is pinker with less water. If possible, try to visit during the middle of the day (from 10 am to 2 pm) for the best photoshoots.
Another Major Question, Is It Safer to Swim In? Yes, it is safe to swim in Lake Hillier. It's safer than several other water sources because it doesn't have large fish or other predatory animals.
11 Tasmania: Big Adventures in Australia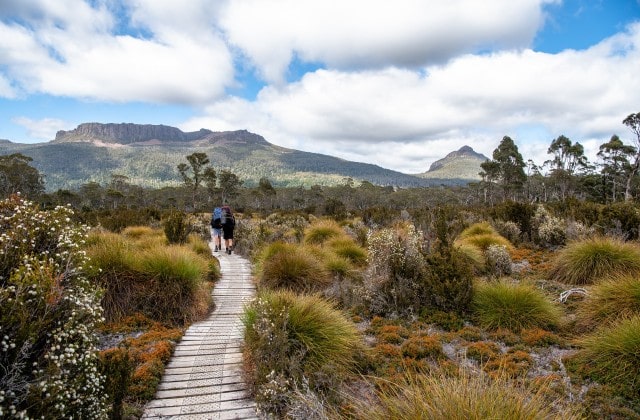 TAS is the abbreviation for Tasmania, a state on the island of Tasmania in Australia. To get there, you have to cross the Bass Strait, which is around 240 kilometers long and 20 kilometers wide. More than 1,000 islands surround Tasmania's main island (the 26th-largest on Earth) as part of the state's authority.
The greatest time to travel to Tasmania is from December to February, the height of Australia's summer season. Before the Tasmania journey, you can get more information from Lap Of Tasmania.
Best things to do in Tasmania
Freycinet National Park (Coles Bay)
Mt Wellington / Kunanyi
Port Arthur Historic Site (Port Arthur)
Royal Tasmanian Botanical Gardens (Hobart)
Mt Field National Park
The Nut
Tamar Valley Wine Route
Maria Island
Mona
Cradle Mountain-Lake St Clair National Park
Launceston Cataract Gorge & First Basin (Launceston)
Three Capes Track (Port Arthur)
Bonorong Wildlife Sanctuary (Brighton)
Strahan
Cataract Gorge
Bay of Fires
Richmond Village
12 Adelaide & Kangaroo Island
Kangaroo Island was discovered southwest of Adelaide, off the coast of South Australia. Most of the island's natural resources, including native fauna like sea lions and koalas, as well as several bird species, are safeguarded in nature reserves. Remarkable Rocks, Admirals Arch, and the stalactite-covered Admiral's Arch are some of the most popular attractions in Flinders Chase National Park in the west.
However, the greatest time to visit Kangaroo Island is between September and November, when the island is most beautiful. June, July, and August are also great times to travel to Kangaroo Island to avoid the crowds.
Read more: Relaxing Things to do in Adelaide with Family & Girlfriend
Best things to do on Kangaroo Island
Taste Seafood
Visit at Western KI Caravan Park
Cheese Tasting
Visit Kelly Hill Caves
Sandboarding At Little Sahara
Check Out These Amazing Rocks!
Visit Cape Borda Lighthouse
Walk on Emu Bay Beach
Rock Hop to Stokes Bay
Take A Trip To Cape Willoughby.
Wine Tasting
Taste Gin and Liqueur
Underwater tour with Sea Lions At Seal Bay
Hanson Bay hike
Quad Bike Tour
Visit Admirals Arch
Snake Lagoon Hike
Penguin Tour
Pennington Bay camping
This is our collection of the 12 best visiting and relaxing places in Australia. You can find more things to do in Australia as a traveler from Google Travel.
Why is Australia the best for travelers?
Australia is a great and welcoming country because of its active art scene and lovely laid-back environment, as well as the cultural diversity among its population, their pleasant disposition, and the high standard of living. As well as this country most popular for wildlife with national parks, fantastic islands, and World famous landmarks.
Australia's sandy beaches are residence to world-class surfing, unusual marine life, stunning ocean pools, and beach culture that is unmatched anywhere else on the planet. Because of this, Australian beaches are consistently rated among the greatest on the earth. There are infinite ways to enjoy its magnificent beaches and islands in Australia, from surfing to swimming to snorkeling to simply lying in the sun.
As a tourist or localist, While visiting Australia, there are a few hidden treasures that you may not have known about.
In Australia, 90% of the population lives on the coastline.
The Great Barrier Reef Ecosystem is the world's largest ecological system.
Unlike the Swiss Alps, the Alps of Australia receive more snowfall.
The air in Tasmania is among the world's cleanest.
There are around 60 different wine areas in Australia.
The world's largest sand island, Fraser Island, is located in Queensland, Australia.
The Indian Pacific railway boasts the world's longest uninterrupted stretch of rail track (between Sydney and Perth).
The world's largest war memorial can be found in the Great Ocean Road.
More than 80% of the animals are found only in Australia.
Uluru's underground area extends for 2.5 kilometers.
Things to know before traveling to Australia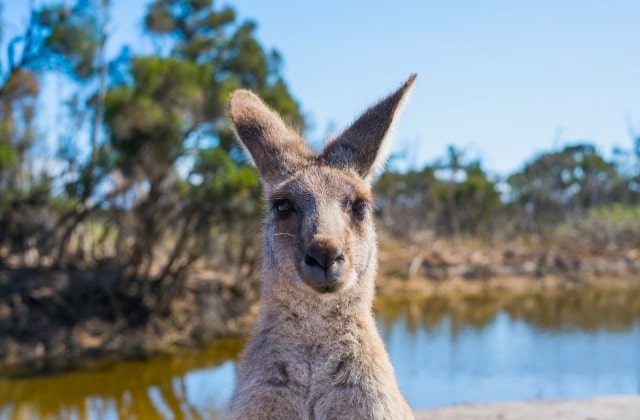 Never arrive at a BBQ empty-handed.
English is best but prefer to learn the native language.
Every region of Australia has its unique summer climate.
Swim in the middle of the flags at all times.
Use plenty of sunscreens (skin cover, sun cream).
Australia is a massive country.
Not everywhere has wildlife, and not everything is dangerous.
Smoking isn't a cool thing to do because of the high cost.
Be ready to disconnect the internet.
Learn about currencies.
Driving is on the left.
Rugby and AFL are superior to football.
Show a bit of respect.
Australia's borders can be highly restrictive.
In case of an emergency, dial 000.
Like coffee, booze is a form of worship.
The rental price is indicated as $ per week, not $ per month.
The majority of Australians refuse to use a tip.
This is our completed and safe travel guide to Australia. Finally, we advise you to be prepared for your trip with the correct time and proper equipment. Do not forget to ready your backpack with Hiking, Camping, and Scuba diving gear. Happy travel for all travelers and share this with your travel and nature lovers.
Take only memories, leave only footprints