Riverston is my favorite place and the best freedom spot I have met when traveling in Sri Lanka. This is situated between the districts of Matale and Kandy in Central Province, Sri Lanka, and another peak in the Knuckles mountain range. Riverston is around 30 kilometers from Matale via Illukkumbura on the Matale-Hettipola Road. The nearest town is Rattota. These Climatic conditions are very calmest and it is relaxing our minds and body. Suppose you are finding an easily accessible relaxing place. In that case, this is it. The Riverston hilltop has an elevation of 1424m (4,671ft). Riverston is a popular hiking destination, although many foreigners have forgotten about it. This mountain has numerous beautiful vistas and bathing areas, and it is near Pitawala Pathana Mini World's End.
Riverston trip can enjoy within a day, but if you can Dedicate a minimum of 2 or 3 days, you can travel to all of the destinations with proper planning. On the way to the top of the hill, the road is narrow in some places. You can prepare any vehicle other than large vehicles for this trip. If you having a four-wheel vehicle(4WD) will make your journey more comfortable. As well as, don't forget Rattota is the last town to get everything you need from that city. Riverston has the most famous 12 traveling spots to collect your travel memories. We suggest the top-listed destinations, the correct route, the best time, and the most suitable accommodation for your comfortable journey.
Best visiting places in Riverston
01 Matale Aluviharaya Rock Cave Temple
Our first destination is Aluvihare Rock Cave Temple (Alu Viharaya), located on the Matale-Dambulla route, 30 kilometers from Kandy North. This is a sacred Buddhist temple in the hills of Aluvihare, Matale District, Sri Lanka. Aluvihara's history goes to the King of Devanampiyatissa in the 3rd century B.C.
02 Bambarakiri Ella Waterfall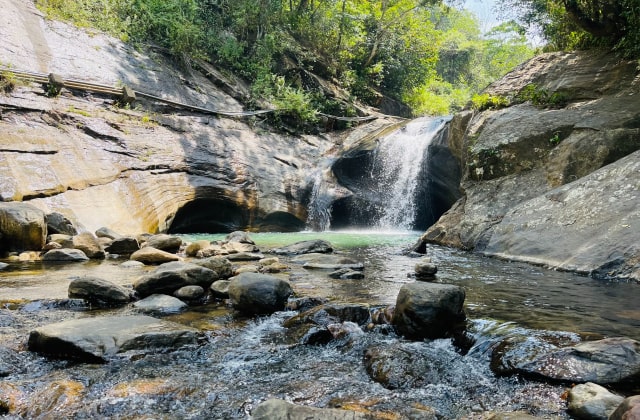 After Aluviharaya Rock Cave Temple, you can arrive at Matale town, the next town is Rattota. Rattota is the last main town on your trip starting. Bambarakiri Ella waterfall is your first Riverston journey destination. This is a few meters away from the main road. You can approach within about 6 Km from Rattota town. This is a small waterfall, and you can enjoy hanging bridges walking near this.
03 Telecommunication Tower and Wind Break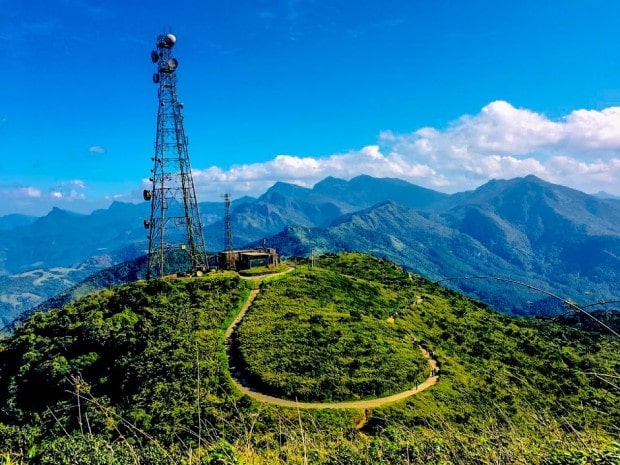 You can find Telecommunication Tower as your next destination. This is away 13.3 Km from Bambarakiri Ella waterfall. The Tower path is a small hike, and It is a delightful hike to enjoy with your family. Also, children can gain perfect joy during this hike. Along the way, You can meet a Windbreak which will be an unforgettable gain experience for you and your family. Car parking spaces and little Sri Lankan pol roti(coconut roti) shops are available at this Tower path entrance.
04 Pitawala Pathana
Pitawala Pathana is the next destination. After parking your vehicle, you should walk to the ticket counter to take a ticket. Walking across the grassy terrain will bring you to the end of the mini-worlds at Pitawala Pathana. With clouds beneath your feet, it provides a beautiful perspective of the surrounding areas. This is a real place for Nature photographers to take their natural shots. After visiting Pitawala Pathana, you have to decide your journey by choosing the following destinations according to your day count.
More on Trailoka: Best Hotels in Riverston & knuckles Mountain Range
05 Sera Ella Waterfall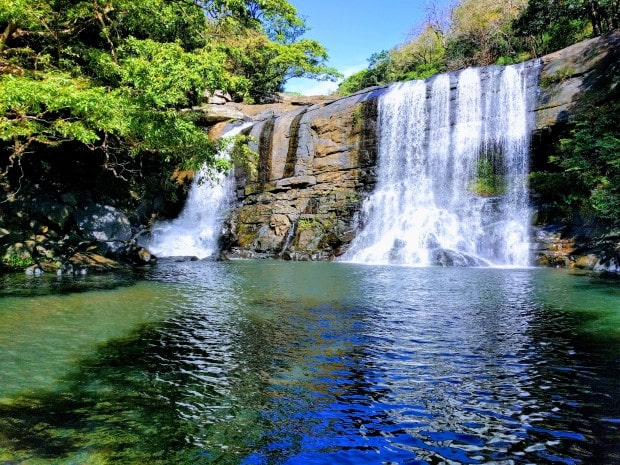 Sera Ella is one of the most beautiful waterfalls located in the Knuckles Mountain Range. This is situated a few meters away from the road, and you have to pass Slightly sloping stairs to enter the waterfall. A small cave behind the waterfall provided access to the waterfall. It was an incredible experience to stroll under the water barrier. Water was sprinkling across the cave, and it felt a little chilly inside.
06 Wedda Peni Ella
Thelgamu Oya is a significant source of water in the Knuckles region. It is a tributary of the Amban Ganga and eventually enters the Mahaweli River. Wadda Peni Ella Falls is situated on a beautiful stretch of land bordered by the Knuckles Forest Reserve. It is nourished by Thelgamu oya's waters and has an enriched bio variety with endemic aquatic species. The fall can be viewed on the way to Manigala Hike, therefore it's a great place to stop for a rest and bath with your family. There is a bridge that crosses over the waterfall from which you may get a wonderful view. Visitors to Wedda Pani Ella must exercise extreme caution because the fall can cause flash floods at times. Remember to choose a safe location for your amusement.
07 Manigala Hike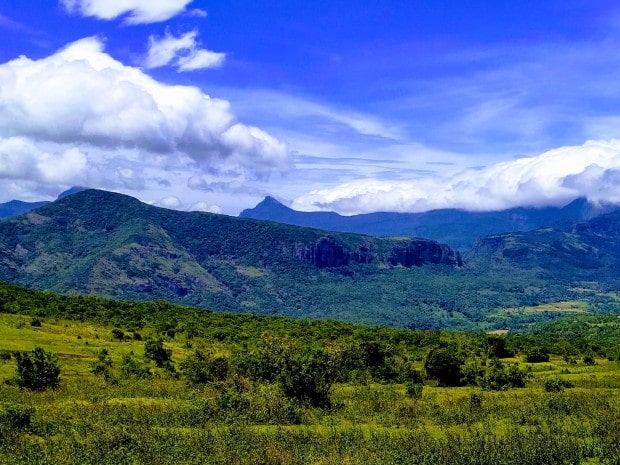 Manigala is one of the best-hiking destinations in the Knuckle Mountain Range. Hiking can begin in Atanwala village, which is a beautiful village. You will see drooping terraced paddy fields, agricultural lands, and all the rural beauty that is intertwined with Atanwala's authentic village life. Manigala should start the walk early in the morning because the top can get rather hot by midday on some bright days. I recommend that you stay a night at Riverston hotel, which has excellent accommodations and can prepare breakfast. If you don't know the route, it's best to go with a guide; you may easily find a villager as your guide. Manigala's plain area is like a natural platform made by nature itself to see the majestic landscape of the mountains; this location is home to a variety of butterflies. The two observation cliffs provided views of Riverston Tower and the entire Knuckles area. Duwili Ella can be seen from a long distance on a clear day. Don't forget to prepare your backpack before you go hiking.
08 Duwili Ella Waterfall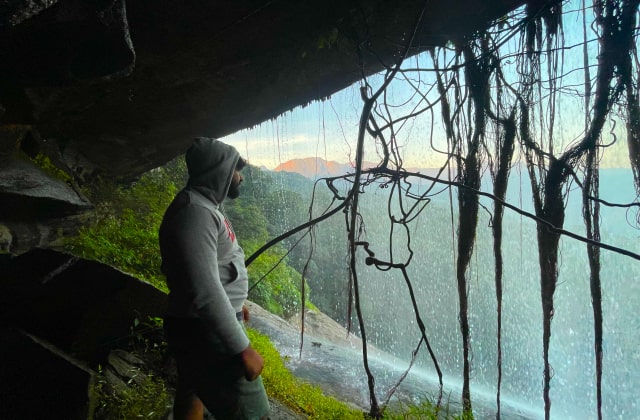 Every camper's fantasy trip in Sri Lanka is the Duwili Ella hike and cave camping. Hiking through the trails of Knuckles Rain Forest and crossing the lovely creeks and streams transports you to another dimension. A 40-meter waterfall is tucked up deep among the forest. What distinguishes Duwili Ella is the tunnel inside the waterfall, which allows hikers to get behind the waterfall, similar to the entrance to the Bat Cave. The water is safe to drink here.
Atanwala is near the well-known natural habitat Pitawala Pathana. Both routes intersect in the middle of the jungle and merge to form a single trail. During this journey, you can find Infinity pool and it is a real natural pool experience. This hike will take at least two days because you must prepare your backpack with camping gear. It's preferable to hire a guide if you don't know the way. Because the range is infested with leeches, anti-leech socks, pack anti-leech spray and other protection measures to avoid unpleasant surprises.
Read more: Duwili Ella Hike & Best Visit Places in Knuckles Mountain
09 Dumbara Ella Waterfall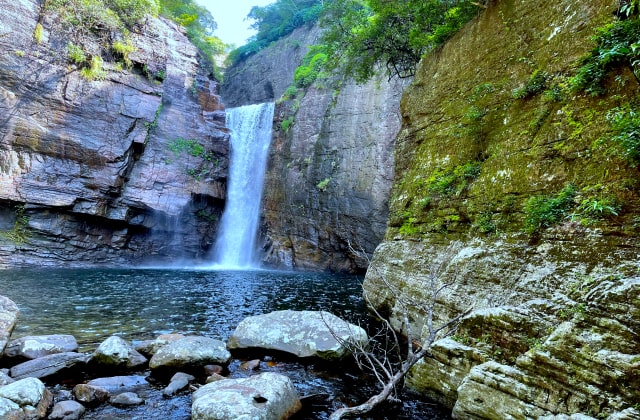 When visiting Duwili Ella, you can see a few waterfalls and beautiful scenery. Dumbara Ella is the largest and most picturesque of the waterfalls. It has some distinct beauty that you won't find anywhere else in Sri Lanka. I suppose one might stare at Dumbara Ella's flowless curtain indefinitely. This is the most excellent place to spend the first night if you're going on a two-night excursion. There are a couple of spots near the waterfall where you can tent. The ideal site is on the top of the flat granite surface, approximately 50 meters distant, just in front of the waterfall. It is safe and provides the best view of the waterfall directly from the tent. You may gather wood for a campfire and cook from the surrounding area. The water from the fall is entirely safe to drink.
10 Infinity Pool & Sansun Ella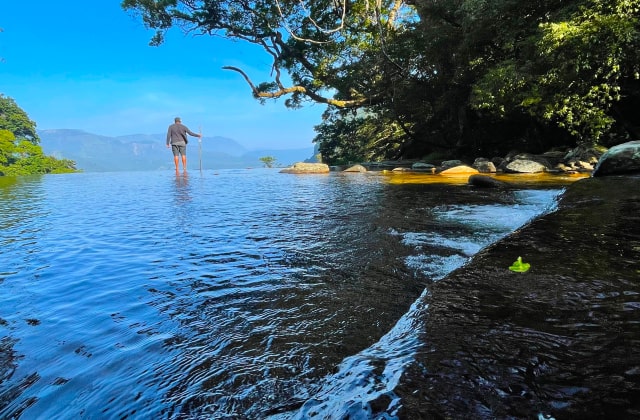 The Infinity pool is one of the best natural and clean pools in the Knuckles Mountain Range. As well as this is one of the dream places for Sri Lankan travel lovers. This is a gorgeous place for photographers and nature lovers.
Sansun Ella is another waterfall in the Knuckles Mountain Range. After a short walk from Infinity pool, you can find these Calm waterfalls. "Sansun" is the Sinhala word that means "Calm." Honestly, you can relax your mind by looking this fall.
11 Moragahakanda Main Dam / Kulasinghe Reservoir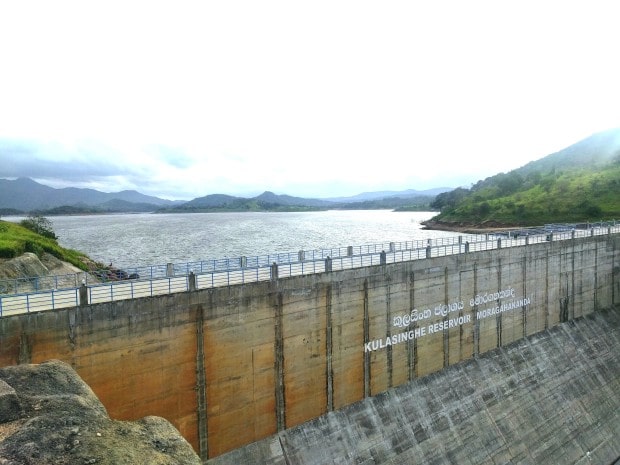 The Moragahakanda Dam, also known as the Kulasinghe Reservoir, is a huge gravity dam and the major component of the more extensive and more complicated Moragahakanda — Kalu Ganga Project, located across the Amban River in Elahera in Sri Lanka's Matale District. Construction began on January 25, 2007, and was finished in 2018.
12 Nalanda Gedige
This is the last destination in your Riverston journey. Nalanda Gedige is a historic stone temple situated in Matale district, Sri Lanka. Its original location was considered the center of Sri Lanka. This is a hybrid of Hindu and Buddhist architecture. The edifice was built during the 8 and 10 centuries with Dravidian architecture in the Pallava style and is thought to have been utilized by Buddhists. This is connected with the story of Ravana. Riverston, all travel destinations are bind with a remarkable thing. So we think you can gain real enjoyable trip with this route.
Best time to visit Riverston
February to July – The best time to visit Riverston
November to January – Generally, the wet season
August to October – Dry and with strong winds
Best route & guide to Riverston
We suggest the below route to plan your journey by visiting more places and doing things to manage valuable time.
Contact your Riverston Guide
Take only memories, Enjoy your tour, & Leave only Footprints

TEL
Useful Links:
Best Hotels in Riverston & knuckles Mountain Range
Duwili Ella Hike & Best Visit Places in Knuckles Mountain