Nuwara Eliya is one of the heavens in Sri Lanka. This is most famous as Little England all over the world. If you are a real traveler, you shouldn't miss these places because We suggest the 9 Best visiting & relaxing places near Nuwara Eliya with a complete travel guide.
According to my journey experience, Nuwara Eliya is the best destination to start your hill country travel journey in Sri Lanka. This is the beginning spot of the total tour package. After the Nuwara Eliya tour, you can enjoy the best visit places in Ella & Haputale.
We found the 3 main best routes to access Nuwara Eliya with a real chill picnic. You can visit the most beautiful places in Sri Lanka during these routes. This is our Nuwara Eliya total tour guide for your comfortable journey. Find your dream places with our ultimate travel route guide with the below directions.
Why Nuwara Eliya is best for travel in Sri Lanka?
Nuwara Eliya called as Little Englind
Nuwara Eliya's chilly environment and colonial-style bungalows are located at the height of 1,868 m inside the misty hills of central Sri Lanka. Mountain estates, Tudor-style hotels, colonial-era homes, well-tended hedgerows, and lovely gardens give this aristocratic hill settlement the appearance of a British rural village. Colonial landowners and the upper crust of society used to flee to Nuwara Eliya, so the city has taken on a European air.
Nuwara Eliya tea
Another unforgettable millstone is Nuwara Eliya tea. This tea is famous worldwide as one of the top taste and quality tea in the world. Nuwara Eliya has the ideal climate for making high-quality tea in central Sri Lanka because of its humidity, low temperatures, and rainfall. The tea factories are must visiting places in Nuwara Eliya. You can also enjoy an unforgettable experience with tea leaf plucking activities and discussions with tea workers.
Nuwara Eliya weather & best time to visit Nuwara Eliya
Nuwara Eliya has a pleasant, humid, and cloudy climate. Temperatures usually range between 47°F and 72°F throughout the year, and rarely fall below 42°F or rise above 79°F. February is the coldest month, with maximum average temperatures of 18°C (64°F).
The best time to visit Nuwara Eliya is between February and May. Despite the lack of rainfall, this is the best time to see the city's beautiful scenery without having to worry about the weather. The best month to visit Nuwara Eliya is April.
What is the season in Nuwara Eliya?
Summer: June to August
Autumn/Fall: September to November
Winter: December to February
Spring: March to May
Best Things to do near Nuwara Eliya
01 Bomburu Ella Falls
The Bomburu Ella is one of my favorite waterfalls in Sri Lanka. This is enjoying a hike with a feel of nature. Bomburu Ella, also called Perawella Falls, is located in the Uva-Paranagama Divisional Secretariat. This is Sri Lanka's widest waterfall. The 165-foot waterfall comprises a tangle of smaller waterfalls in the jungle. Around eight little waterfalls can be found on the way to the summit of Bomburu Ella. Inside the Sita Eliya Kandapola Forest Reserve, a waterfall is between 1500 and 2000 meters above sea level.
The Bomburuella Waterfall comes from a Bomburuella Reservoir in Sri Lanka's central province, which serves as its source. It is the ideal area for taking a break, having a picnic, and taking a bath whenever you like.
Bomburu Ella is a small village located near the Nuwara Eliya and Badulla districts, roughly 15 kilometers from the town of Welimada. After leaving Nuwara Eliya, proceed up to Bomburuella via the Peradeniya-Badulla Highway, passing through Seetha Eliya and Hakgala on the way, where you will find the Bomburu Ella Waterfall, which is located along Bomburuella Road near Uduwara.
Little hike to Bomburu Ella
You can reach Bomburu Ella from 2 pathways. One goes to fall left side and other is get to the right side. A short hike from the roadside can reach the Bomburu Ella Falls. Another few kilometers are a pleasant, leisurely walk through the countryside as you climb from the Main Road. This is the nature hike.
We come across a doggo, as we have on most of the hikes we've taken. A dog guides us in the lower falls that show us the trail. After we've arrived at the lower falls and grabbed a few short shots, the doggo is ready to transport us to the breathtaking upper falls. As you ascend, the path gets a little harder to identify.
02 Kande Ela Reservoir
A picturesque lake on the road from Nuwara Eliya to Pattipola, surrounded by hills, and on the other by the Hakgala Strict Nature Reserve, is Kande Ela Reservoir. It's also called Meepilimana Reservoir. It is a famous pit break on Horton Plains National Park route. When Sri Lanka's then-Prime Minister Hon. D.S. Senanayake declared the reservoir open in 1950, and it was built from 1947 to 1949. With a size of about 4.5 square kilometers, it's a rather big one! There is a reservoir here primarily to supply drinking water to the locals.
It's a great area to spend a few hours on vacation to Nuwara Eliya, roughly 10 kilometers or 30 minutes away from the city. You can rent a larger boat, paddle a boat, or take a trip on a boat that can hold about 6-7 people here. On average, it handles roughly two hours to complete the ride.
03 Ambewela Farm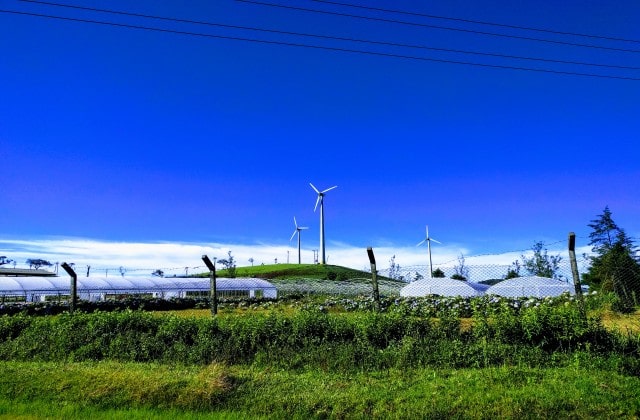 Ambewela is a hamlet and a hill station in the Nuwara Eliya district of Sri Lanka. "Little New Zealand" is a common nickname for the area. Initially, the British established the Ambewela farm in the early 1940s. New Zealand government established the New Zealand farm in 1960 with help from the New Zealand government, as well as is now also maintained by the Ambewela Farm. The district capital, Nuwara Eliya, lies 17 kilometers away (11 miles) to the southeast of the town. Ambewela is located 6,064 feet (1,848 meters) above sea level. The most elevated recorded temperature in this region is around 23 degrees Celsius. In comparison, the lowest recorded temperature is about 9 degrees Celsius.
The "New Zealand Farm"  and "Ambewela Farm" dairy farms are located here. Ambewela Farm and New Zealand Farm cattle are raised in Ayrshire and Friesian breeds. Fresh milk is available for purchase at the farm's product shop located right outside the front door. Visitors are welcome year-round from 9 a.m. to 6 p.m. at the farm. 
On the way to Horton Plains, the farm is 20 kilometers away. It takes 45 minutes to go to Nuwara Eliya town center by car. It's also a pleasant journey, traveling through fields of vegetables, Kande Ela lakes, and woods. You'll see a line of enormous wind turbines swaying in the distance.
Suggested Trailoka: Complete Travel Guide to Ella & Haputale, Sri Lanka
04 Horton Plains
Horton Plains is a World Heritage Site and was recognized by UNESCO in July 2010. On the island of Sri Lanka, Horton Plains has the coldest and windiest conditions. Among the ecosystems found here are mountain evergreen forests, grasslands, marshes, and the aquatic ecosystem. There are over 3,169 hectares of such highest plains on the island at an elevation of 2,100 meters above sea level in Horton Plains.
Almost all Sri Lanka's significant rivers receive water from this vast catchment basin. There are three major rivers in Sri Lanka: the Mahaweli, the Walave, and the Kelani. Both the 2nd and 3rd highest peaks in Sri Lanka border Horton Plains, the latter of which, at 2389 meters, is higher than either of the country's highest points (2357 m). The 900-meter-deep cliff known as World's End and Baker's Falls is a must-see in the Horton Plains.
Horton Plains has a moist mountain forest climate. The typical yearly temperature ranges from 14 to 160 degrees Fahrenheit, while the humidity is only 65 percent. With an annual rainfall of only about 2540mm in the highlands, the Horton Plains receive nearly 5000mm of rain.
Located between the central highlands towns of Nuwara Eliya and Haputale, the Horton Plains are a vast expanse of flat territory. It's possible to enter Horton Plains through Nuwara Eliyana, while it's possible to enter from Haputale through Pattipol.
05 Lover's Leap Waterfall
To enjoy your Nuwara Eliya trip this is one little fall hike. You can reach the fall through the tea plantation, and this is the best place to see the fall's upper and downsides. Beautiful Lovers Leap fall in Nuwara Eliya is the beginning of Sri Lanka's tallest mountain Piduruthalagala (2524m).
The falls may be found 2 kilometers from the district center at Havaeliya, in the Nuwara Eliya region. Just over three miles from Nuwara Eliya, you'll find this waterfall. On the approach to the waterfall, you may either take a three-wheeler that will take you halfway to the falls, or you can walk along a level gravel path that winds its way to the cascade. About 250 meters separate the two points. Alternatively, you can cross the street. You can avoid the 400-meter climb by walking through the tea plantation instead of the narrow asphalt road with some effort. Even though it's a 400-meter climb, it's a little more daring than the last climb.
06 Moon Plains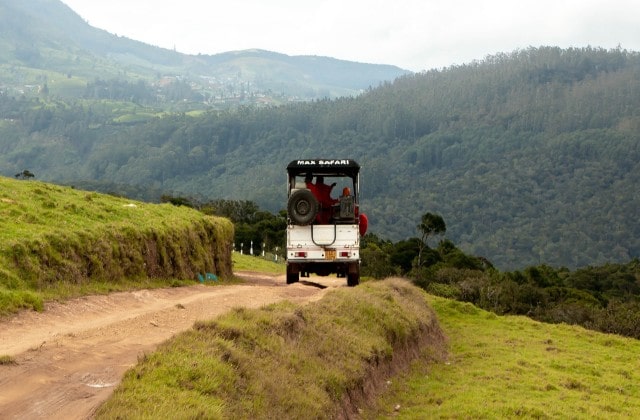 The Moon Plains, also called Sandathanne, have become a popular destination for ecotourists. Moon Plains is located 6 kilometers away from Nuwara Eliya. On a clear day, the entire country can be seen from Moon Plains, surrounded by mountains and covered in beautiful flora. The Moon Plains may be seen from a 360-degree panorama of the nine peaks (some of them being Pidurutalagala, Kirigalpoththa, Kikiliyamana Mountain, the Great Western Mountain, Konical Hill Mountain, Thotupola Mountain, Single Tree Mountain).
Jeep rentals are available for those who don't have their vehicles. The Moon Plains in Sri Lanka are an excellent place for safari rides, close encounters with nature, and a wide variety of flora and wildlife to explore. Because there isn't anywhere to buy food or get a snack, you'll have to rely on your supplies. Take rubbish containers with you to the Moon Plains, so you don't have to worry about dropping it all about.
The ideal time to visit Moon Plains is early in the morning or late at night. From 7:00 a.m to 5:00 p.m. To go to the Moon Plains, which are a few miles from the main town of Nuwara Eliya, one must first pass the Government Potatoes Seed Farm at Sita Eliya. Spring Acre is about a 15-minute drive away from the Moon Plains, which Moon plains may reach via the Seetha Eliya farm. Safari jeeps are available at the Seetha Eliya Farm to drive you to the Moon Plains 3 kilometers away.
07 Hakgala Botanical Garden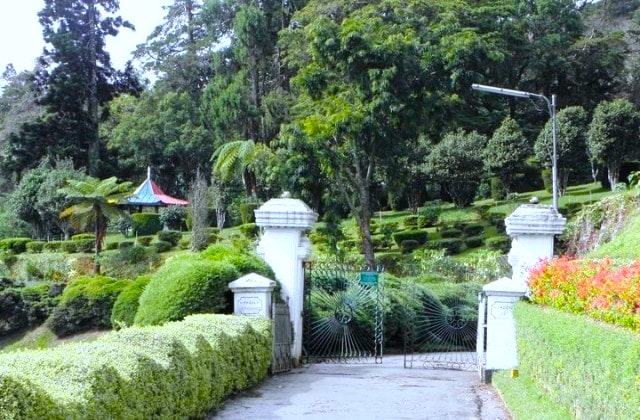 The Hakgala botanical garden in Sri Lanka is one of the country's seven botanical gardens. This is Sri Lanka's second-largest botanic garden. The Hakgala Strict Nature Reserve, where it is located, was founded in 1861. For example, there are areas specific to various plant species, such as cacti, ferns, and orchids, across the entire garden. You can reach it by driving 5 kilometers from Nuwara Eliya south on the Badulla Highway.
The Japanese garden, rock garden, fern garden, water garden, and seed room are among the garden's most notable features. When it comes to gardens, Hakgala's low-country lotus and water lilies combine harmoniously with English roses, prehistoric-feeling ferns, and indigenous orchids. Gardeners can marvel at the 450-meter high Hakgala rock that towers over them.
08 Dunhinda Falls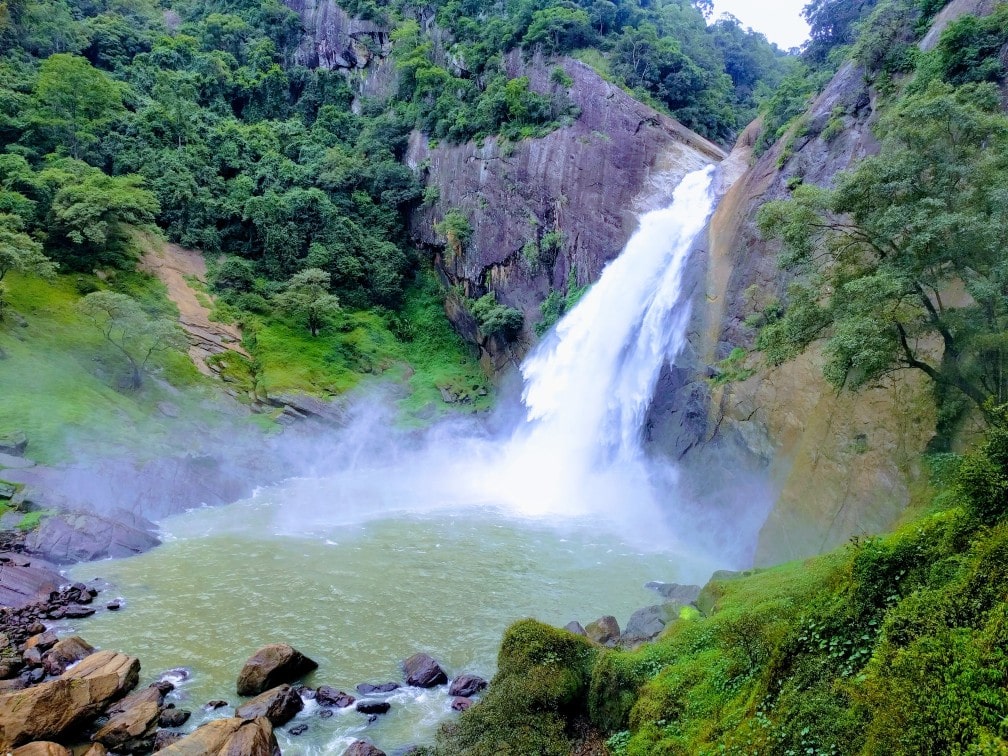 Dunhinda Falls is located about 5 kilometers from Badulla in Sri Lanka's central hills. The waterfalls are said to be one of the most spectacular in the country. The smokey dew drops spray surrounding the region at the waterfall's foot gives the 64-meter cascade its name. The Uma Oya and Hal Oya rivers and smaller streams from the Bandarawela and Welimada districts enrich the waterfall. June and July are the best months to catch sight of them, but a trip at any season of the year is worthwhile. It becomes even more fascinating during Sri Lanka's rainy season, from November to March when it carries a large volume of water.
While traveling to this waterfall, you'll pass by another smaller waterfall named Kuda Dunhinda. Thus, you can sample and refresh yourself by purchasing a native herbal drink from vendors along the path to the waterfall. There are also a considerable number of monkeys in the region. You'll arrive at a viewing platform with a waterfall after this trek. While taking in the view, it's important to remember that the water at the waterfall's base is deep and full of greased rocks and stones.
The Bandarawela to Badulla Road passes Kumbalwela and Demodara on its way from Ella to Bandarawela. Then take the Mahiyangana Road up to the "Dunhinda Junction," about 6 kilometers from Badulla, and turn left. Side of the street, there is a notice board and a gate.
09 Cool walk & visit near Nuwara Eliya Town Spots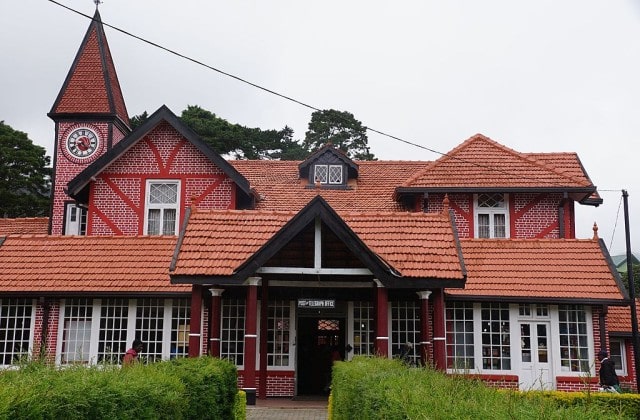 Postal holiday home
The British constructed the Nuwara Eliya Post Office in 1894, making it one of the country's oldest post offices. A short distance away is Nuwara Eliya's main market and shopping district. Visitors visiting the town of Nuwara Eliya are also drawn to the two-story red brick Tudor-style building on the main street.
Gregory lake & park
Gregory lake is a popular tourist destination named after Sir William Gregory in 1873. It is a popular spot for water and recreational activities. Boat rides are provided on the lake. It is only 30 minutes via seaplane from Colombo to get there. Gregory Lake, situated on the southern side of the town, offers visitors the opportunity to stroll along the paved walkways, with swan-shaped paddle boats available for the more daring. Pony rides around the Gregory park and lake are available for children and adults alike. A variety of fast food shops are available in a separate section where visitors can stop for a snack or meal.
Victoria Park
Victoria Park is a public park in the Sri Lankan town of Nuwara Eliya, right next to the town's post office. In honor of Queen Victoria's Diamond Jubilee, the park was given its current name in 1897. It has a lot of beautiful flowers and a lot of nice spots to unwind and enjoy yourself. In addition to the train tour for adults, there is a play area for children. As a birdwatching hotspot, this location has many plants and trees. Victoria Park comes to life in the spring and fall, especially from March through May and August through September.
Places to visit in Nuwara Eliya
Nuwara Eliya visit places Location map
Best stays in Nuwara Eliya
Best food courts in Nuwara Eliya
What is the best route from Colombo to Nuwara Eliya
Traveling from Colombo to Nuwara Eliya is one of the most challenging journeys. Still, it is a glorious and valuable route that will gain the best features. 
Mainly we suggest 3 routes for your selection. In my opinion, all three ways are best, and given three different travel experiences in your journey, find the best way depending on your visit and chosen location. If not, you can select one way to go to Nuwara Eliya and another way back.
Route 1: Train tour from Colombo to Nuwara Eliya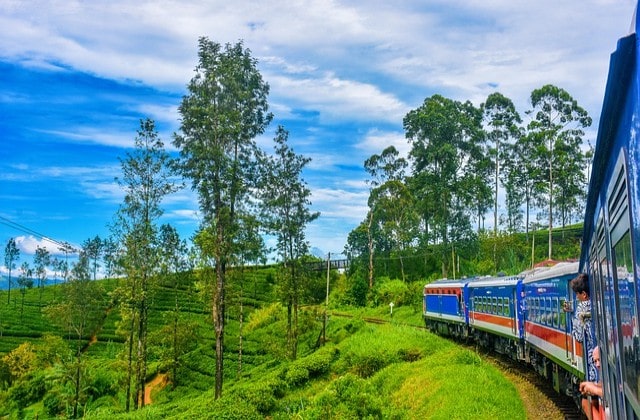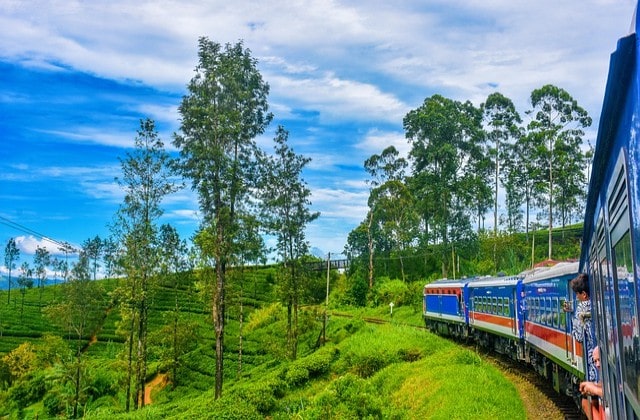 Train travel from Colombo to Nuwara Eliya has long been a famous tourist journey in Sri Lanka. Make this one of the most memorable nature tours and the most beautiful train journeys in the world by taking this trip. Green tea fields, beautiful train stations, lush forests, and majestic cities can be seen as the train travels through the mist.
This train includes; first, second and third classes train carriages. The third class on the train may be the most affordable option. You'll also meet many friendly people from the area if you do this. Do not forget there will be many tunnels along the way (Between Colombo and Badulla, there are 46 tunnels on the Main Line), so staying in windows and doorways will not keep you safe. So if you afford first-class, I recommend securing the first-class ticket so that you can experience the show from a glass-enclosed viewing platform. Comfortable and with a natural feel, this will be a great option. When making travel arrangements, don't forget to research Sri Lankan rail stations and book tickets well before the actual departure date.
Find with social media
Keep in mind

(What should know traveling train in Sri Lanka)
Be safe in staying in windows and doorways
Book your tickets before your arrival
Secure your bags & pockets from theft
Be aware of the train schedule
Route 2 : (Colombo, Kegalle, Peradeniya, Ramboda, Nuwara Eliya)
Following this route, you can taste Roti from Appachige kade andtaste the best Nuwara Eliya tea from Labukale Damro teapot. As well natural landscape and beautiful waterfalls can see during this route.
Best things to do traveling from Colombo to Ramboda & Nuwara Eliya
Mount Pidurutalagala
Mandaram Nuwara
Gerandi Ella Falls
Ramboda falls
Taste roti
Taste nuwara eliya tea
Route 3 : (Colombo, Kadawatha, Ruwanwella, Kitulgala, Hatton, Nuwara Eliya )
Following this route, you will have Sri Lankan's most famous waterfalls.
Best things to do traveling from Colombo to Hatton & Nuwara Eliya
Aberdeen falls
Laxapana falls
Gartmore falls, Maskeliya
Devon falls
St. Clair's Falls
Best visit places in Ella & Haputale
After Nuwara Eliya journey you can visit Ella, Haputale, Bandarawela and Badulla. Sometimes you will plan one day trip to Nuwara Eliya that is not matter. Still, my opinion is if you plan this trip, this route is best for a two or three days trip to Nuwara Eliya and other locations. That will be an effective trip, and the tour will add many memories to your travel bucket.
Find Ella and Haputale as your next destination. We provide the best route guide & map, the best time to visit Ella and Haputale, the best hotels & roti shops, and the top 12 spots you should visit in Ella and Haputale. We hope you will support this article to make a comfortable journey with your family and friends. Happy travel for all travelers.
Take only memories, leave only footprints