Sri Lanka, often called the "Pearl of the Indian Ocean," is a country blessed with breathtaking landscapes, rich history, and vibrant culture. Among its many treasures, the city of Kandy stands out as a jewel in the island's crown.
Nestled in the lush central highlands of Sri Lanka, Kandy is a city that weaves together history, culture, and natural beauty to create a truly enchanting destination. With a rich past, diverse climate, and an array of attractions, Kandy has something to offer every traveller.
What can you see from this:
History of Kandy
Kandy's history is as captivating as the city itself. It was the last capital of the ancient kings' era in Sri Lanka and the stronghold against colonial powers. Its historical significance is best reflected in the UNESCO-listed Temple of the Tooth Relic, Sri Dalada Maligawa. The temple houses a sacred tooth relic of Lord Buddha, making it a revered place of worship and a symbol of the city's historical importance.
Kandy was also the epicenter of the Kandyan Kingdom, known for its fierce resistance against the Portuguese and Dutch. The legacy of this resistance is visible in the city's distinctive culture and architecture.
Importance of Kandy
Kandy is significant in Sri Lanka, serving as a cultural, spiritual, and historical hub. It is the cultural capital of the country, hosting various traditional events and festivals, including the renowned Esala Perahera. This grand cultural festival features impressive parades, traditional dances, and beautifully adorned elephants, offering a unique glimpse into Sri Lankan culture and spirituality.
Moreover, the city is not just a historical relic but a living testament to Sri Lanka's diverse heritage. It has been a focal point for preserving and promoting traditional arts and crafts, ensuring that the island's cultural essence thrives.
Kandy Climate
The Sri Lankan monsoons are mainly divided into 4 categories. Kandy boasts a pleasant and temperate climate throughout the year, making it a welcoming destination for travellers. The city enjoys two major monsoons, which contribute to its lush greenery. While the southwest monsoon brings rainfall from May to September, the northeast monsoon ensures occasional showers from November to February.
The best time to visit Kandy is during the dry season, which falls between December and May. This period offers clear skies, perfect weather for exploring, and a chance to experience the city without the hindrance of rain.
Easy Access Places in Sri Lanka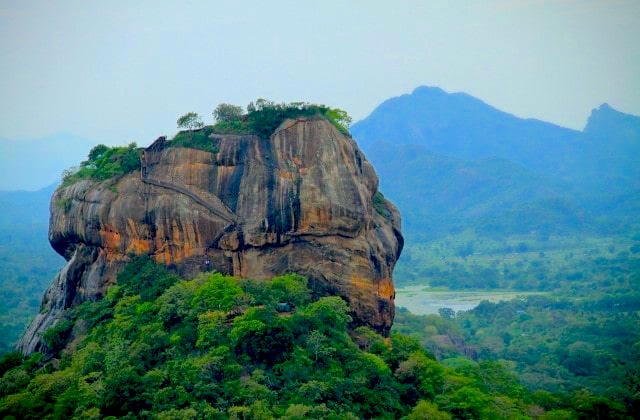 Kandy's strategic location in the central region of Sri Lanka makes it an ideal starting point for exploring the country. The city is well-connected with major highways and railways, providing easy access to iconic Sri Lankan destinations.
From Kandy, you can embark on adventures to places like Sigiriya, known for its ancient rock fortress, Knuckles forest, or the charming town of Nuwara Eliya, often called "Little England." The scenic train journey from Kandy to Ella is a world-famous route that offers breathtaking views of tea plantations, waterfalls, and mountain landscapes.
Dambulla
Meemure
Mahiyanganaya
Adam's Peak
Shopping Places
Kandy offers a diverse shopping experience, ranging from bustling markets to modern shopping malls. For an authentic shopping spree, head to the Kandy City Center, a vibrant mall where you can find various products, from clothing and electronics to local handicrafts and souvenirs.
Alternatively, don't miss the bustling streets of the Kandy Market, a place where you can immerse yourself in local culture and haggle for unique items. You'll find everything from spices, gems, and jewellery to traditional Sri Lankan clothing.
Accommodation
Kandy provides a wide range of accommodation options, catering to various budgets and preferences. Whether you're seeking luxury or a more budget-friendly stay, there's something for everyone.
For a touch of colonial elegance, stay at hotels like The Queen's Hotel or the Grand Kandyan Hotel. These establishments offer a blend of modern comfort with a historical atmosphere. If you prefer a more secluded experience, the city boasts numerous guesthouses and boutique hotels, providing personalized and intimate stays.
Kandy also features beautiful resorts tucked away in the surrounding hills and many Airbnb options for those who desire a homely atmosphere.
If you plan a trip to Kandy, you're in for a treat! This beautiful city in the heart of Sri Lanka is not just about the city centre; it's also about the remarkable places that surround it. Because of these factors, Kandy has added to Sri Lanka's most relaxing places. In this guide, we'll take you through the best things to do near Kandy, making sure your visit is as enchanting as it can be.
Best Things to Do Near Kandy
01 Sri Dalada Maligawa (Temple of the Tooth Relic)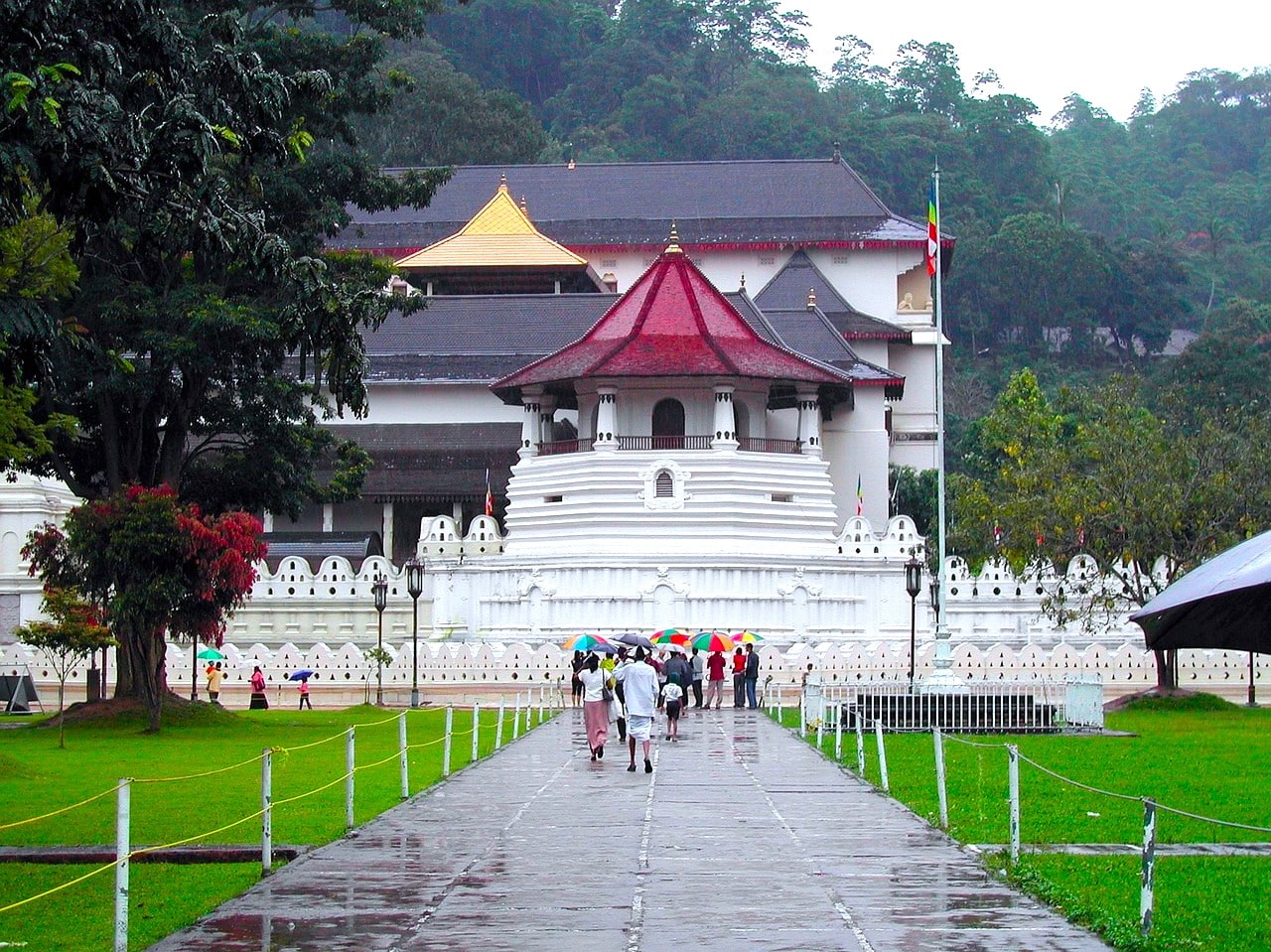 Your journey begins at the iconic Sri Dalada Maligawa, also known as the Temple of the Tooth Relic. Located in the heart of Kandy, this temple houses a sacred tooth relic of Lord Buddha. It's not just a place of worship; it's a piece of living history. As you enter, you'll be greeted by the enchanting scent of incense and the soothing sound of temple drums.
Don't forget to explore the museum adjacent to the temple, which provides a deeper understanding of the relic's significance. And if you're fortunate enough to visit during the Esala Perahera festival, you'll witness a grand procession that's a spectacle like no other.
02 Royal Botanic Gardens, Peradeniya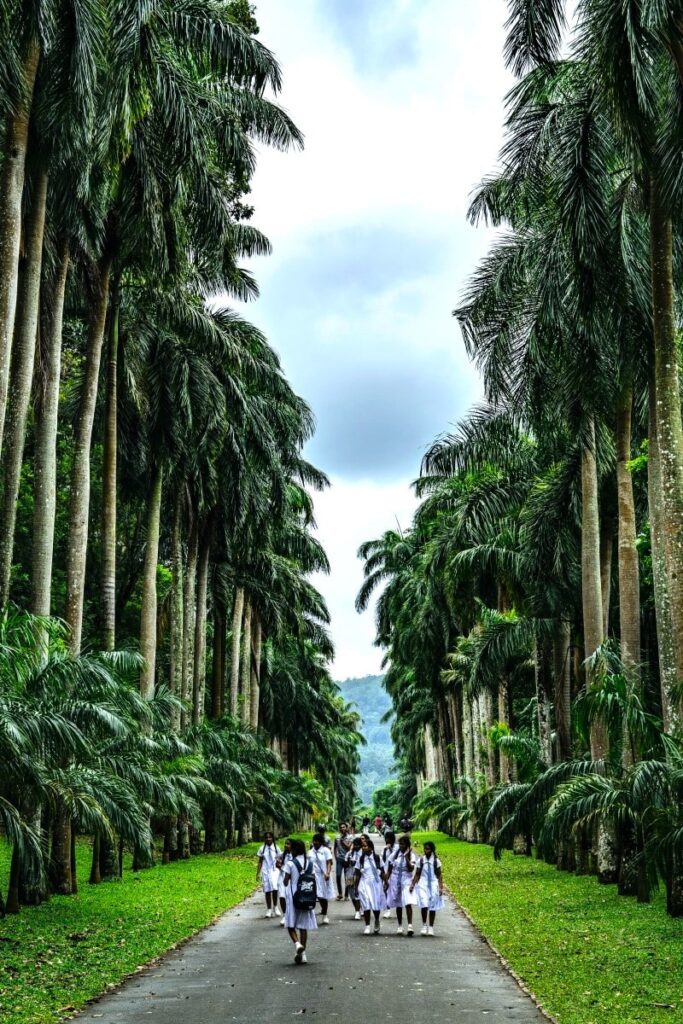 A short drive from Kandy takes you to the enchanting Royal Botanic Gardens in Peradeniya. With a history dating back to the 14th century, this 147-acre garden is a paradise for nature lovers. You can wander through avenues of towering bamboo, marvel at the giant Javan fig tree, or get lost in the maze of orchids.
The highlight of this botanical wonderland is the Avenue of Royal Palms, a tree-lined pathway that provides a truly regal experience. Birdwatchers will also delight in the colourful avian residents, so keep your camera ready.
03 Riverston & Knuckles Mountain Range
Just a few hours from Kandy, the Riverston area is a hidden gem. It's the perfect place for a day trip, offering breathtaking views of the Knuckles Mountain Range. The trek to Riverston is an adventure in itself, with lush greenery and cool breezes.
Once you reach the viewpoint, you'll be treated to a panoramic view of the Knuckles mountain range, the Knuckles Forest Reserve, and the Hulu Ganga Valley. It's a photographer's dream, so be sure to capture the moment. The whole experience is like a natural air-conditioned paradise.
Knuckles isn't just a destination; it's a hiker's paradise where dreams of the perfect trek come true and make it suitable for all levels of hikers. Whether you're into leisurely strolls or heart-pounding adventures, you'll find a hike that suits you. For nature lovers and avid hikers, the Knuckles hiking list is like a treasure trove of wonders waiting to be explored.
Among the many trails, the Knuckles Duwili Ella hike stands out as one of Sri Lanka's grandest adventures. As you traverse this path, you'll encounter some of the most stunning waterfalls, Infinity pool and lush green landscapes imaginable, a true treat for your senses.
But it's not just about the big hikes; the Knuckles nature trail and village trekking experiences are also high on the list of favorites, especially among our foreign friends. They offer a more immersive and cultural perspective of this beautiful region.
Now, I have to mention that some of these hikes are not for the faint of heart. They're thrilling, challenging, and definitely adventurous. For those embarking on these wild journeys, we highly recommend selecting the right guide. Our top pick is Knuckles Adventure, a name you can trust to ensure your journey is not only brimming with excitement but also conducted safely and responsibly. So, whether you're a seasoned hiker or a newcomer to the trails, your Knuckles adventure awaits!
04 Railway Museum, Kadugannawa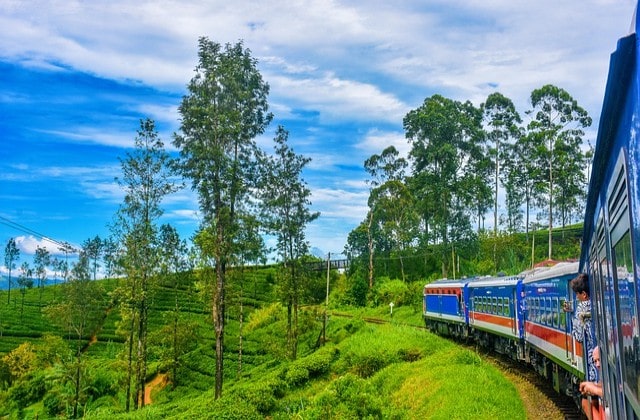 If you're fascinated by locomotives and the history of rail travel, the Railway Museum in Kadugannawa is a delightful stop. This small museum is housed in a charming old railway station building and is a testament to Sri Lanka's rail heritage.
You'll find vintage steam locomotives, carriages, and various railway memorabilia. It's a fun and educational experience, especially if you're travelling with children. Plus, the picturesque setting makes it an excellent spot for some unique photographs.
03 Meemure
Nestled deep in the central highlands of Sri Lanka, the secluded village of Meemure is a hidden gem waiting to be explored. This remote haven is a sanctuary for nature lovers, adventure seekers, and those in search of an authentic cultural experience. Meemure's isolation has preserved its pristine beauty, making it a place where time seems to stand still.
Meemure is an idyllic destination for those who appreciate the great outdoors. Surrounded by lush forests and embraced by rolling hills, the village offers a plethora of opportunities for hiking and trekking. The nearby Lakegala Mountain, an iconic natural wonder, is a favourite among hikers and promises breathtaking views from its summit.
The serene, crystal-clear waters of the Hulu Ganga River are perfect for a refreshing dip after a day of exploration. Meemure is a hub of biodiversity, with various bird species, butterflies, and even the occasional leopard gracing its pristine landscapes. It's a place where you can reconnect with nature, far away from the chaos of urban life.
06 Ambuluwawa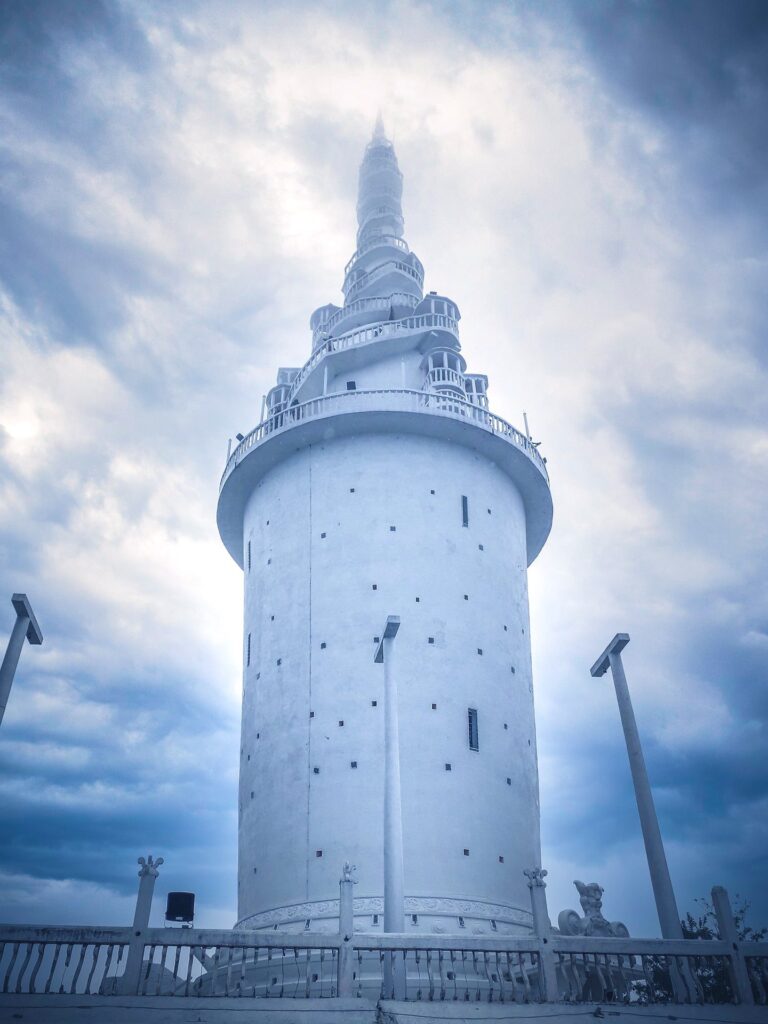 A short drive from Kandy, Ambuluwawa is a multi-religious complex that sits atop a hill. The unique feature of this place is the multi-story tower with elements of different religious symbols. The views from the top are breathtaking and provide an excellent opportunity for panoramic photography.
There are well-maintained walking paths and beautiful gardens around the area. It's an ideal spot for a leisurely day trip, picnicking, and enjoying the tranquil ambience.
07 Kandy Lake: A Serene Oasis
Kandy Lake, also known as Kiri Muhuda or the Sea of Milk, is not just a body of water; it's a tranquil oasis in the heart of the city. This artificial lake was created in 1807 by King Sri Wickrama Rajasinghe, and a picturesque promenade surrounds it. You can take a leisurely walk along the shores, which offer splendid city views, or sit by the lake and enjoy the calming ambience.
One of the standout features of Kandy Lake is the small island at its center, where you'll find the Royal Summer House, known as "Walakulu Bemma." It's an excellent place to capture some postcard-worthy photographs. Don't forget to visit the nearby Temple of the Sacred Tooth Relic, as its reflection in the lake adds to the magical scenery.
08 Udawattakele Forest Reserve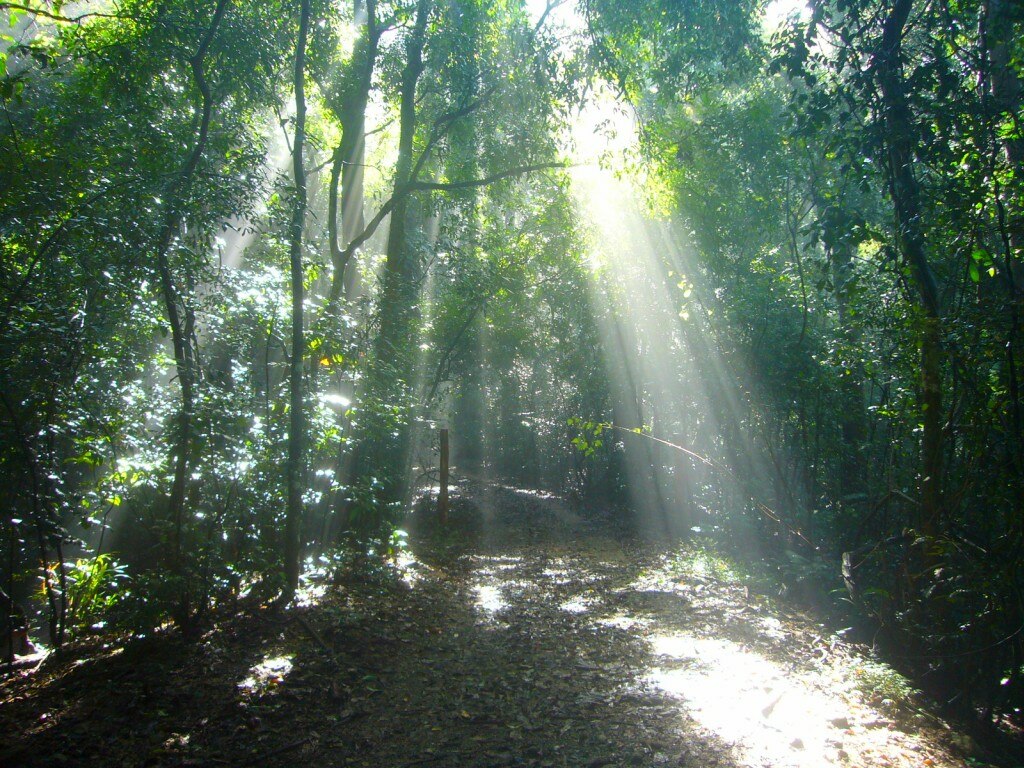 Udawattakele, often called the "Royal Forest Park," is a lush and serene forest reserve just a stone's throw away from Kandy's city center. It's an ideal place to escape the city's hustle and bustle while immersing yourself in nature. The reserve covers approximately 257 acres and offers various walking trails for nature enthusiasts.
The forest is home to a diverse range of flora and fauna, including towering trees, vibrant orchids, and various bird species. Keep your eyes peeled for the elusive purple-faced langur, a unique monkey species in Sri Lanka. The forest reserve is also home to several historical and religious sites, adding a layer of cultural significance to its natural beauty.
09 Kandy Spice Gardens
Sri Lanka is renowned for its spices, and visiting one of Kandy's spice gardens is a sensory journey you won't want to miss. Learn about cultivating spices like cinnamon, cardamom, and cloves, and savour the aromatic experience. These gardens are not just places to see but also places to learn about the essential ingredients that flavour Sri Lankan cuisine.
Your guided tour of a spice garden will provide insights into the harvesting and processing of spices. You'll have the chance to touch, smell, and taste a variety of spices and herbs. Many spice gardens also offer a selection of herbal products, teas, and essential oils that you can purchase to bring a piece of Sri Lanka's fragrant heritage back home.
10 Kandy View Point
For a fantastic bird's-eye view of Kandy and its surroundings, head to Arthur's Seat View Point. This vantage point is just a short drive from the city center and offers an incredible perspective of the city's topography.
The road to the viewpoint is a bit steep, but the view at the end is well worth the effort. From this elevated spot, you can take in the picturesque landscape of Kandy, with the city's iconic lake and the lush hills providing a stunning backdrop.
Bonus Spots
01 Gadaladeniya and Lankathilaka Temples
A short drive from Kandy will take you to the Gadaladeniya and Lankathilaka Temples, two hidden architectural gems that are sure to leave you in awe. These ancient temples showcase exquisite South Indian architecture and are perfect examples of the island's rich historical tapestry.
The Gadaladeniya Temple, built on a massive rock, offers a panoramic view of the surrounding countryside. It is dedicated to Lord Buddha and features intricate stone carvings and a captivating image of the house. Lankathilaka Temple, on the other hand, boasts a striking brick structure with a colossal image of Lord Buddha. The temple's interiors are adorned with elaborate murals that add to its splendour.
02 Embekka Dewalaya
Embekka Dewalaya is a temple located near Kandy that's famous for its intricate woodcarvings. The temple showcases stunning Kandyan architecture and exquisite woodwork. Each beam and pillar is adorned with intricate carvings that depict various stories and legends.
A visit to Embekka Dewalaya is like stepping into a world of craftsmanship and history. The serene setting adds to the overall experience, making it a place to appreciate the beauty of Sri Lankan artistry.
03 Hanthana Mountain
Hanthana Mountain, located on the outskirts of Kandy, is a paradise for hikers and nature lovers. The mountain range offers several trekking trails that vary in difficulty, making it suitable for all levels of hikers.
The lush vegetation, cool climate, and refreshing streams along the way make Hanthana a fantastic spot for a day in the great outdoors. It's a place to reconnect with nature and enjoy some well-deserved peace and quiet.
Kandy Visiting Places Map
Travel Tips for Your Kandy Visit
Before you embark on your journey to Kandy, here are some essential travel tips to make your visit enjoyable and hassle-free:
1. Respect Local Customs: When visiting temples and sacred sites, dress modestly and remove your shoes. It's also customary to offer a small donation when entering.
2. Transport: Kandy is well-connected by train, bus, and tuk-tuks. The train journey from Colombo to Kandy is renowned for its scenic beauty.
3. Weather: Kandy enjoys a pleasant climate, but it's a good idea to check the weather beforehand, especially during the monsoon season.
4. Accommodation: Kandy offers a range of accommodation options, from luxury hotels to guesthouses. Booking in advance is advisable, especially during the peak tourist season.
5. Language: Sinhala and Tamil are the official languages, but English is widely spoken, particularly in the tourist areas.
Kandy and its surroundings are a treasure trove of experiences waiting to be explored. From historical and cultural sites to breathtaking natural landscapes, there's something for everyone. Whether you're a history buff, a nature enthusiast, or simply seeking some relaxation, Kandy has it all. So, pack your bags, grab your camera, and embark on a journey to discover the best things to do near Kandy. You're in for an unforgettable adventure!
Take only memories, Enjoy your trip, & Leave only footprints

TEL