Canada is one of the best spots to find the glorious national parks, scenery, beautiful lakes, eye-catching towns, fascinating landmarks, and top things to do in Canada. Because of that, we collect 13 Places to Visit in Canada for your easy selection. As well We provide "Why Canada is the best for travelers", "Best time to visit Canada & Weather of Canada", and "Things To Know Before Traveling To Canada" for your Canada travel bucket list.
This country has 10 provinces and 3 territories that cover 9.98 million square kilometers, making it the second-largest country in the world in terms of total land area. Its 8,891-kilometer southern and western land border with the United States is the world's longest binational land border. Montreal, Toronto, and Vancouver are Canada's three major metropolitan areas, and Ottawa is the country's capital city.
Depending on the topography, you can find the best visiting and relaxing places in Canada. There have 3 major areas for your travel selection and planning your trip with time management.
Places to visit in Western Canada
Rocky Mountains, Okanagan Valley, cities of Vancouver, Victoria, and Calgary
Places to visit in Central Canada
Niagara Falls, Ottawa, Toronto, Quebec City, and Montreal
Places to visit in Eastern Canada
Gros Morne National Park, Halifax, and St. John's
O1 Niagara Falls
Niagara Falls, Canada's most famous natural wonder and attracts millions of tourists each year. There are three waterfalls southern edge of Niagara Gorge, which spans the border between Ontario, Canada, and New York, USA. These huge falls drop 57 meters to the American border just over an hour from Toronto. There are several viewpoints where you can get a close look at the falls.
Niagara's spectacular Clifton Hill leads to the gorge and the falls, making it a great family outing. Other popular activities in this area include taking a cruise to a base of the falls, climbing the Skylon Tower for the spectacular viewpoint, and taking the trip Behind the Falls tour to see the falls from the bottom. June through August are the most favorable for visiting Niagara Falls.
02 Royal Ontario Museum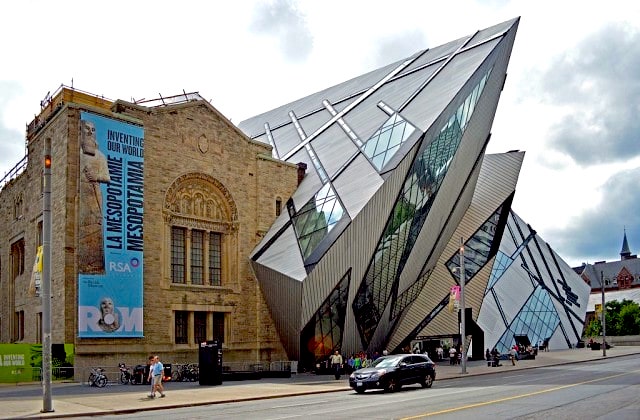 The Royal Ontario Museum is a Canadian art and world culture, including a natural history museum located in Toronto, Ontario, and is open to the public. It is one of the best world's largest museums of art. As one of the biggest in North America and the largest in Canada, it is a destination for visitors. The Royal Ontario Museum receives more than one million visitors every year, ranking it the most visited museum in Canada.
03 Banff National Park, Lake Louise & Moraine Lake
Alberta's Banff National Park, located in the heart of the spectacular Rocky Mountains, is home to some of the numerous dazzling landscapes in all of Canada. This breathtaking park offers easy access to Turquoise-colored lakes, snowcapped hills, and glaciers. Take a beautiful drive or embark on one of Banff's best treks to get the most out of your trip.
Lake Louise
Nearby mountains and glaciers are beautifully reflected in Lake Louise. Here, tourists may take strolls around the lake's shoreline to take it all in. Moraine Lake, and stunning alpine lake with even more spectacular scenery, is only a short distance away.
A must-see in Banff is the Icefields Parkway that connects Lake Louise and Jasper through Lake Louise. At the southern destiny of the park is Banff, a charming little town that offers a wide range of lodging alternatives and shopping, food, and nightlife options.
Banff is best visited from June through August and from December through March. People who enjoy the great outdoors will want to visit the park when the climate is warm. To get the most out of Banff and Lake Louise, plan to spend at least two days there. If you want to do something like hiking, camping, and canoeing in the summer, you'll need five days.
Moraine Lake
Moraine Lake's magnificent blue-green waters are protected by the Valley of a Ten Peaks. This is a glacially-fed lake located in Banff National Park and 14 kilometers outside of the resort of Lake Louise in Alberta, Canada. Take a stroll along the shoreline through the woodland or climb to the top of a cliff for amazing views. Activities such as hiking, walking, canoeing, and photography are popular in this area.
Located around 1,884 meters above sea level in the Canyon of the Ten Mountains, it is a popular hiking destination. The lake, which is 50 kilometers from the city area, is a haven of calm. The Moraine Lake park is available from the middle of June to the middle of October.
04 CN Tower
The CN Tower is a 553.3-meter-high concrete communication & observation tower in the heart of Toronto, Ontario, Canada's commercial and entertainment district. CN Tower finished in 1976 on what had previously been known as the Railway Lands. When the tower was first named "CN," it was in honor of the Canadian National Railway Company, which constructed it.
The spinning 360 restaurant, located at the top, offers superb dining with spectacular views of the city and the lake below. The Watch and the Glass Floor provide stunning views of the surrounding area. For extra excitement, you can take the CN Tower Edge walk metal walkway outside the enclosed space. Once you've been strapped in, you'll be allowed to walk out about the building 116-story or 356 m( 1,168-feet) tall structure at will. The night tour is most beautiful because the tower is lighted in various colors.
05 Capilano Suspension Bridge Park
The Capilano Suspension Bridge is located in North Vancouver, British Columbia, Canada, and spans the Capilano River. It is a simple suspension bridge over the river. Since it opened in 1889, the Capilano suspension bridge has enthralled visitors with its long 137 meters (450 feet ) span and 70 meters (230 feet) height.
Visitors to Treetops Adventure are taken 110 feet into a coastal rainforest through seven suspension bridges tied to old-growth trees. All visitors, regardless of their age, are welcome. The importance of temperate rainforest on the West Coast is explained in the hourly nature talks.
Shopping, dining, and festivals like Raptors Ridge Birds of Prey from June to October & Canyon Lights in December round out this year-round hotspot's offerings.
Canyon Lights atCapilano Suspension Bridge Park
06 Whistler Blackcomb
Whistler Blackcomb is North America's one of largest ski resorts. It is located in Whistler, a town north of Vancouver in British Columbia. Only a two-hour journey from Vancouver gets you there. An intimate, chalet-style pedestrian hamlet at the bottom of Whistler and Blackcomb mountains serves as the heart of Whistler.
However, Whistler has long been a popular winter sports destination. In addition to skiing and snowboarding, Olympic Park, the venue for the 2010 Winter Olympics in Vancouver, features snowshoeing, golf, mountain biking, tobogganing, and ski jumping.
Winter Olympic Games were held in the town in 2010, bringing in millions of visitors from around the world. In addition to world-class skiing, hotels, and restaurants, the area provides plenty of outdoor activities and stunning mountain views.
Suggested Trailoka: 12 Safe & relax national parks in the United States & best time to visit
07 Stanley Park in Vancouver
Stanley public park is one of the greatest hidden gems in Vancouver, British Columbia, Canada. This is around 405-hectare. It occupies the northern half of the Downtown Peninsula, which is surrounded by Burrard Inlet and English Bay on three sides.
It is also reasonable to take a scenic drive around Stanley Park, which has several rest areas and beautiful city and mountain views may be had from the seawall. Large Douglas fir trees and red cedar may be seen in the park, which is located on the coast. The seawall that encircles the park features a wide walking and biking trail with dedicated lanes for pedestrians and bikers.
Vancouver Aquarium, Beaver Lake, Stanley Park Pavilion, and Rose Garden are all located inside the park. There are also several totem poles, most of which have stood for more than a century and a half in the area. Cherry blossoms are a spectacular sight in the springtime.
The months of March to May and September to November are ideal for visiting Vancouver because of the moderate weather and lower accommodation rates. You can see the park anytime really, the best times to come are either early in the morning or late afternoon.
08 Bay of Fundy
Fundy Bay is situated in Eastern Canada, straddling the provinces of Nova Scotia and New Brunswick, extending into the state of Maine. This is the world's most significant difference between upward and downward for high tides, sometimes reaching a whopping 19 meters.
For example, as New Brunswick's Hopewell Rocks, they can be found either submerged in water or arid ground based on the day. Fundy Trail Parkway is a coastal parkway that features lookouts and beaches. You can find Acadian Forest pathways at Fundy National Park.
Other most popular spots and sites are Fundy National Park, Hopewell Cape's mountains and rock formations, the Grand Manan Island, and Fundy Trail Parkway; however, there are numerous ways to admire this natural marvel.
Fundy Bay High Tides and Adventure
09 Canada's Wonderland
Wonderland is located in Eastern Canada. "Canada's Wonderland" is a tourist attraction that spans 134 acres in Vaughan, Ontario, a city approximately 25 kilometers north of Downtown Toronto. The Taft Public Broadcaster and the Great-West Life Assurance Company opened Canada's first major theme park, which is still the country's largest, in 1981 as the first major theme park.
With 16 of the world's best roller coasters and more than 200 entertainment, including thrill rides, the water park, live performances, and various children's zones, Canada's Wonderland is an excellent attraction for visiting and local families. Furthermore, you can find more information from Wonderland's official website.
10 Parliament Hill
Parliament Hill, also called "The Hill," is a piece of Crown land located in the heart of downtown Ottawa, on the south side of the Ottawa River. In 1976, this was nominated a World Heritage Site. With its late-19th-century Gothic revival structures and architectural aspects of national symbolic value, Parliament Hill is where Canada's Parliament sits.
The Peace Tower, which separates the House of Commons and the Senate, is the most noticeable landmark. It was lit in 1966 to honor the 100th anniversary of the Canadian Confederation, and a sculpture park lies beyond the Parliament buildings.
A change of guard occurs on the Houses of Parliament's lawn during the summer, weather permitting. There is a nice riverside walk just below Parliament Hill.
11 Old Quebec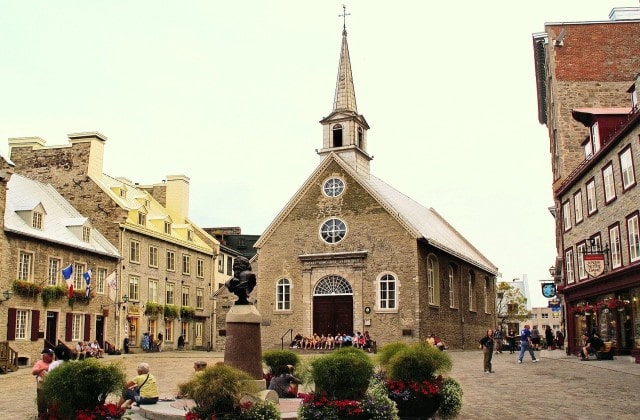 Old Quebec is one of the must visit places in Canada and the UNESCO World Heritage Site. Historic landmarks, including museums, abound in Old Quebec, protected by 17th-century fortifications. Upper and Lower Town can find more than two dozen of the city's most delicate historic structures here in Upper and Lower Town. "Fairmont Le Château Frontenac" is one of the city's most well-known attractions, located in the Lower Town here on the banks of the St. Lawrence River. Upper Town is located at the top of a 100-meter-tall cliff, which houses the Citadel, a Plains of Abraham, and the Place d'Armes.
As one of the country's most famous historical destinations, Old Quebec has an extensive tourism infrastructure. Art galleries on Rue du Trésor, the Musée de la Civilisation, and a slew of one-of-a-kind stores and restaurants round out the city's must-see attractions.
12 West Coast Trail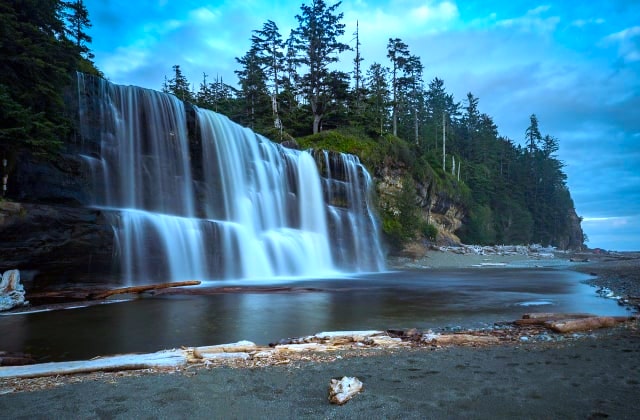 On Vancouver Island, the Pacific Rim National Park Reserve is home to the west coast trail and other hiking options. As a result, west coast walks are surrounded by an abundance of exciting activities. Hikers and backpackers can experience some of the country's most stunning and secluded landscapes along the West Coast Trail. Everything from rain forests to sandy beaches to a wide variety of species may be found on the West Coast Trail. Read & hike to…
More on Trailoka: 9 Amazing things to do in West Coast Trail Canada
13 Vancouver Island
Vancouver Island's wild and untamed beaches are a summer haven and a winter hotspot for storm-watching and surfing. It's a two-hour ferry journey from the mainland to the Island. There are several options to relax on the Island's golf courses and vineyards in addition to its endless hiking, camping, and paddling excursions.
The old-growth woods of gigantic trees, perhaps more than 1,000 years old, are one of the Island's most stunning sights. Eden Grove, a grove of ancient trees in Port Renfrew, is easily accessible from Victoria via a day trip. Going farther up the Island, you may visit Cathedral Grove, which is located near Port Alberni, as well as Tofino to view even more gigantic trees.
Vancouver Island encloses some of the best hiking routes and camping spots for nature lovers. More luxurious accommodations are available at the Island's lodges and resorts for those who choose them. Some of the other popular tourist spots on Vancouver Island are Parksville, Nanaimo, and Qualicum Beach, all located on the Island's eastern shore and overlooking the Salish Sea.
The best months to visit Vancouver Island is between March and May or September and November. There may be a few showers here and there, but the region has some of the mildest and driest summers in the country. The big waves that crash into the shoreline during storm season (November to March) bring a lot of tourists. Still, it would help if you made your safety during this season.
14 Cabot Trail, Nova Scotia
The Cabot Trail is a gorgeous highway that may be found on the island of Cape Breton in Nova Scotia, Canada. It is a loop that goes around the northern tip of the island, covering a distance of 298 kilometers (185 miles) and passing through the Cape Breton Highlands and also the Cape Breton Highlands National Park
Cape Breton is a haven for artists as well as a haven for those who enjoy the outdoors. Prince Edward Island and all of Nova Scotia make up the "Maritimes" region of southeastern Canada. It has breathtaking views of the mountains and the ocean, charming buildings, and cozy cafes. Only a handful of destinations can boast waterfalls, beaches, mountains, evergreens, fabulous fall colors, Whales, great seafood, beautiful architecture, and Celtic culture. Read more…
More on Trailoka: 20 Best Relaxing Things to do in Cabot Trail, Nova Scotia
More on Trailoka: Best Way to Travel Around the Cabot Trail, Nova Scotia
Why Canada is the best for travelers
World famous Niagara Falls
Taste Maple syrup leading producer and exporter
People Politeness best country
One of the best country to enjoy Marijuana
Stunning landscapes & 48 national parks
Best place to see Northern lights
World famous Poutine
Play with Snow and ice
Taste Craft beer
Moose & polar bears
Safest country for travel
Best time to visit Canada & Weather of Canada
From September to November, the best time to visit Canada. The temperature has fallen, but it's still pleasant. The changing colors of the leaves provide a dramatic backdrop to a getaway. In Canada, February is the coldest month of the year.
July, August, and later June is the warmest times of the year to visit Canada. On average, temperatures in late July reach 72°F (22.3°C) or higher, with lows rarely falling below 51.8°F (11°C).
From June to October, Canada often has its most pleasant weather. In general, Canada's busiest travel season is from June to August, except for Banff National Park, which can see visitors in the winter as well.
Things to know before traveling to Canada
Canada is a Big Country, so plan your trip according to days & provinces.
Be aware of currency and exchange.
Prepare Yourself for the Weather in Canada.
Canada has Two Official Languages (English & French).
Prepare to Pay Sales Tax on Your Bills.
Canadians are Polite.
Excellent customer service is typical in Canada.
Remember and be ready for winter and speed limits before driving in Canada.
Ensure your vehicle condition, emergency kit, and charged mobile phone for winter driving.
Before traveling to Canada, get travel insurance.
In Canada, the drinking age is either 18 or 19 years old.
Always Check Your Travel Documents Before Departing.
Call 911 for Emergency Information.
Use metric system for Distance (feet, inches), weight(pounds), weather(Fahrenheit), and gas(liter).
Find Tim Hortons for cheap coffee or a snack.
This is our completed and safe travel guide to Canada. Finally, we advise you to be prepared for your trip with the correct time and proper equipment. Do not forget to ready your backpack with Hiking and Camping gear. Happy travel for all travelers, and share this with your travel and nature lovers.
Take only memories, leave only footprints