Today safe and relaxation are the most crucial in your life factors because we suggest safe and relaxed national parks in United States for your stress release. The demands of family, work, profession, and the school can make life extremely stressful. It's an indication that you need a break from daily life and some relaxing holidays if you're feeling overly stressed out. Time to do something for your mental health and inner happiness to assist you in recovering.

The United States is home to various environments, from majestic natural landscapes to thriving urban centers. Exploring national parks, magnificent deserts, and natural sceneries are great ways to spend time in the United States. It isn't easy to pick just one place to visit in the United States. There are 63 National Parks in the United States, located 40 of their national parks are in the western united states. So we have gathered a list of our top 12 picks. Take a look at the suggested bucket list to discover where you might be going next on vacation.
01 Zion National Park
Zion Canyon makes Zion National Park stand out among the rest of The high red cliffs of Utah's parks and monuments. As a premier destination for canyoneering, Zion National Park has earned worldwide recognition. There is a scenic ride through the significant stretch of Zion Canyon that leads to the Virgin River's woodland trails. Water from the river pours into the Emerald Pools, which include a waterfall and a hanging garden. A wading trail known as Zion Narrows is also located along the river; this one takes you into some really deep gorges.
Exploring the national park might include everything from challenging hiking or wading to more technical activities like swimming or rappelling down cliff faces into gushing rivers. When visiting Zion National Park, allow at least 5-7 days. The most excellent time to visit Zion National Park is between April and November, when the free shuttles run and pleasant weather.
02 The Grand Canyon National Park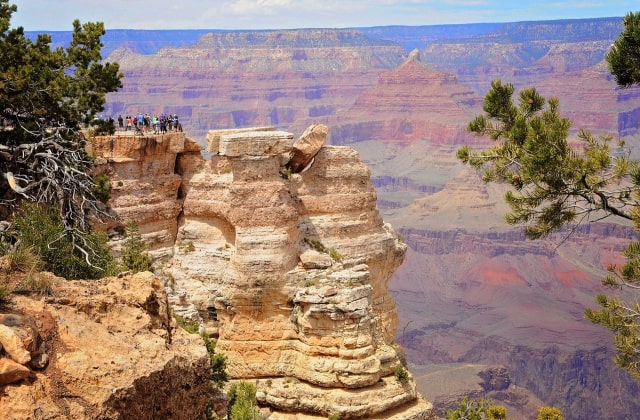 Grand Canyon National Park in Arizona is the country's most stunning natural landmark. To get here, the Colorado River has to make its way through 277 miles of red bedrock, crafting dramatic landscapes, amazing waterfalls and setting the stage for breathtaking photography opportunities. With a width of almost 2,000 feet, the Grand Canyon is the biggest natural canyon in the world.
Looking out over the Grand Canyon, you'll see a trekking path that winds down the cliff, then cuts over a wide plain before ending at the Colorado River. The Bright Angel Trail is a well-known and well-traveled trail throughout the world. We recommend staying at the Grand Canyon for one to three days, but if you want a more leisurely experience, feel free to extend your stay. Travelers should arrange their trips to the Grand Canyon between March and May and September and November to avoid the crowds. Expect crowds of tourists and limited accommodations if you go during the high season (summer). Read more…
03 Yosemite National Park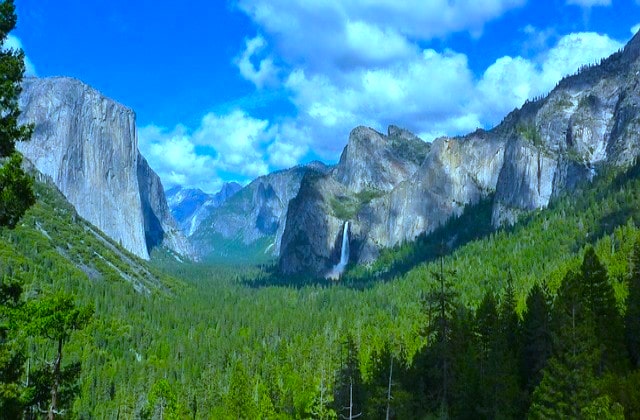 Yosemite National Park is located in the Sierra Nevada Mountains of California. These are geographically national parks in the western united states. Tunnel View, the granite cliffs of El Capitan and Half Dome, as well as the area's large, ancient sequoia trees are all well-known attractions. With this journey, you can get an iconic view of the most famous Yosemite Falls, Vernal Falls, Nevada Falls, Bridalveil Falls, and many waterfalls. Shopping, dining, housing, the Yosemite Museum, and the Ansel Adams Gallery may all be found in the village.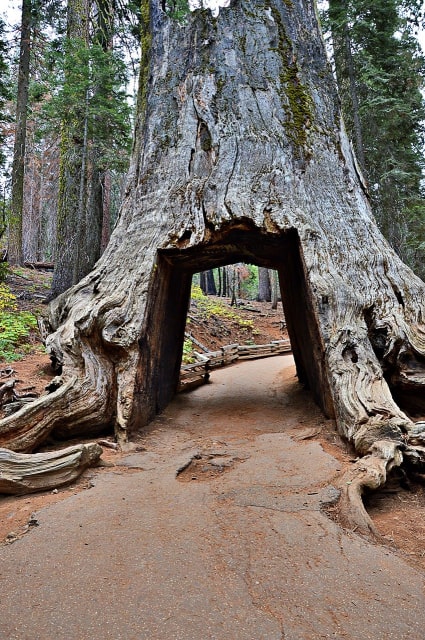 Three days should be sufficient if you only intend to go on a few short hikes and drive around to see the sights. The best time to visit is often from late May or early June through Columbus Day weekend in October. Going earlier in the year would provide you with better waterfalls. Please remember that hiking permits are required if you plan Half Dome hiking and are only offered through a lottery system starting in March each year. There are only 300 hikers allowed every day using this method, with 50 hikers permitted per day on a first-come, first-served basis.
Suggested Trailoka: 12 Most Beautiful Hikes in the World
04 Yellowstone National Park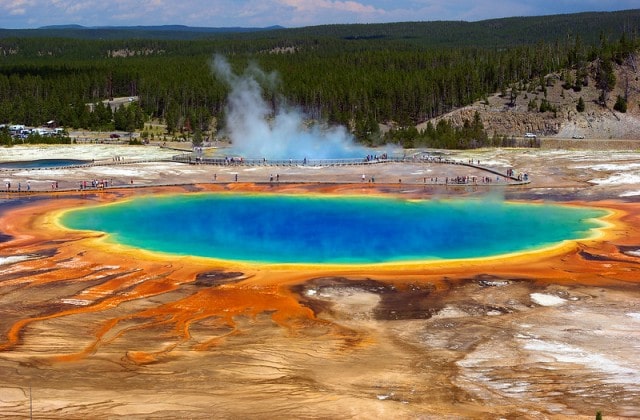 As the country's first national park, Yellowstone was established in 1872, and many people believe it to be the world's first. Yellowstone National Park involves an area of approximately 3,468.4 square miles (8,983 square kilometers) at the apex of a volcano crater. The park is primarily found in Wyoming, although it also covers sections of Montana and Idaho. Yellowstone's canyons, rivers, woods, hot springs, and boiling geysers abound, including the park's most iconic feature, Old Faithful. As a result, the area is home to several animal species, such as grizzly and black bears, bison, and other large game.
Yellowstone National Park should be seen over three to four days at the very least. Even if you have a few days to spare, you can still see the key attractions. Yellowstone National Park is at its most beautiful in April and May and September and early October. During the off-season, the temperature is warm, and there are fewer tourists and fewer road closures.
05 Bryce Canyon National Park
At the Bryce Amphitheater, you can find the world's most extraordinary collection of "hoodoos." The crimson-coloured hoodoos of Bryce Canyon National Park, a vast reserve in southern Utah, are well-known for their spire-like design. There's a hoodoo-filled valley below the Rim Trail in Bryce Canyon that the park's main road passes through on its way to Zion National Park. Sunrise Point, Sunset Point, Inspiration Point, and Bryce Point are just a few of the area's scenic viewpoints.
The park is tiny and can be viewed in one day, but staying for two days will give you time to see all of the best overlooks and climb one of the longer trails in the park. Bryce National Park is at its most beautiful from May through September. Not only is this the warmest time of year, but there are also lots of ranger activities to enjoy during this period. The season from October to April is equally charming.
06 Arches National Park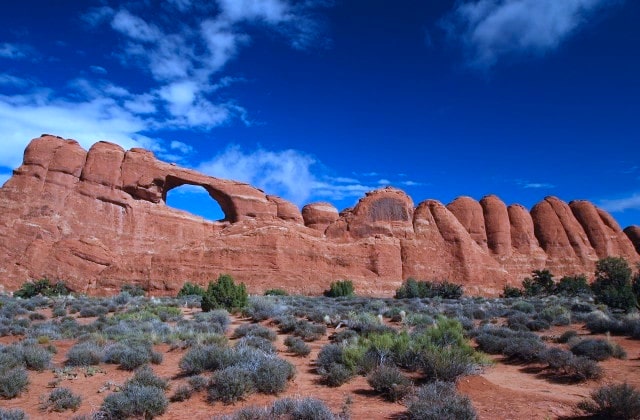 Arches National Park is placed in Utah, north of Moab. Southwest of the Colorado River, it's recognized for its more than 2,000 natural sandstone arches, such as Delicate Arch in the east. To the north, in Devils Garden, there is a long, thin Landscape Arch. In the middle of the park, on the other hand, stands the tall geological structure of Balanced Rock.
At the very least, it will take you 7 hours to go over everything. Stop at the Park Avenue viewpoint, stroll up to the Delicate Arch viewpoint and then see the Windows Section if you don't feel like hiking a lot. Visiting the park's highlights in this amount of time should be doable in three to four hours. In April and May, and September and October, the ideal times to visit Arches National Park are.
07 Sequoia National Park
California's Sequoia National Park is located east of Visalia, southern Sierra Nevada. On September 25, 1890. This park was established to save the region's forested mountain environment, which occupied 404,064 acres. Mount Whitney includes in this park that is the highest point in the United States. This park is located near Kings Canyon National Park. The National Park Service manages under the name Sequoia and Kings Canyon National Parks.
Giant sequoia trees abound in the park, including the world's largest tree, General Sherman, which is found here. There are five of the world's largest trees, including the General Sherman tree. The Giant Forest is linked to the park via the General's Highway.
June through August are the most favorable for visiting Sequoia National Park since the weather is the most consistent. The park is open 24 hours a day, seven days a week, all year round. However, there are some challenges during particular seasons. So do not forget to make yourself comfortable when your journey.
Suggested Trailoka: Best things to do in Mount Rushmore, South Dakota
08 Redwood National and State Parks
The Redwood National and State Parks are a series of forested areas, beaches, and grasslands along Northern California's coast region that have been designated as national and state parks. Theodore "T.R." Thompson Trails wind through old-growth forests at Redwoods State Park. Crooked Branch of the Prairie Fern Canyon, with its steep, plant-covered cliffs, may be found in Redwoods State Park. Elk Prairie, a local habitat popular with Roosevelt elk, is home to a number of them. Lady Bird Johnson Grove in Redwood National Park is home to several massive redwood groves dating millennia.
The tallest tree in the world, the Coastal Redwoods, has a narrow trunk. Sequoias are nearly as tall as Coastal Redwoods, but they have a significantly wider canopy. The giant sequoia's cones and seeds are nearly three times the size of the redwood's.
Summer is the perfect season to visit Redwood National Park because of the warm weather and variety of activities. The best hiking conditions are created when there is little rain, and it is warmer outside. Visit between June and September for the most pleasant weather; the other months will be cooler and rainier, but less busy.
09 Mount Rainier National Park
Mount Rainier National Park is located in the Washington, Washington State Reserve, 369 sq. This is in Southeastern County Pierce and the surrounding glacier-covered, 14.410-ft. Mile southeastern Satchel. Mount Rainier is the highest point in the park, accessible by car. The Cascade Range and Mount Rainier are bordered by waterfalls, valleys, subalpine meadows, and an old-growth forest of 91,000 hectares. The volcano's flanks are over 25 glaciers, which often are encircled by clouds, which dump huge volumes of snow and rain.
According to my judgment, Mount Rainier National Park is best experienced for three full days (1- Sunrise, 2 – Paradise, 3- explore the Carbon Riverside or spend time hiking trails). July and August are the best months to visit Mount Rainier National Park because wildflowers change the park's subalpine grasslands, and the dry, warm weather makes for great trekking.
10 Acadia National Park
Acadia National Park is a 47,000-acre popular spot on Maine's Mount Desert Island located in the middle of the state's coast. Wooded ridges, rocky coves and granite peaks like Cadillac Mountain, the highest point on the East Coast of the United States, connect its landscape. Moose, bears, whales, and seagulls are among the area's biodiversity. An attractive gateway is Bar Harbor, a tiny village on the Maine coast with restaurants and shops.
Visit Acadia National Park for two to three days if you can. You'll have enough time to drive Park Loop Road, go on a few short hikes, cycle the carriage roads, see the sunrise from Cadillac Mountain, and eat popovers at the Jordan Pond House. Visit Acadia National Park during late spring and fall if you want nice weather. Despite this, it is frequently packed. The two weeks following Labor Day in September to mid-September, just before the leaf-peeping crowds come, are less crowded and have lovely weather than the rest of the year.
11 Great Smoky Mountains National Park
Great Smoky Mountains National Park borders North Carolina and Tennessee's state lines and is located in the Blue Ridge Mountains, a section of the more fantastic Appalachian Mountain range. The vast area is covered with dense woodlands and a profusion of wildflowers that bloom all year long. Hiking paths that cross the Appalachian Trail often pass by streams, rivers, and waterfalls. The highest point in the area, Clingmans Dome, has an observation tower that provides stunning views of the mist-covered mountains.
The Cades Cove valley, one of the park's most popular destinations, is home to a wide variety of species, including white-tailed deer, black bears, turkeys, raccoons, and more. When visiting the Great Smoky Mountains National Park, consider staying in Gatlinburg or Pigeon Forge.
Our recommendation is for 3 to 4 days of sightseeing, plus an extra day or two for longer hikes, river tubing, or horseback riding so that you still have time to visit Gatlinburg or Pigeon Forge. Summer (June, July, and August) and fall are the most excellent months to explore the Great Smoky Mountains National Park. The summer season's peak month is July, while the weekends in October are popular with tourists looking to see the changing leaves.
12 Rocky Mountain National Park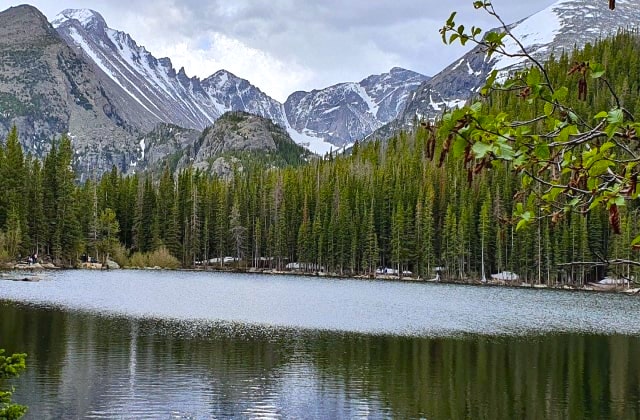 Northern Colorado's Rocky Mountain National Park defends forests, alpine tundra, and mountains. This location is along the Front Range of the Rocky Mountains to the northwest of Denver International Airport, in North-Central Colorado. There are two communities within driving distance: Estes Park to the east, and Grand Lake, to the west. This area is well-known for its aspen- and river-lined trails. Longs Peak, the park's highest point, can be reached by the Keyhole Route, which involves scaling sheer rock cliffs. The mountains may be seen from a route that circles Bear Lake.
The ideal amount of time to spend at Rocky Mountain National Park is three days. You'll have enough time to drive Alpine Ridge Road and Old Fall River Road and go hiking on a few of the nearby trails. Plan on staying five or more days to get the most out of your hiking experience in Rocky Mountain National Park. There are fewer visitors to Rocky Mountain National Park from November through April. The park sees the most visitors during the summer and fall.
Take only memories, Enjoy your trip, Leave only footprints
Share with Your Travel Pocket List