The Cabot Trail is a gorgeous highway that may be found on the island of Cape Breton in Nova Scotia, Canada. It is a loop that goes around the northern tip of the island, covering a distance of 298 kilometers (185 miles) and passing through the Cape Breton Highlands and also the Cape Breton Highlands National Park.
Cape Breton is a haven for artists as well as a haven for those who enjoy the outdoors. Prince Edward Island and all of Nova Scotia make up the "Maritimes" region of southeastern Canada. It has breathtaking views of the mountains and the ocean, charming buildings, and cozy cafes. Only a handful of destinations can boast waterfalls, beaches, mountains, evergreens, fabulous fall colors, Whales, great seafood, beautiful architecture, and Celtic culture.
This is a journey you won't soon forget, and I'll offer you all the information about one of the best trails from "Must visit places in Canada." I'll tell you everything you need to know about driving the stunning Cabot Trail on Cape Breton Island while you listen to your favourite music. If you are a pet lover, This journey will also be more fun if joining your pets but remember to travel safely with your pets.
Best Time to Visit Cabot Trail, Nova Scotia
This Canadian province is characterized by its high seasonality. The only cafe operating at this time of year is 25 minutes away and shuts at 3 p.m. In the winter, though, there is a certain fascination with the place since it is absolutely breathtaking and totally quiet.
Most visitors will choose to visit between May and October when the weather is pleasant, the roads are dry, and all the attractions are open.
How Long to Drive the Cabot Trail
You can complete Cabot Trail in a single day, but I strongly discourage it. The island's slow pace of life is a big part of its appeal. Even after months of trying, I'm still unable to comprehend this place's breathtaking beauty fully. So if you want to find relaxing things to do on Cabot Trail, you must spend a few days enjoying your journey.
On the Cabot Trail, take your time and enjoy the scenery. As a result, you will become a better person as a result of it. Camping along the Cabot Trail can be done in a motorhome or tent, making it an ideal 5-7 day road trip.
More on Trailoka: Best Way to Travel Around the Cabot Trail, Nova Scotia
Where Does the Cabot Trail Start and End
You have a lot of alternatives available to you when it comes to where you may get started on the Cabot Trail, depending on whether you are coming from mainland Nova Scotia or somewhere else on Cape Breton Island. The following is a list of the Cabot Trail's entries that receive the greatest amount of foot traffic.
You can reach the Cabot Trail from Margaree Forks by traveling from Port Hastings on Cape Breton Island via the Ceilidh Trail, which is also known as Route 19.
You can access the Cabot Trail from Nyanza/Baddeck at Exit 7 by driving along Highway 105, which runs alongside Bras d'Or Lake.
St. Ann's Bay is another starting point for the Cabot Trail (Hwy 105 Exit 11)
Taking the Englishtown Ferry is the way to go (Hwy 105, Exit 12)
According to the chosen start location, you can decide where the endpoint is in your Cabot Trail journey.
Cabot Trail Map
Map credit theplanetd.com
Best Relaxing Things to do in Cabot Trail
01 Baddeck
A wonderful museum in Baddeck was built on the site of Alexander Graham Bell's summer cottage. The museum is called "Beinn Bhreagh," which is Gaelic for "Beautiful Mountain." Bell spent his summers in Baddeck.
It's a great introduction to Alexander Graham Bell's life and works, not only for his contributions to the telephone. On everything from the first airplane to flying in the Commonwealth, he worked tirelessly as an inventor.
He was also responsible for creating several medical devices, such as the iron lung, which was designed to make breathing easier for polio sufferers. Additionally, he worked on developing strategies for deaf or hard-of-hearing people and became close friends with Helen Keller. In addition to establishing Bell Telephone, Alexander Graham Bell is credited for starting the National Geographic Society.
02 The Uisge Ban
One of the most enjoyable treks we did throughout our trip was right outside of Baddeck in the surrounding area. The Uisge Ban (Ishkaban) trek is a leisurely stroll of around 1.5 kilometers that leads to a stunning waterfall. It wanders through a woodland covered with moss while following a moving stream.
Flowing water is slowed down by roots protruding from the ground that twist around fallen trees and boulders.
Aside from the beauty of the waterfall, it's also fascinating to watch. We were taken aback by its enormity. You can swim or bathe in the bottom pools of the three-tiered cascade of waterfalls we were expecting.
03 North River Kayaking
When it comes to kayaking, North River Kayak Tours is a fantastic destination for paddlers of all skill levels. Your journey begins in calm, moving water on the North River and leads you to the bay, where you will see the Cape Breton Coast from a new perspective.
During the tea break, which is held on a scenic beach, guests are served freshly brewed tea and baked goodies. Nearby, paddlers can take a short trek to another beautiful waterfall.
04 Glenora Distillery
Glenora Distillery is located more precisely on the Cleideh Trail, and the Glenora Distillery is well worth the detour for travelers on the Cabot Trail Road. Glenora was the first distillery in North America to produce single malt whisky. Every day there are tours that show people how whisky is manufactured, and afterward, there are samples.
05 Clucking Hen Cafe And Bakery
The Clucking Hen Cafe and Bakery is a charming cafe and bakery that may be found on the Cabot Trail between North River Kayaking and Ingonish Beach. Not only is it a great place to stop for some wonderful coffee and pastries, but it also makes for a great photo op.
Along this section of the Cabot Trail, there aren't many places to stop for lunch, so make sure to have plenty of snacks and water with you. The nicest aspect of driving down the Cabot Trail is interacting with the locals, so make sure you take advantage of the few cafes that are located along the route.
06 Ingonish Beach
Once you reach Ingonish Beach, which is found in Cape Breton Highlands National Park, the real fun of the Cabot Trail can begin for you. Because the beach is so picturesque and there are so many trails in the surrounding area, this is an excellent site to set up camp for a couple of days while exploring the area.
In addition to that, there are excursions, kayak rentals, and boat cruises. About 10 kilometers away from Igonish Beach, you will find a convenience store where you may stock up on various supplies.
Glamping At Ingonish Beach
You can reserve a room at an Otentik for two nights, and it exceeded all of your expectations. If you don't already have a tent, sleeping bag, and other camping necessities, the Otentik is a great option.
These glamping-style tents provide enough sleeping space for up to eight people and are built on sturdy foundations that offer adequate space to move around. Inside, there is also a table made of wood where you can play cards. There are several different types of campsites available for use with the Otentik.
You will have access to all the necessary equipment for cooking and cleaning, including a portable stove, or you may use the grill in the front yard. This kind of camping is a lot of fun. People who don't like sleeping in a tent but are interested in trying something rough and different will find this activity to be a good beginning.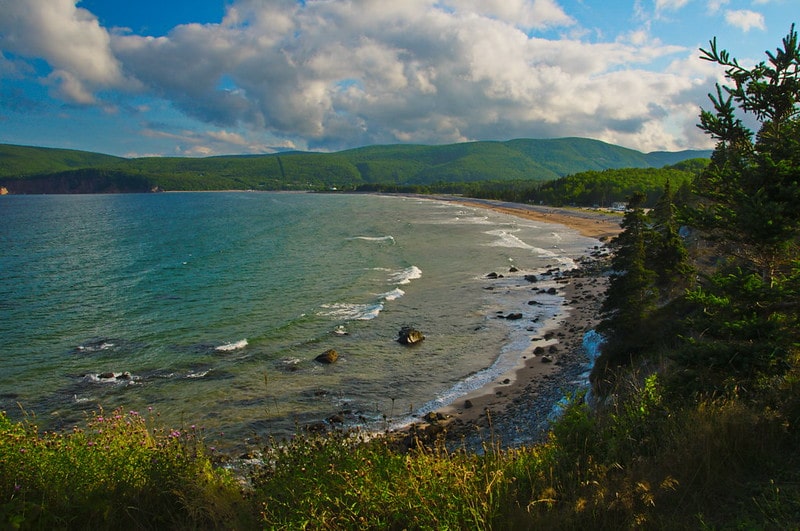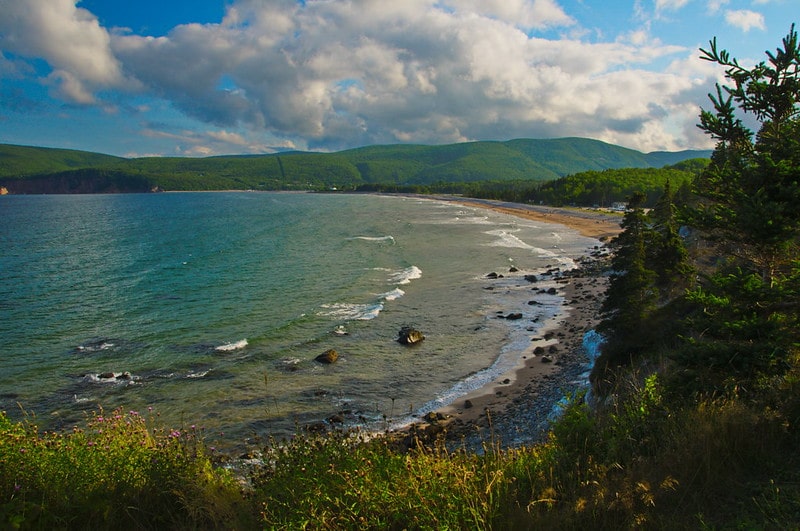 07 Hike The Middle Head Trail
You'll discover the beginning of the Middle Head Trail if you take a route that takes you through the Keltic Lodge, which is a place that we highly recommend you stay at if you are willing to spend or if it is within your budget.
The 3.8 kilometer path will take you through forests and farmland before emerging onto high cliffs with breathtaking views of both Ingonish Beach and the Cabot Trail, which winds north along the Gulf of St. Lawrence. The path is in good condition and takes approximately two hours to complete.
08 Lakies Head
The rocky coast at Lakies Head is one of the Cabot Trail's most visually arresting areas of coastline. Visitors can go out onto the shore, which is composed of a collection of jagged boulders, to investigate the coast. You can make your way out to an observation platform via a bridge and boardwalk, where you will have the option to take a break.
09 Zodiac Tours At The Pier
You will be required to turn onto Wharf Road of the Cabot Trail as you travel farther to the north. This will take you out of Cape Breton Highlands National Park for a short while, but you will be rewarded with a visit to a picturesque fishing village.
You'll get a glimpse of the quintessential image of the East Coast of Canada here, with fishing boats from Cape Breton lined up along the pier. You can go for a stroll down the beach, and if you're feeling adventurous, you can join a zodiac cruise to look for whales and other marine life.
You can get a unique perspective of the coast by going on a boat tour along the Cabot Trail or whale watching along the Cabot Trail.
10 White Point
The next place we visited along the Cabot Trail was White Point, outside the Cabot Trail National Park. The White Point Hiking Trail in Neil's Harbour is widely considered to be one of the most breathtaking sections of the Cabot Trail.
Several wonderful hiking trails will lead you out to look over the high sea cliffs and provide you with stunning panoramic views.
Suggested Trailoka: Relaxing Things to do in Canada (Must visit places in Canada)
11 Grave Of The Unknown Sailor
At the end of the point, there is a cemetery where you will find the burial of the unnamed sailor who was paying tribute to the fisherman who was lost at sea.
A huge cross and a wooden plaque identify the location of the unidentified sailor's grave. The grave of Dan Dixon can be found just next to that of the Unknown Sailor. When I looked into who this man was, I discovered that Dan walked to Point Hill every day and took a lot of interest in keeping the cemetery of the unidentified sailor in good condition.
12 Neil's Harbour
The fishing village of Neil's Harbour is quite small, and the harbor is dotted with a variety of brightly colored boats. The village has a population of only 300 people, but during the summer months, that number more than doubles as travelers stop along the Cabot Trail. A whale-watching tour departs from here by zodiac, as well as the Periwinkle cafe and the lighthouse ice cream parlor.
13 Black Brook Cove Beach
The most magnificent beach on the Cabot Trail may be found on the north side of the loop, which can be reached by heading north of the circle.
There are both rocks and sand at Black Brook Cove beach in Cape Breton Highland National Park's northeastern section. Exploring the creek and waterfall at the beach's northern end is highly recommended. Black Brook Cove looks like a tropical paradise from above until you step into the icy water.
14 Coffee A The Pumpkin Patch
At the Pumpkin Patch in town, we indulged in some of the most delicious coffee we had the opportunity to taste during our entire trip. Everything in the shop is organic, including the coffee, which tastes great, but the homemade fudge is irresistible.
Even organic beauty products that can be ordered online are available for purchase from the proprietor of this business. Don't forget to pick up some coffee on the way out of town at this convenient stop. It is located among Red River and the Skyline Trail if you drive around the loop in a counterclockwise direction.
15 Pleasant Bay
The fishing village of Pleasant Bay is another destination accessible via the Cabot Trail. Here, we encountered many welcoming local fishers who lit up conversations with us as we took photos.
At the top of the hill, next to the parking lot, is a fantastic gathering place for fishing, and it's right there in plain sight. Muskoka chairs are available for use if you'd like to take in the scenery while you relax. This would be an excellent place to have a picnic lunch.
16 Mackenzie Mountain Look Off
You can find another excellent viewpoint atop Mackenzie Mountain. The Mackenzie Mountain Lookout, located on the highlands plateau, provides visitors with breathtaking vistas of Pleasant Bay.
If you didn't have time to go whale watching while traveling the Cabot Trail, you could still keep an eye out for pilot and minke whales as they migrate through this area if you take your time and pay attention.
17 Skyline Trail
You have all been looking forward to this moment for a long time. The Skyline Trail is undoubtedly the most well-known thing to do in Cabot Trail, and for a good reason. This loop of 7.5 kilometers is one of the longer hikes on the trail; however, it is very easy to do, and the views are well worth the time spent on the trail. We went on our hike at sunset, which is a time of day that is highly recommended.
At this point in the day, the sunsets seen over the Gulf of St. Lawrence and the crowded places are significantly smaller. There are multiple tiers to view the setting sun. If you want some personal space, you can hike down as far off the boardwalk and view the scenery from the trailhead's tip via a narrow dirt trail. These vantage points are accessible by following the trail to its end.
Read more: THE STUNNING SKYLINE TRAIL IN CAPE BRETON
18 French Mountain
The Cabot Trail is home to some of Canada's most breathtaking lookouts and scenic vistas. If you have the opportunity and the time, you should pay attention to the road signs and pull over at each lookout point. When traveling in a counterclockwise direction, this is the iconic view of the Cabot Trail that can be seen from the Veterans Monument halfway down French Mountain.
There are short, easy hikes that lead up to waterfalls and even shorter, easier hikes that lead back out to lookout points. Because there are so many places to visit along the Cabot Trail, it should take you at least a week to get to know them all.
19 Beaches Of The Cabot Trail
Along the Cabot Trail, there are a number of magnificent beaches that are completely isolated. On our way to Cheticamp, just after the Skyline Walk, which is both a beautiful walk and a perfect vantage point for admiring the iconic twisty road view of the Cabot Trail, we made a stop at one of these lookouts.
You can get a better sense of the enormity of the huge sea cliff edges and the rolling hills along the Cabot Trail if you stop at some of the beaches along the trail. It's not often that one comes across beaches in this world that are in such perfect condition.
Due to the fact that so few people choose to observe it, you will frequently have it all to yourself. Or maybe it will just be you and an artist capturing the scene as it unfolds in front of their eyes.
20 Cheticamp
The Acadian Village of Cheticamp makes for an excellent starting point for hikers who intend to explore the Skyline Trail. You can reach the trailhead in just twenty minutes. The rug hook portraits created by Elizabeth LeFort can be seen at the Elizabeth LeFort Gallery and Museum, which is located at Les Trois Pignons.
At the terminus of the Marjorie River, you'll find the Island Sun Resort, a wonderful place to spend the night. You can also give fly fishing a shot at this location on the Margaree River if you're interested in doing so. It has been designated a heritage river because it is widely regarded as among the gorgeous rivers in the world.
What to Pack for the Cabot Trail
Consider bringing extra water and food with you. There aren't many places to eat along the Cabot Trail, which is surprising.
Pack your hiking & camping equipment, and Hiking boots are a must-have. If you don't get out and explore the paths around the coast, you're missing out.
We recommend bringing water shoes if you're planning a trip to Cape Breton. With water shoes, kayakers may leap in and out of kayaks, wade in shallow seas, and take short hikes inland, even on rocky coastlines.
Best Places to Stay on the Cabot Trail
Cabot Shores
River Nest Wilderness Cabins
Meat Cove Campground
Hideaway Campground and Oyster Market
The Markland
Hi-Cabot Trail Hostel
Inverary Resort
Broad Cove Campground
Knotty Pine Cottages
Blue Bayou Geodesic Domes
Highlands Hostel
Pilot Whale Chalets
Chéticamp Campground
Island Sun Resort
Cabot Trail Official Site: https://www.cabottrail.travel/
Take only memories, leave only Footprints