As an Italian fan, you should never miss this city. Naples is one of the glories cities in Southern Italy. It is Italy's third-largest municipality after Milan and Rome. This is located in the Campania region, and Naples the third-largest city in Italy and the regional capital of Campania, behind Rome and Milan. As of 2017, there were 967,069 people living inside the city's official boundaries.
Literally, this is a collection of a travel pack. Naples, also called "Grande Dame," is one of Europe's largest and oldest towns. Naples has various attractions that showcase the city's modern and historic charm. Besides, you can't help but indulge in the best pizza in the universe while visiting beautiful islands with fascinating history, relaxing on sandy shores, partying till dawn, and even visiting an active volcano. It's easy to see why this location would attract so many sightseers.
01Naples National Archaeological Museum
The best collections of antiquities may be found in the Naples National Archaeological Museum, especially in ancient Roman artifacts, most of which were relocated here from early investigations of Pompeii. Artifacts from the adjacent Roman cities of Pompeii, Stabiae, and Herculaneum are especially well represented in the museum's collection of antiquities from the Greek, Roman, and Renaissance periods.
Before becoming a museum, the building served first as a horse riding school and later as a university site. The Archeological Museum first opened its doors in 1816 and has since grown to become one of the most significant museums in the world. This is due to the high caliber and number of works on display there.
Marble statues of Farnese Hercules and the Farnese Bull, as well as a massive 3.17-meter statue from Rome's Baths of Caracalla, can be found on the ground level. We also have an excellent selection of historic mosaics from Pompeii, along with the 6.20-meter Alexander's Battle.
The Alexander Mosaic, a masterpiece dating back to around 100 BC and originating from the House of the Faun in Pompeii, is the museum's most popular exhibit. It shows a conflict between Alexander the Great and Darius III of Persia. Artifacts found in excavations around Naples are also on display. The Farnese Bull, the largest ancient sculpture ever unearthed, is also on display at the museum. The Hellenistic artifact from the 2nd century B.C. depicting Dirce bound to a wild bull is quite old.
You can also view artifacts from Herculaneum and Cumae, the Farnese collections from Rome and Parma, the Capodimonte collections, and the Portici collections. Green bronze sculptures from Pompeii and black, glossy sculptures from Herculaneum can be found here. Major exhibits include a large Pompeii model, bronze cooking implements, terracotta vessels, and ancient wall paintings.
Official site – mann-napoli.it
02Ovo Castle (Castel dell'Ovo)
Castel dell'Ovo is another best visiting and relaxing place in Naples. That is a fortress on the Italian peninsula that was formerly the island of Megaride in the Gulf of Naples. Once an island, it is now joined to the mainland by a bridge and is readily reached by road and footpath. The Castel dell'Ovo is one of the cities of Naples's oldest defenses, dating back to the early sixth century BC. Many of the castle's treasures and historical information will be on show, in addition to the beautiful scenery of the Mediterranean Sea.
The name of the fortress is derived from a medieval urban tradition in that the Roman poet Virgil was a powerful magician and foreteller. According to myth, the walls were given their magical stability when Virgil buried an egg in the ground. If this egg had been cracked, the castle would have been demolished, and terrible things would have happened to Naples as a result.
In addition, the Ethno-Prehistory Museum can be found within the castle walls. This museum showcases objects made of ceramics, earthenware, and metals that date back to the earliest days of Naples' history. Both the museum and the castle are open to visitors without an Entrance fee.
03Spaccanapoli (Unesco World Heritage Site)
Spaccanapoli is one of the central streets of Naples, Italy. It is quite straight and narrow as it winds through the city's old, historic core. Literally translated, the name means "Naples splitter," and it is used commonly. Spaccanapoli, also called "Via San Biagio,". Named thus because of its length and the impression it gives from above that it divides that section of the city, the street is very long.
The original location of the street with a plethora of monikers dates back to the 6th century when the Greeks set up a colony there. It is a dense area full of medieval cathedrals, vibrant piazzas, outdoor cafés, and one-of-a-kind businesses that spans 27 centuries. It is also populated by locals whose loud and colorful lifestyles frequently spill out onto the streets, giving visitors a taste of what it is like to live as a true Neapolitan. Along with its neighboring street, Via San Biagio, the street of Via San Gregorio Armeno is well-known for its abundance of nativity-related businesses.
Suggested Trailoka: Best Visiting and Relaxing Places in Italy 
04Piazza del Plebiscito
In your search for things to do in Naples, don't forget to include a trip to the city's largest piazza. The Gulf of Naples is conveniently located next to Naples's central public area, Piazza del Plebiscito. One of the best things to do in Naples, Italy, is to visit this square, which is bookended by the church of San Francesco di Paola on the western and the Royal Palace on the eastern.
This is the largest open space in Naples and is home to several notable structures and statues, including the Prefecture Palace, the Palazzo Salerno, and a statue honoring King Charles III of Spain. You can't spend any time in Naples without checking out this area and its fantastic collection of old structures.
This six-acre park serves as a venue for a wide variety of events and activities, from a place to take a leisurely stroll to a backdrop for monumental works of art to a spectacular New Year's Eve party to a spotlight for internationally renowned musicians and entertainers. The city is home to the greatest library in southern Italy, the Biblioteca Nazionale Vittorio Emanuele III. As a Visitor, if you spend much time in this can find a 30-room Royal House Museum and Palazzo Reale.
05 Sansevero Chapel (Museo Cappella Sansevero)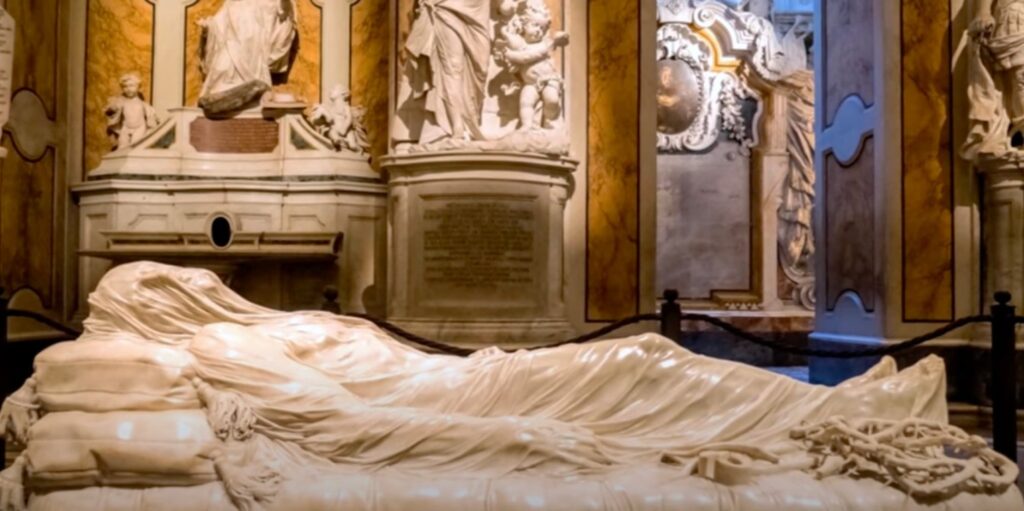 Cappella Sansevero is a chapel in Naples, Italy, that can be found on Via Francesco de Sanctis 19, not far from the church of San Domenico Maggiore to the north-northwest. This is one of Naples' most interesting sights that can be found near the city's Archaeological Museum. Santa Maria della Pietà Chapel is a more appropriate name for this building.
The chapel was constructed in 1590 as a private residence for the Sansevero family; in the 18th century, the seventh prince of the dynasty, Raimondo di Sangro, had the building rebuilt in the Baroque style. In front of Piazza Municipio, visitors arriving by Cruise are treated to their first look at Castle Nuovo. Here, the monarchs of Spain, Aragon, and Naples held court. Visit the castle to take in the majesty of its towers and the painted ceiling of the Baron's Hall, and don't miss the chance to climb to the top of the building for a bird's-eye perspective of Naples and the bay below.
Oddball aristocrat, inventor, alchemist, and freemason Raimondo commissioned artist Giuseppe Sammartino to create a series of sculptures replete with hidden significance and mystery, including a marble statue of Christ draped in a see-through veil. Christ's body is shown in structure, a 1753 carving by Giuseppe Sanmartino beneath what appears to be a scrap of fabric. Facial features, torso, and crucifixion wounds are all apparent through the cloth, which carefully conceals the complete body. What you see is just beautiful.
A room may be found beneath the church, where the prince is rumored to have experimented on his staff. Two of his purported victims' bodies are on exhibit, and they've been preserved.
This is the end of our "Most Beautiful Places in Naples." This will be more supportive of managing your time in Naples and priorities your Naples travel bucket list. If you have more time, we offer "Most Beautiful Places in Southern Italy" to plan your Southern Italy trip, as well as you can find "Best Regions to Visit & Relax in Italy" from Trailoka for your Italian trip.
Take only memories, leave only footprints
Useful Links
Best Visiting and Relaxing Places in Italy (Top Regions to Travel )
Most beautiful places in Italy (Top travel spots in Italy)
Best Relaxing Things to do in Northern Italy
Best Relaxing Things to do in Northeast Italy
Best Relaxing Things to do in Southern Italy
Best Relaxing Things to do in Central Italy
Best Safe & Relax Campgrounds In Europe
Best Things to do in San Giorgio Maggiore, Venice, Italy
10 Most Beautiful Places in Venice (With Relaxing Spots)
Best Things to do in Grand Canal, Venice – Travel Guide
10 Most Beautiful Places in Florence (With Relaxing Spots)
Most Beautiful Places to Visit in Rome (With Relaxing Spots)
Share with Your Travel Pocket List
Spaccanapoli (Unesco World Heritage Site)
Naples National Archaeological Museum
Ovo Castle (Castel dell'Ovo)
Piazza del Plebiscito
Sansevero Chapel (Museo Cappella Sansevero)
Naples Cathedral
Pompeii ruins & Mount Vesuvius
Castel Nuovo
Teatro di San Carlo
Royal Palace of Naples
Catacombs of San Gennaro
Ruins Of Herculaneum
Naples Harbor
San Gennaro Catacombs
San Domenico Maggiore
Capodimonte Royal Palace And Museum
Galleria Umberto e Saint Carlo theatre
Teatro di San Carlo
Via San Gregorio Armeno