Croatia is a gorgeous country located in the Adriatic Sea, and it is also a paradise for yachters and those looking to relax and relish the European sunlight. You can find the best visit and relax places in Croatia to relax your mind and body and enjoy a real trip experience. The Eye of the Earth, sandy beaches, rocky cliffs, and the Plitvice Lakes are just a few of the country's many natural wonders, including the Adriatic Sea and its many beautiful islands.
During the late 1990s, Croatia's War of Independence made it one of Europe's most popular tourist destinations. Croatia's coastline serves as an excellent introduction to the country. Green and blue colors appear gemstone when viewed against a sparkling white pebbly beach. The water is crystal-clear and transparent.

Historic cities and unspoiled scenery are Croatia's most popular attractions further north. Zagreb, Croatia's dynamic capital city, has the country's best galleries, top museums, cafes, and shopping opportunities. The coast is lined with centuries-old harbor towns densely packed with Venetian-style stone houses. At the same time, there are a lot of pebble beaches that offer water sports like water skiing, snorkeling, scuba diving, and windsurfing.

With our Croatia travel guide, you can make the most of your time in this stunning European country.
Croatia location
Croatia is located in the Adriatic Sea, and this location offers so many things to do in Croatia. A few of them are Beautiful resorts, picturesque towns, and amazing sites of interest. You will find plenty of things to do here, which we'll be talking about. We present the most famous visit & relaxation places in Croatia. These spots are great for walking, hiking, cycling, sleeping, diving, and even taking trips to cafes or coffee shops. Let's get right into it!
Best time to visit Croatia
Thebest time to visit Croatia is from June to September (Summer months), when there is plenty of daylight and temperatures range from about 66 degrees Fahrenheit to about 86 degrees Fahrenheit. Therefore, hiking, camping, diving, swimming, and sunbathing are the best activities in Croatia during this period. It is extremely hot, particularly in the afternoons, during these months.
The Most Famous Visit & Relax Places in Croatia
01Plitvice Lakes National Park (Croatia's first national park)
Plitvice Lakes National Park is the most beautiful place in Croatia and one of the best in Croatia's hot destinations. These include16 lakes, more than 90 waterfalls, and many hiking paths and landscapes. This Plitvice Lakes National Park tour includes a boat tour with return transportation, a guide, footpaths on wooden bridges, and famous rushing and sapphire lakes waterfalls. The entrance ticket contains boat rides over the lakes.
Plitvice Lakes National Park is the first national park in Croatia on April 8th, 1949. This was nominated to the UNESCO World Heritage site List on October 26th, 1979. Because of the park's natural beauty is home to various wildlife, including wolves, bears, eagles, and falcons.
There are several hotels near the park if you'd want to spend the night. From Zagreb and Zadar, you can take a bus tour to Plitvice to see the park. Consider booking your tickets early if you plan to visit on your own or as part of an organized tour; this park visit over a million people each year.According to our selection this is one of the best places to visit in Croatia for families.
Official site: https://np-plitvicka-jezera.hr/en/
02Krka National Park – Spellbinding waterfalls, Lakes, Rapids and Forests
Southern Croatia's Krka National Park is located along the Krka River. A succession of 7 waterfalls is the area's most notable feature. In the south, waterfalls like Skradinski Buk are bordered by traditional watermills that still operate today. Further north, a nature walk leads to the impressive Roki Slap waterfall and the Krka Monastery, constructed on old Roman catacombs.
Take a day trip out of the city to Krka National Park, regardless of where you're staying: Dubrovnik, Split, Zadar, or Hvar are excellent options. Krka National Park, located one and half hours inland from Split, is distinguished by its numerous waterfalls of varying sizes, acres of lush greenery, picturesque lakes, and boardwalks that lead you on magnificent excursions around the park.
You could easily spend a few days exploring everything that Krka offers. Still, even if you only have a day to spare, it's one of the most amazing places to see in the country.
03Diocletian's Palace in Split
During the 4th century(AD 305), the Roman Emperor Diocletian had Diocletian's Palace in Split, Croatia, which is now a UNESCO World Heritage Site, erected for him.
Diocletian Palace, Croatia's second-largest city after Zagreb, was built within the historic Roman walls of Split (Dioklecijanova palace). This is located on the Adriatic coast.
Suggested Trailoka: 10 Most Beautiful Places in Czech
The Emperor's guard was housed in the palace, which features four colossal gates, three accessible from the land and one that opened immediately onto the water. Things to view within the walls include the exquisite Peristyle, where you can also discover the Cathedral of St. Domnius with its beautiful bell tower.
There are many things to do in Diocletian and nighttime activities to enjoy, such as seeing the ruins that have been illuminated. At the same time, concerts and entertainment are typical during the day.
There are numerous shops, restaurants, apartments, entertainment, and cafes in Diocletian's palace as it is now. Diocletian housed his henchmen and the entire military garrison in this Split palace, around 30 000 square meters in size.
Official site: www.diocletianspalace.org
04Golden Horn Beach (Zlatni Rat Beach)
Golden Horn Beach is the most well photography beach in Croatia. One of the unique features of the southern coast of the island of Brac is a 500-meter-long "spit" of fine stones. Season to season, local winds and currents determine its shape and movement.
It is surrounded by a bunch of pine trees that provide shade and overlook the rocky peaks of Vidova Gora mountain. It is lined with loungers and umbrellas during the summer months. The sea is a popular tourist destination in Europe, and the sea is safe to swim in from June to September. Depending on the weather, some individuals even manage to extend the bathing season as far as May and October.
Additional beach activities include sea kayaks, paddle boats, and banana boat rides. Zlatni Rat is also a premier windsurfing destination in Croatia. Split's ferry and catamaran service connects you to Brac, a small Croatian island. Suppose you plan on staying for an extended time. In that case, there are many top-notch luxury hotels in the area as well as these are the best places to stay in Croatia for nightlife for families and couples.
05Dubrovnik Old Town Walls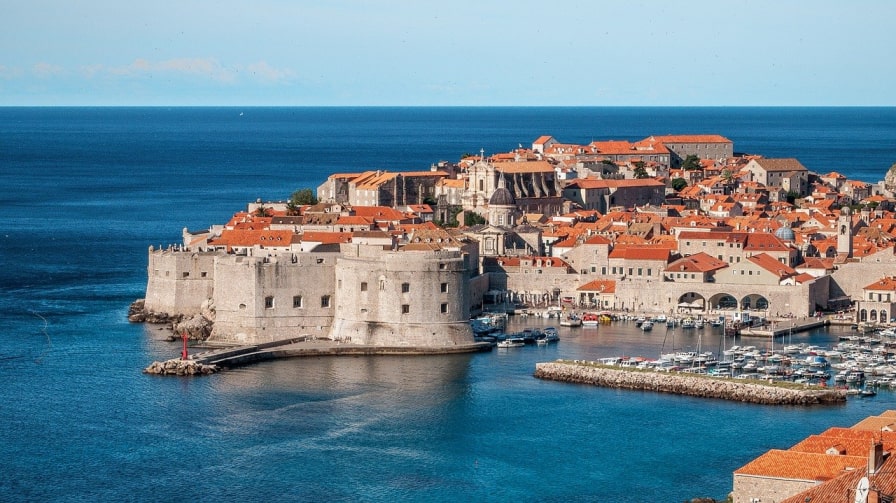 Visiting Dubrovnik's Old Town is one of the most popular things to do in Croatia, and it's nominated as a UNESCO World Heritage site. This historical city has a lot to offer visitors. There are a plethora of museums, narrow streets, and delicious eateries to explore. Historic houses in Trogir are clad in white limestone, a striking contrast to the terracotta roofs and deep blue Adriatic below.
If you're visiting the city for the first time, start your trip with a stroll around these sturdily constructed medieval ramparts. The two-kilometer loop includes towers, fortresses, and cannons all along the road.
The Pile Gate, completed in 1537 and its most spectacular features, is another way to get into the Old Town. High on the walls, visitors may take in stunning views of Old Town and the glittering Adriatic Sea.
You may also take a stroll down the Stradun, a broad 300 m long pedestrian boulevard dotted with shops, cafes, and restaurants. These all are distinguished by the white limestone cobblestones on which they are built.
In addition to the beautiful cathedral and its impressive treasure, visitors should also check out the ancient Square of the Loggia, which is known for its beautiful old buildings and monuments and the historically significant Fort Lovrijenac.
Yet another wonder, HBO's Game of Thrones, used Dubrovnik as a background for many of its episodes. You can even visit the filming locations on several popular tours. As well, Lokrum Island and Split are used as Game of Thrones locations. Do not forget to bring a water bottle and a selfie stick on this trip.
06Pula's Roman Arena
Historic Pula is Croatia's most popular Istria area, located on the Adriatic Sea coast, and is well worth visiting. It was created in 27 BC and AD 68 and is one of the world's six largest remaining Roman arenas. Additionally, Pula is renowned for its Roman architecture, making it a good day trip for visitors visiting elsewhere in Croatia.
After tens of thousands of years of human occupation, only the Romans, more than 2,000 years ago, left their mark on this land. Few Roman structures have survived that are as spectacular or as large as Pula Arena. Emperor Vespasian ordered its construction in the first century AD, and it remains one of the largest Roman amphitheaters, second only to its famed cousin, the Colosseum in Rome.
With a capacity of up to 20,000 spectators, the amphitheater was mostly used for spectacles like gladiator fights and jousting. When it comes to its usual summer calendar of concerts and festivals, this amazing structure can still hold up to 5,000 people.
Other Roman ruins in Pula are also worth a visit. There are many historic sites in Rome, but the Roman Forum is the most well-preserved. The Augustus Temple (Augustov Hram), a well-preserved columned structure housing a collection of Roman sculptures, may also be found here.
07Zagreb
As Croatia's northern capital, Zagreb's architectural style is mostly a product of the Austro-Hungarian period. Upper Town is home to the Gothic Zagreb Cathedral, its twin towers, and the 13th-century St. Mark's Church, which has a colorful tiled roof. Outdoor cafes fill the pedestrian-friendly Tkaliieva Street nearby.
Zagreb's Gornji Grad
The ancient Gornji Grad is a must-see place in Croatia for tourists. In addition to the twin steeples, the cathedral's neo-Gothic façade and Treasury's extensive collection of religious art and antiques. The Croatian Parliament is another major site here (Hrvatski Sabor).
The Church of St. Mark, with its famed colored tiled roof, as well as the 13th-century Lotrscak Tower, which you may climb for great views of the city and surrounding area, are both worth seeing. Make sure to visit the Museum of Broken Relationships, a crowd favorite.
Roman Catholic Zagreb Cathedral, located on the Kaptol, is Croatia's second-tallest structure and the most monumental religious architecture in the Gothic style south of the Alps. Assumption of Mary and the kings' Saint Stephen and Saint Ladislaus are the names of the saints honored at this church.
08Zadar's Sea Organ & Sun Salutation
One of the most remarkable places in Croatia is the Sea Organ and Sun Salutation in Zadar, both art projects. For those who like to listen to the sound of water, the Sea Organ is the best way to do it.
The structure consists of 35 organ pipes with various lengths and diameters arranged beneath a marble staircase. A wide range of rhythms is produced when seawater is channeled through the pipes.
The Sun Salutation is a 22-meter-shaped solar panel made of 300 layered panels of glass. During the daytime, the panels absorb sunlight, which they convert into the light. Additionally, the Sun Salutation generates enough electricity to light Zadar's waterfront once its sunsets.
09Hvar Island
One of Croatia's most beautiful and most popular summer destinations on Hvar Island. For centuries, it has been known for its strategic and nautical importance and its rich cultural and natural heritage and literary legacy. Hvar Island consists of secluded coves, stylish bars, exquisite food, and crystalline waters. As well you can enjoy a lot of activities in this area.
A hilltop fortress and the Renaissance-era Hvar Cathedral anchor the town's main square, which is surrounded by walls built in the 13th century. Inland, there are lavender fields and beaches like Dubovica. The Pakleni Islands, a group of secluded beaches and coves, are accessible by boat from the mainland. Read more…
Suggested Trailoka: 10 Best Things to See in France
10Rovinj
Travel Lemming's annual Emerging Destination Awards named Rovinj one of the best places to avoid overtourism in 2020, and it's no wonder why! This is a real calm place in Croatia. Venetian-era coastal town Rovinj, located in northwest Croatia, is surrounded by pastel-colored houses and a hilltop church with an ornate bell tower.
On the waterfront, the Batana Eco-Museum tells the story of a traditional fishing boat, the batana, and how it came to be used by locals. The nearby pebble beaches are also popular tourist destinations. There is also a slew of luxury accommodations, fine dining establishments, and galleries to peruse.
Residents of the area speak a unique regional language that combines elements of Croatian with Italian. Pula International Airport is the closest to Rovinj.
11Eye Of The Earth, Croatia's Cetina River Source
"Eye of the Earth" is a name given to a water source that looks like an eye and is located in Croatia. There is no way of knowing how deep the hole in the center spreads into the earth at this point. However, it was only tested by the divers to depths of approximately 115 meters.
The source is located in Milasevo, a small town north of Cetina, and is not accessible from the main tourist path. If you follow a trail straight from an Orthodox church, you'll come across the ruins of an ancient Croatian church that goes back to the 9th century. Read more…
12Rijeka
Even though visitors to the Dalmatian Coast often skip Rijeka, it is well worth including on your list of places to see while in Croatia. Those who visit this historically significant port city will find that there are many attractions and things to do in addition to fewer tourists.
Explore the Old Town's cobbled lanes and streets, each lined with magnificent examples of townhouses and dwellings (as well as old shops and places of trade) built in the 1700s.
The majestic Trsat Castle (Gradina Trsat), constructed in the 13th century on top of the town, can be accessed via a lovely path that leads to the near the area Church of Our Lady of Trsat. It's hard to believe a better way to spend a few days in this beautiful Croatian town than exploring its art galleries, museums, and Croatia's largest carnival.
Bonus tip: If you plan to stay long days in Croatia, we filter the best things to do in Croatia from Croatia's activity bucket list. These tips will be more helpful to manage and enjoy your Croatia trip.
Best Things to do in Croatia
Blue Cave visit on Bisevo Island
Rafting on the Cetina River
Scuba diving & snorkeling on lovely beaches
Rent a Boat for a few Days with Sailo
Sail-Week on Island Hop
Museum of Broken Relationships visit in Zagreb
Truffle Hunting
Enjoy Parasailing
Visit Game of Thrones filming locations
Visit the Lavender Fields
Climb to Spanjola Fortress in Hvar
Take a Blue Lagoon Tour
Visit Tito's Tunnels
Party time in Croatia(Split, Pag Island, Hvar, Dubrovnik, Murter Island or Brac's Zlatni Rat beach)
Wine Tour
Go Glamping
Take a Road Trip (renting a car or vehicle in Croatia)
Relax on Croatia's Beaches (Vela Przina (Korcula), Uvala Lapad Beach (Dubrovnik), Saldun Bay (Trogir), and Mlaska (Hvar))
Visit Mljet National Park
Is Croatia Safe for Travel?
Croatia has a low crime rate compared to the rest of Europe. To avoid petty theft, use common sense and avoid flaunting expensive goods, especially in larger cities and towns. Go to government regulations for the most up-to-date information on Croatia's safety and travel requirements. Britons' Foreign, Commonwealth, and Development Office travel advice should be followed, whereas US citizens traveling to Croatia should consult official government travel instructions.
Things you Need to Know Before Traveling to Croatia
Croatia is a Very Safe Country
Aware of Seasons and Weather in Croatia
The Best Time to Visit
The official national currency is the Kuna not Euro (When paying for a hotel or restaurant, you can usually use Euros, but this is not always the case)
Tipping is best but Not Required
Be prepared to carry cash when in Croatia
Find & select National Parks & Beaches to visit
Activities & things to do to Enjoy in Croatia
Know about Croatia's Food types
Learn a Few Basic Words for extra benefits (please (molim), hello (dobar dan), and thank you (hvala))
Know about the Rules of the Road
Croatia uses European standard plugs with two rounded prongs
Croatia is not a budget destination
This is our Croatia's best visiting and relaxing places guide with the best travel tips. Finally, we advise you to be prepared correct time and proper equipment for your trip. Happy travel for all travelers, and share this with your travel and nature lovers.
Take only memories, leave only footprints
Share with Your Travel Pocket List
Plitvice Lakes National Park
Krka National Park
Diocletian's Palace in Split
Golden Horn Beach (Zlatni Rat Beach)
Dubrovnik Old Town Walls
Pula's Roman Arena
Zagreb
Zadar's Sea Organ & Sun Salutation
Hvar Island
Rovinj
Eye Of The Earth, Croatia's Cetina River Source
Rijeka