Sicily has been an island of ignorance, living under the shadow of great Italy and its lavishing, promising and pristine popularity. However, later in the human years, Sicily and its divine colors of culture and tradition came to life. The newer beginning opened a universe of revolution and evolution that bloomed under the blessings of indigenous Sicilians. The city of most heavenly sensations: Palermo, the capital of Sicily, reaches its arms throughout the island, distributing love, life, and tradition. The specialty of Sicily cannot be framed into words of poetry or thoughts of happiness and curiosity. Thus we must know "What is Sicily known for?" to experience the divinity of Sicily.
What is Sicily known for?
Sicily is known for many things other than the little footwear of great Italy. Sicily is best known for the uniqueness of its culinary arts. The cuisine of Sicily is not to be equalized or compared with Italian cuisine. Thus the Sicilian world is flavored with devouring tastes of deity. Moreover, the novel visions of heavenly houses of life and death carrying the touch of Greek gods make the island the perfect spot to experience amazing archeological sites. Sicily offers the breeze of the best seaside as the Tyrrhenian, Ionian, and Mediterranean Sea guard allows the tourist to enjoy about 600 miles of cobalt sprinkle.
Moreover, the island is specifically acknowledged for the delicacy and originality of its wines. The Sicilian wines have been on the market since the good old days of the great Greek gods. The island is full of tradition and culture, which has been fermented for millennia.
What makes Sicily so special?
Given all the above mind-blowing facts about Sicily, you might wonder what we must tell you more to convince you that Sicily is heaven. Is it the cuisine? Is it the archeological sites? Is it the tradition and culture? That made Sicily, Sicily. The Sicilians are known for leading their life in a slow phase, without any quarrels and disputes. The Sicilian nonnas (grandmothers) heartwarming smiles will melt you down. Their hospitability makes Sicily a top ten tourist attraction.
Furthermore, Sicily is known for its religious impact with the most peculiar church architecture. Many Christians travel to Sicily looking to enjoy the ancestral construction of their lifelong belief system. Sicily once was one of the most ignored delicacies of the earth. Sicilian islands make Sicily 10 times more special as each of these tiny tourist attractions carries the essence of Sicilian life in them while distributing the name of Sicily globally.
What is Sicilian Cuisine?
Sicilian cuisine is like a forever get-together of world spices and foods. These foods contain many influences that lead them to hold a unique personality. Sicilian cuisine is influenced by all the imperfections and perfections of North Africans, Islamic moors, greeks, Romans, normans, and Spanish.
All these influences finally gave birth to the following heavenly dining. Some of the most popular Sicilian cuisine can be known as arancini, caponata, raw red prawns, busiate al pesto trapanese, pasta alla norma, pasta con le sarde, sarde a beccafico, involtini di pesce spade and cannoli. All these dishes are some staples of culinary arts in Sicily.
How is Sicily Different from Italy?
In Sicily and Italy, the foot and the footwear sometimes do have similarities among their differences. The biggest similarity between Sicily and Italy is that they are in Europe. Then comes the differences. It will be a huge surprise to know that Sicily is an individual country located in another country. Furthermore, while the Italians speak Italian, the Sicilians speak Sicilian, which the elderly generation of Sicily has protected for a very long time. However, only a minority of Sicilians speak their mother tongue in Sicily.
Trailoka Suggestion: Italian Cuisine Showdown: Northern Italy vs Southern Italy Food
Further, Sicilians love stuffed calzones very much, while Italians are obsessed with their pasta. In Sicily, people cherish the taste of Buffalo wings in every venue as a meal of heaven. Moreover, the Sicilians are known to be presented in full black outfits from head to toe. However, the Italians are known for their colorful and very outgoing clothes.
What are Sicily's Top Tourist Attractions?
There are many tourist attractions in Sicily, as we have explained earlier. These attractions have stolen the eye of many tourists and also of locals. Thus, it is very important to figure out the top tourist attractions to enjoy your voyage without figuring things out. The first and foremost attraction is the cathedral of Montreal. This church reflected Sicily under Normans while portraying the politics and religion of that era. Then comes the valley of temples in Agrigento.it is an apartment complex of temples and tombs. Moreover, Mount Etna and Villa Romana del Casale in Enna are also tourist attractions.
What are Some Famous Landmarks in Sicily?
Sicily, as mentioned earlier, is a hotspot of landmarks that will blow up your mind with its deity-full beauty and irreplaceable history. These landmarks in Sicily can be divided into two main categories: monuments and natural landmarks. When discussing monuments, we come across landmarks like Erice medieval village, Cefalu Cathedral, Castello Ursino, Notre Cathedral, Neapolis archaeological park, Monreale Cathedral, Villa Romana del Casale, and the Valley of the Temples. Furthermore, landmarks like Teatro Antico di Taormina, Palermo Cathedra, Norman Palace, and Massimo Theater exist.
Then we will move on to the section on natural landmarks. These landmarks highlight the specialty and the divinity this island hold. The natural landmarks are Mount Etna, Scala dei Turchi, the Aeolian Islands, Median Islands, Riserva natural dello Zingaro, Solo Bella, Saline di Trapani e Pacheco, Rabbit Beach, and Torre Salsa. These landmarks are the eye stoppers of many tourists as the landmarks are sights to see.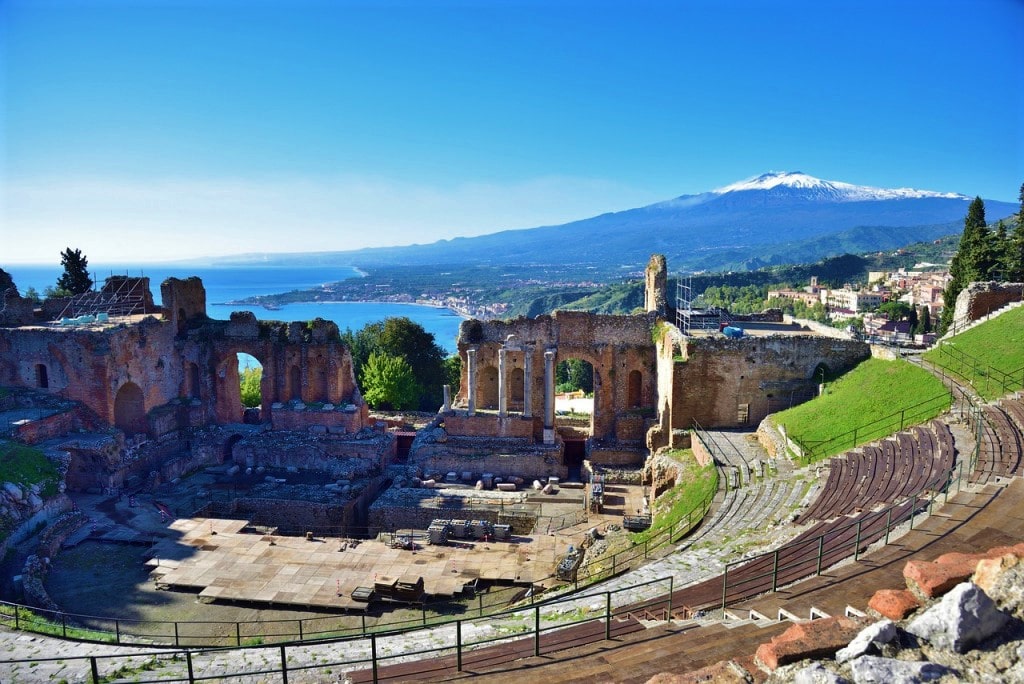 What is the climate like in Sicily?
Sicily, the footwear of Italy, one of the biggest islands in the Mediterranean, surely holds a soothing climate. However, being part of Italy, the island goes through 4 seasons, with two transition seasons, spring and autumn. The coastal areas uphold a dry climate, while the interior space holds more warmth and life over the pure dryness of the coastal area.
Sicily as located in the Mediterranean has a cold and wet winter while having to face a dry and hot summer. However, these climatic changes allow Sicily to be an option for anyone looking for anything. If they are looking for winter, you can experience it. Even Mount Etna was once covered in snow. If you want the summer of a Sicilian, you will feel hot and experience the hospitability of Sicilians and their indigenous elders. Thus these climate changes maintain Sicily to be the ideal option for tourists.
Related Articles:
Can You Get Married in Vatican?
Most beautiful places in Italy
Take only memories, Enjoy your trip, & Leave only footprints

TEL