Italy is a country renowned for its mesmerizing natural beauty, which encompasses a wide range of landscapes and vistas. Its attraction is no less widespread through Northern Italy, Northeast Italy, Central Italy, and Southern Italy. From the dramatic cliffs and turquoise waters of the Amalfi Coast to the majestic peaks of the Dolomites, Italy offers a diverse array of natural wonders. The country is blessed with stunning lakes, such as Lake Como and Lake Garda, which are nestled amidst picturesque mountains and surrounded by charming towns.
The rolling hills of Tuscany showcase vineyards and olive groves, creating a patchwork of vibrant colors. The iconic Mount Etna looms large in Sicily, showcasing its volcanic activity and lunar-like landscapes. Whether it's the captivating islands of Capri and Sardinia, the charming villages of Cinque Terre, or the enchanting beauty of the Italian Riviera, Italy's natural landscapes never fail to leave visitors spellbound.
Italy's natural beauty is not limited to its landscapes alone. The country is also home to a rich biodiversity, with national parks and nature reserves preserving unique ecosystems and wildlife habitats. From the forests of Abruzzo National Park to the Po Delta Regional Park wetlands, these protected areas offer opportunities for hiking, birdwatching, and immersing oneself in the tranquility of nature.
In conclusion, Italy's natural beauty is a treasure trove of diverse landscapes, from the rugged mountains to the serene lakeshores and captivating coastlines. The country's varied terrain, combined with its rich biodiversity, creates a tapestry of awe-inspiring natural wonders that continue to enthrall and delight visitors from around the globe. As a traveler, we couldn't guess explore Italy within a month or year, so We collected the top 5 natural wonders from many natural beauties of Italy for your easy selection.
01 Dolomites
The Dolomites, Italy's prized natural jewel, are a testament to the Earth's majesty. Nestled in northern Italy, these rugged mountains boast jagged peaks, lush valleys, and pristine lakes, creating a haven for adventure seekers and nature enthusiasts alike.
Their significance extends beyond their unparalleled beauty. The Dolomites were nominated as a UNESCO World Heritage Site for their unique geology and rich biodiversity. These mountains are a living testament to Earth's ever-changing landscape.
Located in northeastern Italy, the Dolomites span several provinces, including South Tyrol, Trentino, and Belluno. The Dolomites are easily accessible from major cities like Venice and Innsbruck. Their accessibility and diverse landscapes make them a year-round destination for hiking, skiing, rock climbing, and more.
At the heart of the Dolomites lies the Pale di San Martino, a striking plateau of towering peaks that beckon mountaineers. The Tre Cime di Lavaredo, iconic three peaks, stand as sentinels of nature's artistry. Pristine lakes like Lake Braies mirror the sky, inviting reflection.
The Dolomites are not just mountains but an emblem of Italy's natural wonders. Explore their grandeur and embrace the thrill of adventure in this alpine paradise.
SUGGESTED TRAILOKA: Is Dolomites Dangerous?
02 Amalfi Coast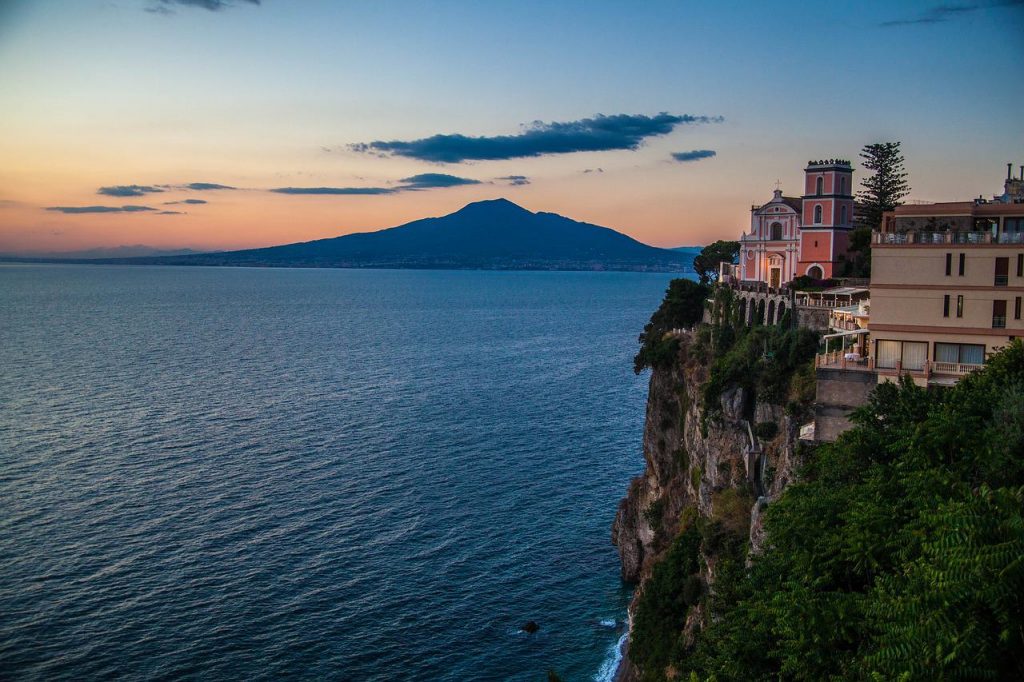 The Amalfi Coast is a natural wonder and cultural treasure that embodies Italy's beauty and history. Nestled along the picturesque shores of southern Italy, the Amalfi Coast is a testament to nature's awe-inspiring beauty. This UNESCO World Heritage Site boasts stunning vistas and a rich cultural heritage. In this guide, we'll delve into the natural allure of the Amalfi Coast, its importance, where it's located, and its captivating specifications.
The Amalfi Coast, with its dramatic cliffs, crystal-clear Mediterranean waters, and charming coastal villages, presents a captivating panorama that lures travelers from around the globe. This coastal paradise is renowned for its colorful architecture, lush gardens, and scenic terraces that cascade down the cliffsides, creating a living work of art.
Beyond its breathtaking aesthetics, the Amalfi Coast is an essential cultural and historical treasure. Its ancient towns, such as Amalfi, Positano, and Ravello, harbor a rich tapestry of traditions, art, and architecture. The region's influence on Italian culture is profound, and its preservation is vital to understanding Italy's heritage.
Situated along the southern border of the Sorrentine Peninsula, the Amalfi Coast is easily accessible from Naples, Sorrento, and other major Italian cities. Visitors can explore its winding coastal roads, visit historic sites, and savor the renowned Mediterranean cuisine.
The Amalfi Coast is dotted with lovely villages clinging to the cliffs, like Positano's pastel houses and Amalfi's historic cathedral. Ravello offers stunning views from its clifftop gardens, and the Path of the Gods (Il Sentiero degli Dei) provides incredible hiking experiences.
03 Cinque Terre
Cinque Terre, a collection of five charming villages nestled along the rugged cliffs of the Italian Riviera, is a true coastal gem.
Cinque Terre is a testament to the raw beauty of nature. Its dramatic cliffs plunge into the crystal-clear waters of the Ligurian Sea, creating a breathtaking backdrop for the vibrant, pastel-colored villages that cling to the hillsides. The terraced vineyards, olive groves, and wildflowers add to the coastal charm, making it a photographer's paradise.
Beyond its stunning vistas, Cinque Terre holds a special place in Italian culture and history. This UNESCO World Heritage Site preserves the traditions, architecture, and way of life of generations past. The villages are a testament to the enduring spirit of coastal communities, offering a glimpse into Italy's rich cultural heritage.
Cinque Terre's strategic location along the Italian Riviera makes it easily accessible from major cities like Genoa and Pisa. Visitors can explore the enchanting coastal paths, visit centuries-old churches, and indulge in delectable local cuisine. Its proximity to the sea makes it an ideal destination for those seeking sun, surf, and relaxation.
Cinque Terre comprises five distinct villages: Monterosso al Mare, Vernazza, Corniglia, Manarola, and Riomaggiore. Each village has its unique character, from the vibrant streets of Riomaggiore to the dramatic cliffs of Manarola. The coastal hiking trails, such as the Sentiero Azzurro, offer breathtaking coastline views and are a must-do for outdoor enthusiasts.
04 Mount Vesuvius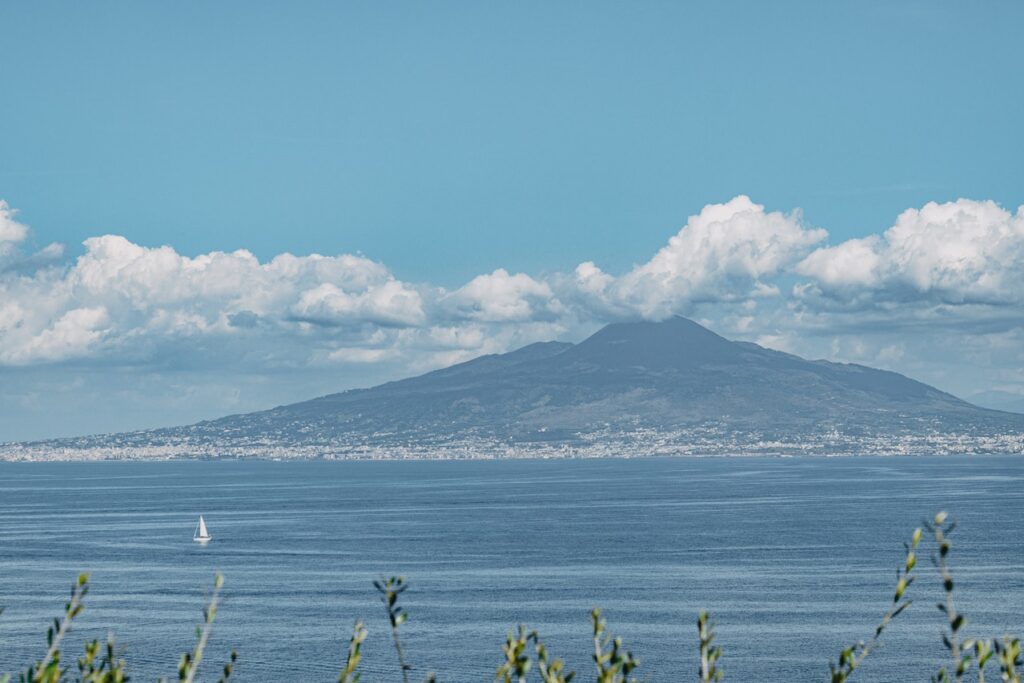 Mount Vesuvius, an iconic and active volcano located near Naples, Italy, is a captivating blend of natural wonder, historical importance, and strategic location.
The grandeur of Mount Vesuvius lies not just in its volatile nature but also in its picturesque landscapes. The volcano rises dramatically from the Campanian plain, its symmetrical cone covered in lush vegetation. Surrounding vineyards and olive groves create a striking contrast, and from its summit, one can behold sweeping views of the Bay of Naples.
Mount Vesuvius holds a place of immense historical significance. It was the eruption of this very volcano in AD 79 that buried the Roman cities of Pompeii and Herculaneum, preserving them for centuries. Today, these archaeological sites offer a window into ancient Roman life, making Mount Vesuvius a geological wonder and a time capsule of the past.
Situated just a short distance from Naples, Mount Vesuvius is easily accessible, making it a popular destination for travelers. Its proximity to other attractions, including the ruins of Pompeii and the charming town of Sorrento, adds to its appeal. The volcano's strategic location on the west coast of Italy makes it an ideal day trip for those exploring the Campania region.
Mount Vesuvius stands at approximately 4,203 feet (1,281 meters) above sea level. While its beauty is captivating, it's important to remember its active nature. Adventurous visitors can hike to its summit, where they'll find a smoking crater. The ascent offers not only stunning panoramas but also a unique opportunity to witness the forces that shape our planet.
In conclusion, Mount Vesuvius is a remarkable natural wonder that seamlessly blends beauty, historical importance, and accessibility. It's a destination where you can explore the Earth's inner workings while contemplating the past. Discover the majesty of Mount Vesuvius and its surrounding treasures for a truly unforgettable experience.
SUGGESTED TRAILOKA: Best Visiting and Relaxing Places in Italy
05 Lake Como
Lake Como, nestled in the Lombardy region of northern Italy, is an exquisite testament to natural beauty, cultural heritage, and serene tranquility.
Lake Como, known as Lago di Como, is renowned for its mesmerizing natural beauty. It's the third-largest lake in Italy, surrounded by majestic snow-capped peaks. The deep blue waters reflect charming lakeside villages, elegant villas, and lush gardens. Towering cypress trees, vibrant flora, and azure skies complete the picture, making it a paradise for nature lovers and photographers.
Beyond its stunning aesthetics, Lake Como has played a pivotal role in Italy's history and culture. Its shores are dotted with historic villas and opulent palaces that have hosted nobility and luminaries for centuries. The region's artistic heritage, from Leonardo da Vinci to George Clooney, has been influenced by the tranquil beauty of Lake Como.
Lake Como's strategic location in the Italian Alps, within easy reach of Milan, makes it a highly accessible destination. Visitors can explore its picturesque towns, including Bellagio, Como, and Varenna, each offering its unique charm. The lake's surrounding mountains provide opportunities for hiking and adventure, while its ferry services make it easy to hop between towns.
Lake Como boasts a depth of around 1,345 feet (410 meters) and stretches for approximately 30 miles (48 kilometers). One of its unique features is the "Y" shape, with the two southern branches offering distinct landscapes. The eastern branch is narrower and surrounded by steep cliffs, while the western branch is wider, with more towns and villages.
06 Marmore Falls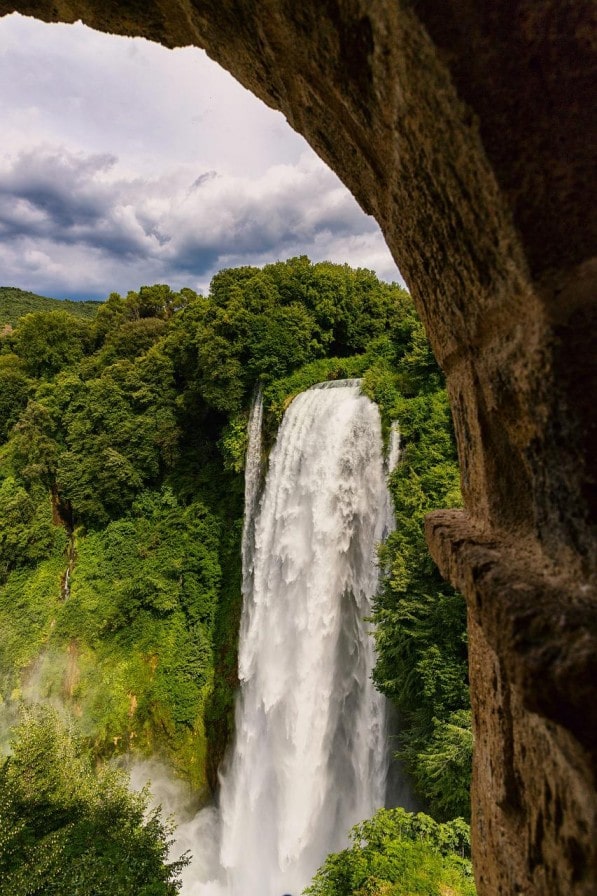 Marmore Falls, located in the lush heart of Italy, is a breathtaking testament to natural beauty, cultural heritage, and the enduring allure of cascading waters.
Marmore Falls, known as "Cascata delle Marmore" in Italian, is a stunning spectacle of nature's artistry. Nestled amidst the dense forests of Umbria, these cascading waters tumble gracefully over three distinct levels. The falls are framed by lush greenery, creating a serene atmosphere inviting visitors to bask in the tranquility of the natural beauty.
Marmore Falls isn't just a natural wonder; it's also a place of historical and cultural importance. Its existence can be traced back to ancient Roman times when it was engineered by the Romans to drain the waters of the Velino River. The falls' impact on the region's landscape and history is undeniable, making it an integral part of Italy's heritage.
Marmore Falls is strategically located in the province of Terni, Umbria, in central Italy. Its proximity to major cities like Rome and Perugia makes it an accessible day-trip destination. Visitors can easily explore the lush forests surrounding the falls, hike to viewpoints, and marvel at the cascading waters. The falls are also surrounded by archaeological sites, medieval towns, and scenic trails, offering a wealth of experiences.
Marmore Falls, with a total height of 541 feet (165 meters), is one of the tallest man-made waterfalls in Europe. Its waters are controlled by an intricate system of canals and tunnels, allowing visitors to witness the falls' power and grace with controlled water releases. The falls' accessibility and the immersive experience they offer make them a unique natural attraction in Italy.
07 Mount Etna
Mount Etna, the majestic volcano that graces the island of Sicily, Italy, is a captivating fusion of natural beauty, geological importance, and strategic relevance.
Mount Etna, or "Mongibello" in Italian, is a living testament to nature's grandeur. Its towering presence against the Sicilian skyline, crowned with a plume of smoke, is a sight to behold. The volcano's lower slopes are adorned with lush forests and vineyards, while higher altitudes reveal lunar-like landscapes adorned with hardened lava flows. The ever-changing scenery and the fiery glow of eruptions contribute to its captivating natural beauty.
Mount Etna is not just an extraordinary natural wonder; it's also of immense geological significance. As one of the most active volcanoes on Earth, it provides invaluable insights into the planet's geological processes. The volcano has played a crucial role in shaping Sicily's history, culture, and agriculture. Its eruptions, though sometimes destructive, have enriched the soil and supported the cultivation of renowned Sicilian wines.
Mount Etna's strategic location on the east coast of Sicily makes it a highly accessible destination. Catania, the region's major city, is just a stone's throw away, and visitors can easily reach the volcano's lower slopes. Numerous guided tours and hiking trails offer a chance to explore its natural beauty and geological wonders up close.
Mount Etna reaches a height of approximately 10,922 feet (3,329 meters), making it the tallest active volcano in Europe. Its constant activity includes both explosive eruptions and gentle effusive eruptions, providing scientists with invaluable data for studying volcanic processes. The volcano also features a network of hiking trails, and visitors can explore its lunar-like landscapes while marvelling at its fiery spectacle.
08 Saturnia Hot Springs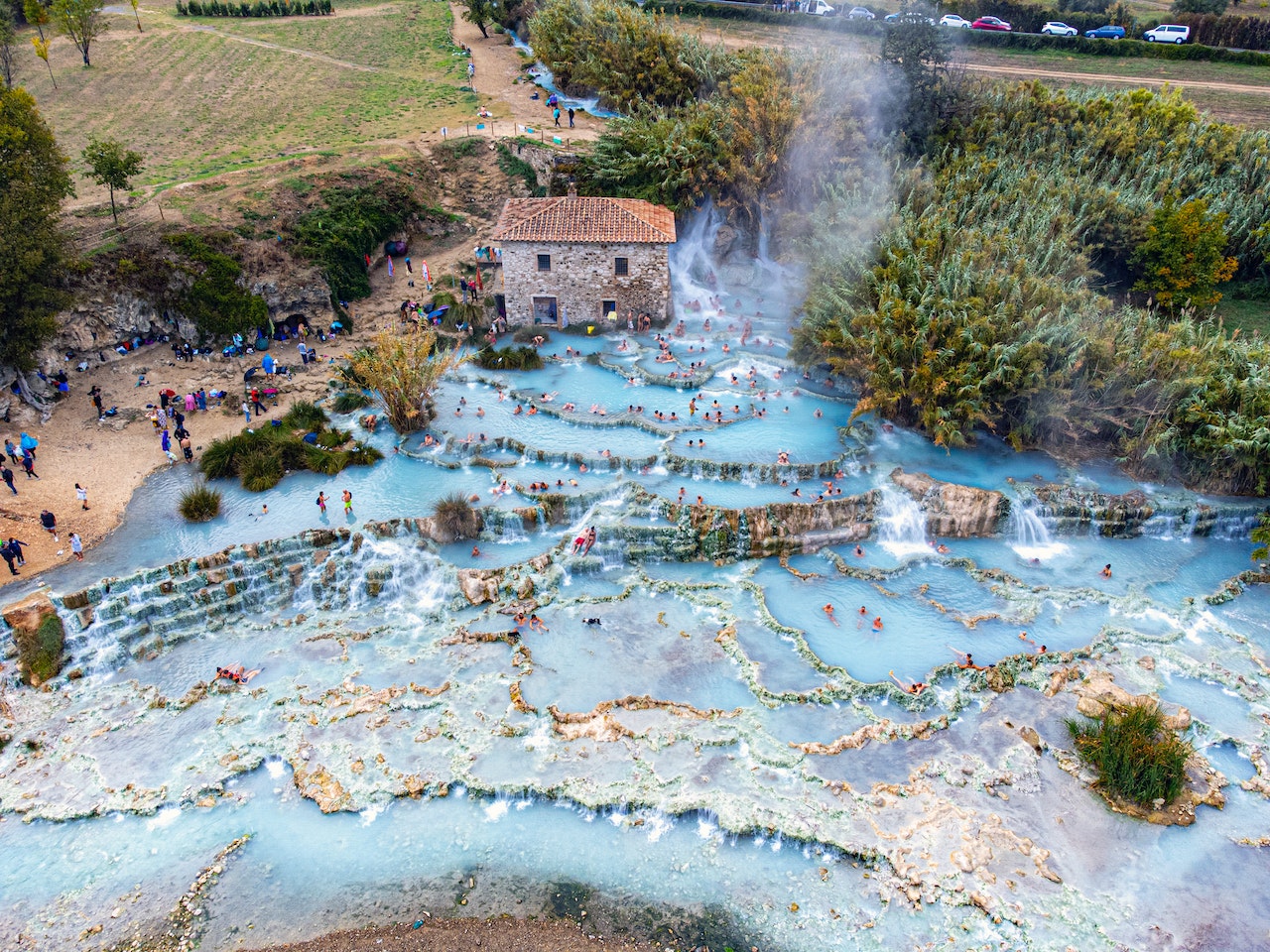 Saturnia Hot Springs, tucked away in the heart of Tuscany, Italy, is a serene haven that seamlessly combines natural beauty, therapeutic importance, and a strategic location.
Saturnia Hot Springs, or "Terme di Saturnia" in Italian, is a breathtaking testament to the wonders of nature. Surrounded by rolling hills and lush countryside, these thermal springs emanate from underground volcanic sources. The milky-blue, mineral-rich waters cascade into natural pools, creating a soothing and picturesque oasis amidst the Tuscan landscape. Towering cypress trees and vibrant flora complete the scene, offering a true retreat for the senses.
Saturnia Hot Springs are more than just a serene getaway; they hold a rich history and therapeutic significance. These waters have been known for their healing properties for centuries, believed to relieve various ailments and soothe the body and mind. The springs also offer a glimpse into Italy's ancient past, with historical sites nearby, such as the Roman town of Saturnia.
Saturnia Hot Springs are strategically situated in the heart of Tuscany, making them a sought-after destination for travelers exploring this renowned Italian region. They are easily accessible from cities like Florence and Rome, and visitors can bask in the natural beauty of the Tuscan countryside while indulging in the therapeutic waters.
The thermal waters of Saturnia Hot Springs maintain a temperature of around 98.6°F (37°C) year-round, providing a blissful contrast to the cooler outdoor surroundings. The springs are open to the public, and many establishments offer wellness services, including spa treatments, mud baths, and relaxing massages, ensuring a truly rejuvenating experience.
In conclusion, Saturnia Hot Springs offers a unique blend of natural beauty, therapeutic significance, and accessibility. Whether you seek relaxation, wellness, or a glimpse into Italy's ancient past, Saturnia Hot Springs promises a rejuvenating journey amidst the picturesque Tuscan landscape. Immerse yourself in Saturnia Hot Springs's serenity and discover Tuscany's healing oasis.
09 Frasassi Caves
Saturnia Frasassi Caves, known as "Grotte di Saturnia Frasassi" in Italian, is a breathtaking world hidden beneath the Earth's crust. These caves feature an awe-inspiring labyrinth of limestone formations, stalactites, and stalagmites. Illuminated by soft, ethereal lighting, the caves create a surreal subterranean landscape that seems straight out of a fairy tale.
Beyond their visual splendor, Saturnia Frasassi Caves are a treasure trove of geological importance. These caverns have been forming for millions of years through a slow water erosion process, creating unique underground sculptures. Scientists and researchers flock here to study the intricate formations and gain insights into Earth's geological history.
Saturnia Frasassi Caves are strategically situated in the Marche region of Italy, making them an accessible destination for travelers exploring the central part of the country. They are easily reachable from cities like Ancona and Perugia. The caves offer a refreshing contrast to the sun-soaked landscapes above, providing a cool and immersive experience even during the hottest months.
The Saturnia Frasassi Caves extend for over 13 kilometers, with various chambers and passageways that showcase a variety of awe-inspiring formations. Visitors can explore these underground marvels through guided tours, which provide both educational insights and a chance to witness the sheer beauty of nature's artistry.
Official Website: www.frasassi.com
10 Beautiful Beaches
Italy, renowned for its rich history and cultural heritage, is equally celebrated for its pristine beaches. From the tranquil shores of Sardinia to the dramatic cliffs of the Amalfi Coast, Italy's coastline offers an array of beautiful beaches that beckon travelers from around the world.
1. Spiaggia dei Conigli (Rabbit Beach), Lampedusa:
Spiaggia dei Conigli is a secluded gem with fine golden sands and crystal-clear waters that change from turquoise to deep blue. Why Important: It's consistently ranked among the world's best beaches for its untouched beauty.
Location: Located on the island of Lampedusa, south of Sicily.
Specifications: Protected as a nature reserve, it's a nesting site for loggerhead sea turtles.
2. Cala Goloritzé, Sardinia:
Cala Goloritzé boasts a stunning limestone arch, clear waters, and a pristine pebble beach surrounded by cliffs. Why Important: A UNESCO World Heritage site, it's a symbol of Sardinia's unspoiled beauty.
Location: Located on the east coast of Sardinia.
Specifications: Accessible via a hike or boat, it offers incredible snorkeling opportunities.
3. Positano Beach, Amalfi Coast:
Positano Beach is nestled at the base of colorful cliffs, offering a dramatic backdrop to its golden sands. Why Important: It's an iconic part of the Amalfi Coast, renowned for its charm.
Location: Situated in the picturesque town of Positano.
Specifications: Enjoy the stunning views from the beachfront cafes and explore the town's charming streets.
4. San Vito Lo Capo, Sicily:
San Vito Lo Capo boasts a crescent-shaped beach with powdery white sands and shallow turquoise waters. Why Important: It's often compared to Caribbean beaches, offering a unique Italian coastal experience.
Location: Located on the northwestern coast of Sicily.
Specifications: The annual Cous Cous Fest celebrates the town's culinary heritage.
5. Monterosso al Mare, Cinque Terre:
Natural Beauty: Monterosso al Mare features a wide sandy beach framed by colorful buildings and lush vineyards. Why Important: It's one of the most accessible beaches in the Cinque Terre, making it a popular destination.
Location: Found in the northernmost village of the Cinque Terre.
Specifications: Explore the quaint town and savor local seafood delicacies.
Conclusion:
Italy's beautiful beaches are as diverse as the country's cultural treasures. Whether you're seeking relaxation, adventure, or simply a breathtaking coastal view, Italy's coastal paradises have something to offer. Plan your visit and immerse yourself in the natural beauty of these stunning Italian beaches.
In conclusion, Italy is a country blessed with an abundance of natural wonders that never cease to amaze and inspire. From the breathtaking beauty of the Dolomites to the azure waters of the Amalfi Coast and from the fiery majesty of Mount Vesuvius to the tranquil charm of Lake Como, Italy's diverse landscapes captivate travellers from around the world. Whether you're a nature enthusiast, an adventure seeker, or a lover of history and culture, Italy's natural wonders offer a rich tapestry of experiences. Explore these top 10 natural wonders in Italy and discover the incredible beauty that this country has to offer, each a testament to the remarkable artistry of nature.
Take only memories, Enjoy your trip, & Leave only footprints

TEL