Punta Cana is a collection of wonderland beaches in the Dominican Republic, which has more tourists than all the other cities in the Caribbean area put together. This makes it the second most popular place to visit in Latin America. The Dominican Republic's easternmost point, Punta Cana, is surrounded on three sides by water: the Caribbean Sea, the Atlantic Ocean, and the Gulf of Mexico. This region is well-known for the beaches that spread for 32 kilometers and the crystal clear waters surrounding it. By the way, every beach in Punta Cana is open to the public and free.
La Costa del Coco, often known as the Coconut Coast, is an area in the Dominican Republic that is comprised of opulent resorts that offer all-inclusive packages. This area is formed by combining the Punta Cana and Bavaro regions. It's most famous for kayaking, zip-lining, sailing, and windsurfing.
Best Time to Visit Punta Cana Beaches
The region is well-known for its balnearios, which front both the Caribbean Sea and the Atlantic Ocean. Their beaches with white sand, azure waters, and turquoise hues. Temperatures are high for most of the year, but they are at their highest in late summer and fall when the Northern Tropics get the most direct sunlight.
Mainly Punta Cana has 3 seasons according to weather conditions and population.
High Season to Visit Punta Cana – From January to March
Punta Cana's high season is the best time to visit Punta Cana if you want to bask in the sun's rays and cool off in the sea. According to many, the area's temperature swings between 29 degrees Celsius during the day and 19 degrees Celsius at night. Because the sky is nearly always clear throughout this time period, it's extremely unlikely that you'll run into any significant downpours.
Low Season to Visit Punta Cana– From April to September
Punta Cana is best visited this season if you are not a fan of the dry climate. Punta Cana's rainy season does not begin until July. However, the climate shifts from dry to humid during April, May, and June. The rainy season in Punta Cana officially begins in July.
If you're planning a trip between June and September, bring an umbrella and be prepared for any bad weather that may come your way. During this season, Punta Cana resorts provide access to the beach and a wide range of other features.
Mid Season to Visit Punta Cana– From October to December
We recommend visiting Punta Cana between October and December if you want to enjoy a lovely climate towards the conclusion of the rainy season. Many visitors consider the end of the rainy season to be the greatest time to visit Punta Cana. Even so, taking an umbrella with you as you check out is always a good idea.
Most Beautiful & Relaxing Beaches in Punta Cana
Relaxing Beaches Map in Punta Cana
01 Uvero Alto Beach(Uncrowded, Romantic, Surfing & Horseback Riding)
Punta Cana is the north coconut coast's final beach, Uvero Alto, which is wide and separated from the resorts by a cover of palm trees, and it never feels overcrowded. Uvero Alto has a lengthy stretch of secluded beaches where only those staying at your beachfront property have to share the sand. Travelers looking for adult-only resorts will have a wide range of options. Punta Cana International Airport is 25 miles from Playa Uvero Alto.
Uvero Alto Beach is ideal for individuals who like the outdoors, enjoy long walks on the beach, listen to the surf, dip their toes in the water, and participate in various water sports. Those who love calm water may be frustrated by resort roped-off zones. Continue trekking north until you reach a lush, more rugged, and naturally occurring Uvero Alto, which has been spared all construction. Punta Cana's Zoetry Agua Punta Cana is an excellent choice for couples.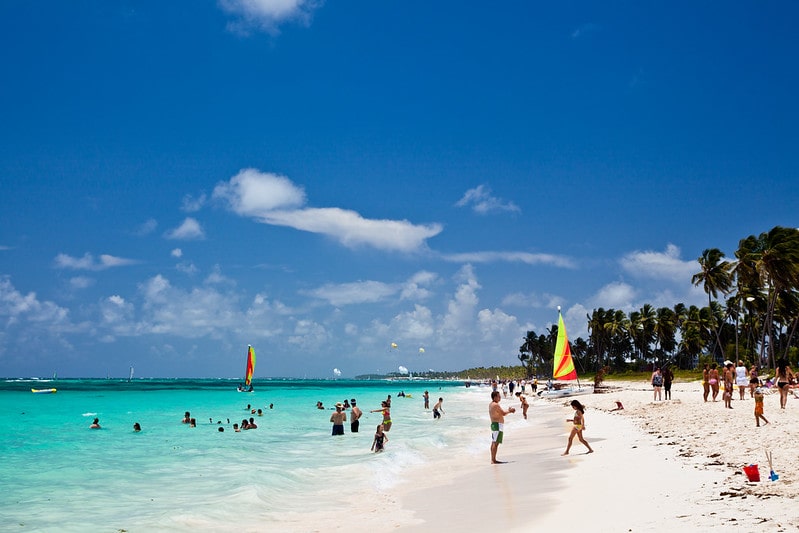 02 Playa Macao Beach(Naturally Beauty, Snorkeling & Surfing)
Suppose you're looking for some peace and quiet away from the hustle and bustle of the city. In that case, Playa Macao is the place to go in the Dominican Republic's Punta Cana area. Playa Macao is a 35-minute drive north of Punta Cana's city center. Locals enjoy frequenting this beach, so seeing it is worthwhile.
Parasailing and renting a beach buggy are two of the most popular activities on this particular island. Additionally, it's a popular surfing spot because of the excellent pipes that form here. An all-inclusive resort nearby is a popular choice with locals, and it's the perfect place to relax between beach excursions.
Dominican Republic's protected natural resource, Macao Beach, has been named one of the best Caribbean beaches by UNESCO. Since so many people have given it high marks, it has made TripAdvisor's Traveler's Choice Best of the Best list of the 20 best Caribbean beaches for 2020.
03 Arena Gorda Beach(Clear Turquoise Water, White Sand & Swimming)
The best way to get to Playa Arena Gorda is to stay in a local hotel, which is the only way to get there. It's only 28 minutes north of Punta Cana, the capital of the Dominican Republic.
In addition to Punta Cana's Hard Rock Hotel and Casino location, Arena Gorda's stretch of white beach is ideal for sunbathing and swimming. At the far end of Punta Cana's Hotel Zone, this beach offers a beach club, numerous hotels, and coconut gardens where you can sit and relax in the shade.
04 Arena Blanca(Best for Swimming)
It takes about 45 minutes from Punta Cana to get to Playa de Arena Blanca. Luxury beach vacations in the Caribbean are well worth traveling to these exotic locales. The beach also doesn't have public access, so you have to get to the beach from other beaches or use your resort's facilities.
Playa de Arena Blanca is a beach that will pamper you and provide everything from entertainment to spa treatments. Public access points are located along the beach, and a string of resorts surrounds the beach. Along this beach, there are several resorts to choose from; nevertheless, public services like restaurants and shops are in short supply. In addition, the beach does not have public access from the road; therefore, you will have to walk here from other beaches or gain access to it through your resort.
Suggested Trailoka: 12 Best Scuba Diving Spots in the World for Beginners
05 Cortecito Beach(Part of Bavaro Beach)
Playa Corales and  Playa del Cortecito are both located in Playa Bavaro. The Punta Cana beaches' primary public access points make them worthy of separate mention. This stretch of sand is well-known for being the starting point of long beach walks. Nearby Punta Cana it's just 31 minutes away.
Among the white palm trees that line Playa del Cortecito's shores lie various bars and clubs serving craft cocktails and live music. The beach is known as the "beach with local bars." You can dance the night away in a hip club that's pumping out the latest dance music. It's not just tourists who rave about the freshness and seasonality of the menus at the local seafood restaurants here. Locals love Onno's (a Chill music bar) and Captain Cook (a seafood restaurant). This is a great place to meet people from the area and learn about their culture.
06 Playa Corales(Part of Bavaro Beach)
One of the two public access points reported in this region is called Playa Corales. Even though all of the beaches in the Dominican Republic are open to the public, accessing them can be challenging at times. This is especially true in Punta Cana, where most of the beachfront row is taken up by all-inclusive resorts that are patrolled and have gates around them.
Playa Corales, on the other hand, is always accessible, regardless of whether you're staying in a large luxury resort or a little guesthouse a short walk from the beach. Beach bars and sun loungers make it a busy and energetic place to be, as well as chill-out music and beach chairs. If you're on the go, stores and restaurants in the area sell a wide variety of prepared foods, cold beverages, and tasty takeout meals.
07 Bavaro Beach(Relaxation, Beauty, Fun, Adventure & Perfectly All Inclusive)
Among the most popular beaches in Punta Cana, Playa Bavaro is a great place to go for a day of sun, sand, and adventure. The main beach in the Punta Cana region is Playa Bavaro, sometimes known as Bavaro Beach. You can find Punta Cana's All-Inclusive Caribbean Wonderland at Bavaro Beach. Bavaro has it all; relaxation, pleasure, beauty, and adventure under the Caribbean Sun. Punta Cana's northernmost white-sand beach is only a 20-minute drive away. A world-class golf course is also nearby, at a distance of only a few minutes.
You may take a day trip to nearby Isla Saona from this length of pristine sand and clear water. After a day spent on the beach, you'll have time to explore the little town of Bavaro and its many independent stores to locate the perfect souvenir.
08 Cabeza de Toro Beach (Snorkeling, Budget Resorts & Off-Shore Reef)
Cabeza de Toro Beach is situated between Bavaro Beach and Cabo Engao. It is about 20 minutes from the Punta Cana International Airport. Visitors can stay in an all-inclusive beachside resort that provides convenient access to a variety of boat cruises. Cabeza de Toro Nature Reserve has a lot of crystal clear natural pools and places to snorkel that draw many people on catamarans, many of which are considered among the best.
There are two beaches that have been awarded the coveted Blue Flag designation within Cabeza de Toro Beach. These beaches are the Cabeza de Toro Natura Park Beach and the Cabeza de Toro Be Live Collection Punta Cana Beach. Even though there are a number of resorts that are restricted to adults only, Cabeza de Toro Beach is a beach that is welcoming to families. Children will love several parks in the surrounding area, as well as marine parks and snorkeling opportunities offshore.
09 Juanillo Beach (Fascinating Landscape)
You can find the enchanting Juanillo Beach just outside the resort and residential of Cap Cana, which is known for its high-end amenities. There are bars and clubs all along the beachfront, where you can get a drink and party with other people. Punta Cana can be reached by car in 22 minutes.
Playa Juanillo's beach clubs, crystal-clear ocean, and lush surroundings provide ideal sunset cocktail-sipping locations. This beach is often considered a great place to take a trip break. Wading in the shallow waters is a terrific way to cool off and relax, but it's not ideal for snorkeling or swimming. The photo opportunities include a natural beach and a creatively painted truck for this purpose.
10 Playa Blanca Beach (White Beach, Beauty & All Exclusive)
White Beach is the literal translation of Playa Blanca's name. In Spanish, Playa Blanca means "white beach," which is exactly what it is: the whitest beach in the Punta Cana area of the Dominican Republic. Take a stroll along this beautiful beach and take in the breathtaking views. Sunglasses are an absolute requirement.
When it comes to a romantic setting with friendly service, delicious food, and wonderful facilities, you'll never forget the name of this place. You can stay at one of the Punta Cana Resort & Club's resorts or private homes to get the most out of Playa Blanca. Visitor passes are available at the Visitor Center, but during peak season, visitors must pay a fee that will be applied to a credit on their bill at the restaurant.
What are the best beaches in Punta Cana?
Most beautiful beaches in Punta Cana
Playa Juanillo & Playa Blanca
All exclusive beaches in Punta Cana
Bavaro Beach (Playa Bavaro)
Surfing beaches in Punta Cana
Macao Beach & Uvero Alto Beach
Swimming beaches in Punta Cana
Bavaro Beach
Playa Arena Blanca Beach
Playa Arena Gorda
Most chill (Bars and people) beaches in Punta Cana
The best beach without Seaweed in Punta Cana
Snorkeling beaches in Punta Cana
Cabeza de Toro & Macao Beach
Are there sharks in Punta Cana?
No. Punta Cana's beaches do not have sharks. Coral reefs cover the entire coast of the Dominican Republic. As a result, sharks are rarely seen in coastal waters because the reef serves as a natural barrier for them.
This is the end of our travel guide to seeking "Most Relaxing & Beautiful Beaches in Punta Cana." Before your trip, don't forget to pack your bags and relevant equipment for Snorkeling, Swimming, and Surfing. As well, refer to our scuba diving and Snorkeling guides & tips for your comfortable picnic.
During your journey, this article will support finding correct stays, things to do, and food shops according to your beach selection.
Take only memories, leave only Footprints