Scuba Diving is one of the best challenging opportunities in your life and is an actual entertaining activity. My idea is anyone can dive with proper guidance. Do you have an interest in scuba diving and want to go on your first adequate dive vacation? People who want to dive more can rent a liveaboard to experience the area and discover places they can't get during a day trip from their resort. It's also an excellent chance to practice your abilities and gain more dives.
Although diving many times per day can be a little scary, to begin with, taking a liveaboard holiday will provide you with many opportunities to dive. The world has many Scuba diving spots, and We present unique dive beginner sites near me from our collection. Find the best scuba diving sites to begin your diving journey to collect unforgettable experiences in your life.
>Best Scuba Diving sites for Beginners
>How to select the best time for Scuba Diving
>Scuba Diving Tips for beginners (essential guidance & signals)
Best Scuba Diving sites for Beginners
01 Australia – Great Barrier Reef (The largest reef system in the world)
The Great Barrier Reef, the most bio-diverse coral reef ecosystem globally, is visible from space. It's listed as a UNESCO World Heritage site. Even if you just got certified, you don't want to miss out on the most exciting dives. The reef system is much longer; thus, it offers everyone from beginners to advanced divers. When you first start diving, you'll even find that Australia is an excellent spot to receive your certification. The trip duration options available are targeted to the different skill levels of liveaboards.
A remarkable 2,300 kilometers long, this massive living structure stretches along the north Queensland coast, starting in the northern part of Queensland and ending near Bundaberg. It covers 135,135 square miles and has more than 2,900 reef systems. The numerous things that you can observe at the reef include around 1,600 fish species and over 600 varieties of coral. As a Great Barrier Reef lover, you can find "Things to Know Before Scuba Diving in Great Barrier Reef for Beginners" to increase your diving journey.
Moreover, there are also other types of animals that are not found anywhere else. It is also noted for some macro at the diving locations. Examples of what can be seen when scuba diving in the Great Barrier Reef include minke whales, turtles, bottlenose dolphins, manta rays, and eagle rays. Visiting the Great Barrier Reef is best between June and October. Travelers are likely to find the following benefits in this busy season. The water temperature changes from the low 60s to the mid-80s, and there's very little rainfall, which means a clean diving environment.
Read more: Things to know Before Scuba Diving in the Great Barrier Reef for Beginners
02 Belize – Barrier Reef Reserve System and Great Blue Hole (The Second Largest Reef System In The World)
Most divers connect Belize with the world-famous Blue Hole, a dive location best suited for experienced divers. This does not imply that you should skip this diving site. In this country, you can find a lot of spots a start your diving journey. On the contrary, Belize has much more to offer than only the Blue Hole, and some of the other dive sites may even be better. Apart from the Blue Hole, almost all of the other dive sites in Belize offer simple conditions and warm water, making it an excellent destination for scuba divers who are just getting started on their diving adventure.
The diving spots benefit from the healthy reefs, which attract an abundance of Caribbean marine life. You will most likely see moray eels, shrimps, angelfish, eagle rays, turtles, and barracudas. If the timing is right, you will have the opportunity to dive with whale sharks. The most acceptable visibility is from April to June. The dry season is from November to April, which also happens to be the busiest tourist season. The wet season is from June to October.
Cancun scuba diving for beginners
The most fantastic diving locations in Cancun are affected by many things you should consider. Because of these reasons, one of the elements is the appeal because the deep water contains many things to see, such as shipwrecks, coral reefs, caves, and marine life. For an unforgettable diving experience, the MUSA, the Cancun Underwater Museum, is the ideal choice. Cancun's beginner scuba diving site is not only scenic but also extremely easy to use, thanks to the crystal-clear water and its shallow depth of only 30 feet (10 Meters).
Mexico's Quintana Roo has some of the best diving in the world. If you want a natural environment, this location is great because it features a tropical climate, a white sand beach, a blue sea, and a wide range of plant and animal species. If you are a fan of warm-weather scuba diving, book a vacation to Mexico between May through September, when it's less congested.
03 Aruba – Caribbean Sea
Aruba is an excellent snorkeling destination, with numerous shallow wrecks nearshore and excellent visibility allowing access to some deeper waters. As a southern Caribbean island, Aruba diving offers a variety of diverse but relaxing dive locations, as well as one of the Caribbean's most numerous wreck scenes. Scuba diving in Aruba is a terrific way to spend a relaxing family vacation or a romantic retreat, and diving is never dull.
Aruba is a Caribbean island country located in the mid-south, roughly 29 kilometers north of Venezuela's Paraguaná peninsula and 80 kilometers northwest of Curaçao. It stretches 32 kilometers from north to southeast and is 10 kilometers broad at its widest point. The subsurface and topside conditions are consistently outstanding throughout the year, with the calmest months being April to June. The peak tourist season runs from April to November, and hotel prices can skyrocket during this time. Read more…
04 Indonesia –scuba diving in Bali
Scuba divers should add Indonesia to their to-do lists. There are around 17,000 islands in Indonesia, of which only about 6,000 are populated. The Coral Triangle, a region containing many coral species, also has about three-fourths of the world's coral species. In contrast, a third of the world's coral reef fish species live in Indonesia. Given how wonderful you may expect Indonesia to be for scuba divers, I'm sure you won't be disappointed.
People who love drift diving are drawn to the white sand and coral heads on the island's south side. At the same time, those who prefer a dive full of sea life can explore the many varieties in the more volcanic north. The sites of Bali's dive offer remarkable diversity, ranging from the calcareous walls and vertical walls to the volcanic outcrops and coral ridges. The reef shark, humphead parrotfish, bumphead parrotfish, pygmy seahorse, reef squid, leaf fish, and hairy frogfish are the most commonly seen undersea sights.
Bali's dry season goes from April to October, with the finest dive season from May to November. April and May are the ideal months to watch Manta Rays. The most well-known ocean sunfish, the Mola Mola, is most visible between August and October. When you travel to Indonesia, do not forget to dive into Indonesia's best diving places: Raja Ampat, Liberty Ship Wreck, Manta Point, Crystal Bay, and Secret Bay in Gilimanuk.
05 Hawaii Island – dive beginning in Maui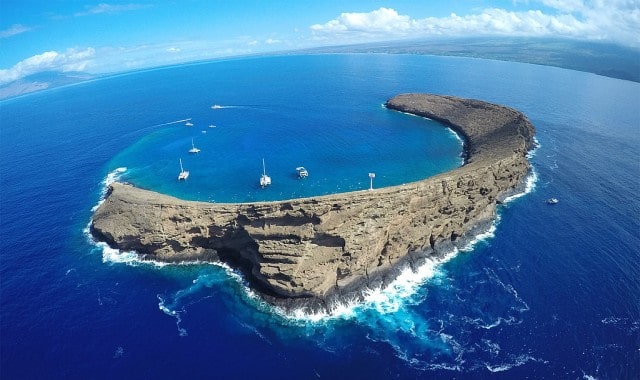 Hawaiian islands Maui, Lanai, Molokai, and Molokini, are part of Maui County. Although the most experienced divers will be blown away by these four islands' amazing experiences, they can all be enjoyed from a single, convenient base. The positives are that swim-throughs and lava tubes have an intriguing topography and crystal-clear visibility. However, Maui provides mainly four unique diving spots: Five Caves at Makena Landing, Molokai (Hammerheads), Molokai(Black Wall), and Lanai Cathedrals.
Maui is a big bonus because they help divers become familiar with various locations. More experienced divers may enjoy the sites closer to shore. Still, they also have the option of exploring the big sea to search for hammerheads. It is a fantastic learning location, as the water is clear and peaceful while warm and stress-free. Even though scuba diving conditions are excellent all year round on Maui, The weather on Maui, including the surf and extended periods of rain, can impact diving conditions. The rainy season lasts from February to March. Even if it rains heavily for a full day, it does not generally influence ocean conditions.
Suggested Trailoka: Scuba Diving & Snorkeling guides & tips for beginners
06 Red Sea – wreck diving
The Red Sea has become a world-renowned scuba diving destination because of its remarkable diversity, beautiful reefs, mild waters, and intriguing shipwrecks. Most acceptable liveaboard option for newbie divers, it offers comfortable and straightforward circumstances. Also, a terrific choice to discover the lesser-visited dive spots by diving onboard a liveaboard ship. Diving in the Red Sea is like falling into a giant aquarium.
Coral development circumstances are perfect for welcoming more than one thousand different fish species because of this warm and sunny weather.
The optimum period to dive in the Red Sea is March to May or September to November. You can dive the Red Sea on a liveaboard year-round, and diving enthusiasts are free to pick their preferred diving period. The winter season lasts from December to February around the Red Sea. The site is a beautiful wreck diving location. The SS Thistlegorm, is one of the most recognized wrecks. Read more…
07 Cayman Islands
The tour will allow you to explore the 3 islands: Grand Cayman, Cayman Brac, and Little Cayman. Many of these islands have fascinating shipwrecks, and you don't have to be a divemaster to explore them. Even if you've only recently received open-water certification, the Cayman Islands are the perfect place to start your new journey.
Numerous big marine species live around the islands, such as turtles, groupers, barracudas, morays, and various rays. Divers with keen eyesight will also discover small sea creatures, like the charming nudibranch.
A popular diving location, Stingray City, may be found close to the shore, in a shallow lagoon, where swarms of stingrays greet new divers. It's unforgettable to be intimately surrounded by many exciting rays. The best time to travel to Cayman Island is April and May. The climate is mild year-round, although June to November is the season for hurricanes, and the ocean may be rougher at that time. Most of the island's visitors arrive during the winter months.
08 Bahamas and Cuba – Caribbean Sea
Bahamas and Cuba are two excellent options for those starting their diving career. One of the world's three largest reef systems is currently passing by. This destination's dive opportunities are available for divers of all skill levels. Despite the lack of currents and strong waves, it is possible to dive in the Bahamas without any scuba expertise, as the water is calm and shallow.
The venue is an ideal place to take underwater images and films because of its favorable conditions. From November to May, shark diving is the most desirable. Hammerhead sharks are prevalent at Bimini from December to March, and Tiger Beach has tiger sharks from October to January.
09 Sri Lanka – Indian Ocean
Sri Lanka is the most attractive island and Scuba Diving hotspot in South Asia. As well, this is the best place for dive beginners. It is located southwest of the Bay of Bengal and southeast of the Arabian Sea in the Indian Ocean. Sri Lanka is an incredible diving destination, bathed in warm Indian Ocean currents and boasting 1600 kilometers of palm-fringed coastline. The waters off the coast of Sri Lanka are home to an incredible variety of marine creatures, ranging from massive blue whales to tiny nudibranchs. In addition to wrecks scattered off the coast, which local divers are still discovering, Sri Lanka has many other exciting places to visit. Divers have observed a wide variety of colorful corals, fascinating fish, turtles, whales, and famous wrecks.
Sri Lanka has a year-round scuba diving destination known for having the best dive sites in Asia. Sri Lanka has numerous Scuba Diving sites located along the island's southern, western, and eastern coasts. If you want to plan your diving, the south and west coasts are best from October to May, and the east coast is best from March to October. Sri Lanka dive sites such as Hikkaduwa, Unawatuna, Pasikuda, and Trincomalee are among the most well-known in the world. Read more…
 Read more: Best Scuba Diving Places in Sri Lanka-Total Dive Sites & Map
10 Turks And Caicos
The appeal of diving under the shadow of a rocky reef wall that leads to the deep blue sea is undeniable. Scuba diving is rather fun in this area of the Caribbean, as it is a less-visited destination than many others. Some liveaboards offer specialist or advanced diving courses, which can help you enhance your diving skills.
Because the Turks and Caicos have zero current and clear water, diving in the area is simple. You can observe several shark types, humpback whales, rays, and sea turtles. The Turks & Caicos is best for diving between November and May. During the warmer months, your dive computer will record an average water temperature of 82-84°F (28-29°C).
11 Utila
You'll get your thrills when you dive in Cuba with fantastic shark diving. If you prefer more leisurely dives, you can find many dive sites, including healthy, shallow coral reefs and lots of marine life. You can also have the opportunity to dive into some deep caves. The Queen's Garden Marine Park in Cuba is a protected zone, as well yearly, few tourists are allowed to enter.
Due to the immense visibility and the lack of current, it's simple to place various marine species and capture some excellent underwater images. The aquatic landscape is most attractive, with a vivid array of gorgonians, canyons, sponges, tunnels, and black coral. Diving on Utila is preferable in the morning, as the boats tend to leave for the north side then. Divers can enjoy whale sharks early on in the year, particularly in March and April, and then again in September.
12 Maldives – Indian Ocean
The Maldives is a spectacular dive destination since it offers wide sandy beaches with a beautiful underwater environment teeming with colorful reefs and enormous pelagic fish. Some places in the Maldives offer beginner-friendly dive sites that will be fun for new divers. Several liveaboards display the wonders of the sea to novices and can safely entertain newbie scuba divers.
In your life, the best diving experience might be diving in the Maldives. The water is crystal clear, and the scenery is magnificent. Meeting a wide variety of aquatic species is a breathtaking experience. You can dive with whale sharks and manta rays. Ideal diving conditions occur in January and April when it is warm and dry, and visibility is excellent. Divers may be forced to contend with poor visibility in May through July, widely known as the months when the weather is the most unpredictable.
Take only memories, Enjoy your trip, & Leave only footprints

TEL