Malaysia is located in Southeast Asia, with a population of over 32 million people. The capital city is Kuala Lumpur, and the official language is Bahasa Malaysia, although English is widely spoken. Malaysia is a cosmopolitan nation with a varied population that includes Malays, Indians, Chinese, and native peoples.
The country has a mix of modern cities and traditional villages, strongly focusing on preserving its cultural heritage. The economy is diverse, with a strong focus on manufacturing, services, and tourism. Malaysia is a significant producer of rubber and lumber, as well as one of the top exporters of palm oil in the world.
Tourism is a major industry in Malaysia, attracting visitors to the country's beautiful beaches, stunning natural landscapes, vibrant cities, and cultural heritage. Some of the top tourist attractions in Malaysia include the Petronas Twin Towers in Kuala Lumpur, the Batu Caves, the historical city of Malacca, and the beautiful islands of Langkawi and Tioman. From these natural hotspots, we found the top 5 natural wonders in Malaysia to plan your Malaysian tour easily.
The Best Time to Visit Malaysia
The best time to visit Malaysia depends on several factors, including the weather, the type of activities you plan to do, and your budget. Generally, the best time to visit Malaysia is during the dry season, which runs from March to September. However, this can vary depending on the region of the country you plan to visit.
If you plan to visit the west coast of Malaysia, including Kuala Lumpur, Malacca, and Penang, the best time to visit is from December to February, as this is the driest time of the year with cooler temperatures. However, it can be quite busy and expensive during this time due to the holiday season.
If you are planning to visit the east coast of Malaysia, including Kota Kinabalu, Kuching, and the Perhentian Islands, the best time to visit is from March to September, as this is the dry season with clear skies and calm waters, making it ideal for beach activities and diving.
It's important to note that Malaysia experiences occasional monsoons, particularly on the east coast, so it's important to check the weather forecast before planning your trip. Additionally, the country experiences hot and humid weather year-round, so it's important to pack appropriate clothing and stay hydrated during your visit.
Top 5 Natural Wonders in Malaysia
01 Mount Kinabalu and Kinabalu park
Mount Kinabalu and the surrounding Kinabalu Park are home to some of Malaysia's best natural scenery. In Southeast Asia, Mount Kinabalu, which is 4,095 meters high, is the highest mountain. It is located in Kinabalu Park, a UNESCO World Heritage Site in Sabah, Malaysia. The mountain is surrounded by diverse ecosystems, from lowland rainforests to alpine meadows. It is home to an incredible array of flora and fauna.
One of the most amazing things about Mount Kinabalu is its unique rock formations, which can be found all over the mountain. Thousands of years of weathering and erosion on granitic rocks have sculpted these unique formations into their present appearance. One such formation is the iconic Donkey's Ears, a pair of towering rock spires that are a popular landmark for hikers and climbers.
Another natural wonder of Mount Kinabalu is Kinabalu Park, which spans over 750 square kilometers and is home to a diverse range of plant and animal species. The park is home to over 5,000 plant species, including the world's largest flower, the Rafflesia, which can grow up to one meter in diameter. The park is also home to various animal species, including the Bornean orangutan, the clouded leopard, and the Kinabalu giant red leech.
One of the most popular activities in Kinabalu Park is hiking and climbing Mount Kinabalu. The mountain is accessible to climbers of all levels, from beginner to expert, and offers stunning views of the surrounding landscape. Climbing the mountain is a unique experience that takes visitors through various ecosystems, from lush rainforests to rocky slopes and alpine meadows.
Mount Kinabalu and Kinabalu Park are natural wonders that offer visitors a unique mix of geological and biological diversity and natural beauty that can't be found anywhere else. Whether you're a nature lover or an adventure seeker, visiting Mount Kinabalu and Kinabalu Park is a must-do in Malaysia.
Official website: www.sabahparks.org.my
02 Gunung Mulu National Park
Gunung Mulu National Park is on the island of Borneo, in the Malaysian state of Sarawak. This is included in the UNESCO World Heritage List. The park covers an area of 544 square kilometers. It is known for its outstanding karst features, including its high density of limestone caves and spectacular formations.
The park is named after Mount Mulu, the second-highest mountain in Sarawak, and is surrounded by deep valleys and steep limestone cliffs. The park is home to over 3,500 species of plants, including 170 species of orchids, and a wide variety of animal life, including 270 species of birds, 81 species of mammals, and numerous reptiles, amphibians, and insects.
One of the best things about the park is the huge network of limestone caves. The Sarawak Chamber is the world's largest cave passage, and the Deer Cave is home to millions of bats.The park also features the Pinnacles, a series of razor-sharp limestone peaks that tower over the surrounding rainforest, and several impressive waterfalls.
Overall, Gunung Mulu National Park is a stunning example of a complex and unique ecosystem with outstanding geological and biological features that attract visitors from around the world.
03 Batu Caves in Selangor
The Batu Caves in Selangor, Malaysia, are a natural wonder in their own right due to their stunning limestone formations and caves shaped over millions of years. This is a popular tourist attraction located in Selangor, Malaysia, which is around 13 kilometers north of Kuala Lumpur.
The Batu Caves have a rich history dating back to 1890, when Indian merchants founded a temple at the entrance of the caves. The limestone hills that make up the Batu Caves are believed to be around 400 million years old. They have a unique mix of rock formations like stalactites and stalagmites that were made by water erosion over many years. When people go to the Batu Caves, they can get a close look at these formations and be amazed by their complex shapes and patterns.
The Hindu people of Malaysia have made the Batu Caves an important cultural and religious site. In the Temple Cave, people can see many Hindu shrines and statues, such as a 42.7-meter-tall statue of Lord Murugan, the Hindu god of war and victory. The statue is one of the tallest in the world and is a symbol of Hinduism's influence in Malaysia.
The Batu Caves also serve as the focal point of the annual Thaipusam festival, which takes place every January or February, depending on the Hindu calendar. During the festival, Hindu devotees from around the world come to the Batu Caves to offer prayers, make offerings, and perform acts of devotion.
One of the most impressive natural wonders in the Batu Caves is the Cathedral Cave, or Temple Cave. This huge cavern is more than 100 meters tall and has a natural skylight that lets light into the cave and lights up the inside.Visitors have to climb 272 steps to get to the cave's entrance, but once inside, they get a stunning view of the cave's interior and the many Hindu shrines and statues that live there.
Another natural wonder of the Batu Caves is the Dark Cave, a small cave system that is home to a unique ecosystem of bats, spiders, and other creatures. People can go into the cave, but they must do so with a licensed guide to protect the fragile ecosystem inside.
The Batu Caves are also home to a variety of flora and fauna, with over 160 species of plants and animals that are unique to the area. Visitors can observe a range of bird species, butterflies, and monkeys as they make their way up to the caves.
When you look at the Batu Caves as a whole, it is clear that they are a natural wonder that offers tourists a rare mix of geological interest, cultural significance, and beauty. The Batu Caves in Malaysia are an incredible sight that will leave an effect on everyone, whether they are interested in history or the outdoors.
04 Perhentian Islands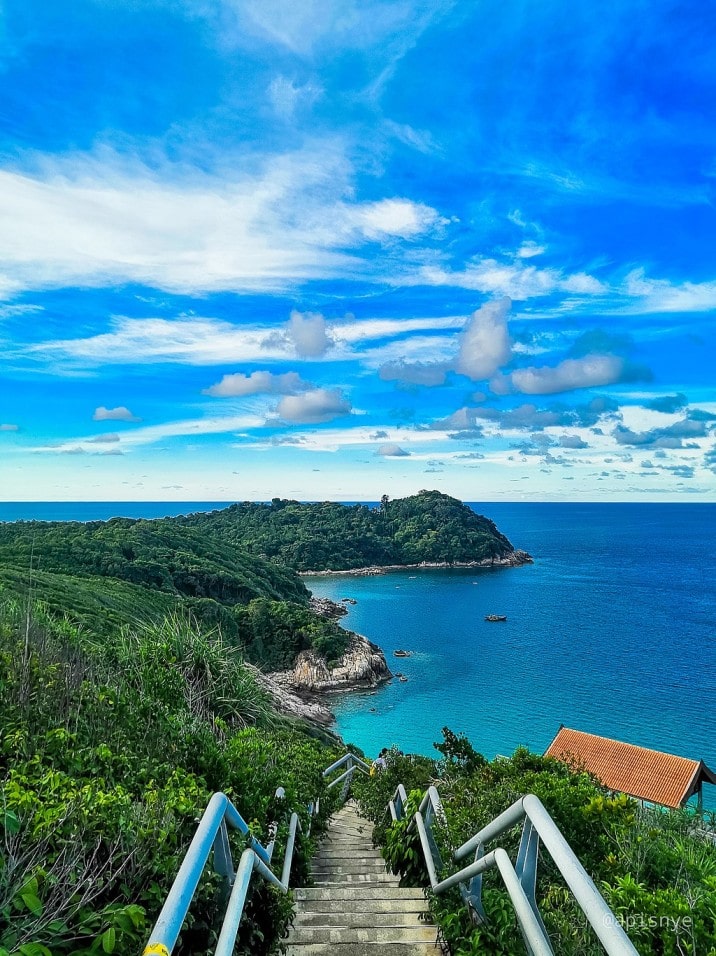 The Perhentian Islands are a group of small islands in the state of Terengganu, just off the northeast coast of Peninsular Malaysia. The islands are known for their crystal-clear waters, white sandy beaches, and coral reefs, making them a popular destination for snorkeling, diving, and other water sports.
There are two main islands in the group: Perhentian Besar (Big Perhentian) and Perhentian Kecil (Small Perhentian). Perhentian Besar is bigger and more developed, with a variety of places to stay. Perhentian Kecil, on the other hand, is smaller and more natural, with simple beach huts and places for backpackers to stay.
Marine parks protect the coral reefs and the many kinds of sea life that live in them and are all around the islands. Visitors can see a variety of fish, turtles, and other sea creatures while snorkeling or diving in the clear waters.
Overall, the Perhentian Islands are a beautiful and relaxing place to visit in the tropics, with a lot of room for adventure and exploration.
05 Taman Negara National Park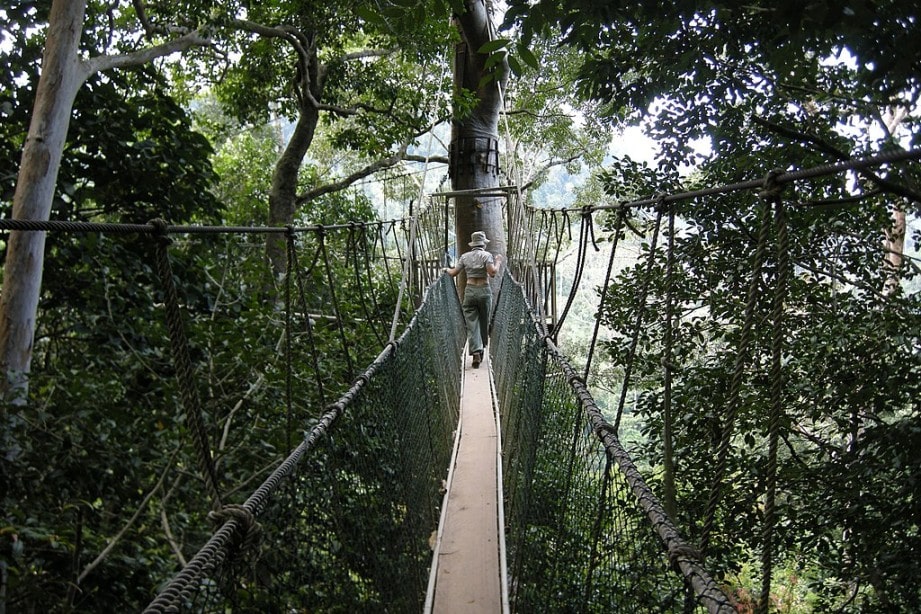 Taman Negara National Park is a vast protected area located in the heart of Peninsular Malaysia, spanning over 4,343 square kilometers. The park is home to a diverse range of flora and fauna, including over 1,000 species of flowering plants, 14,000 species of insects, and 270 species of birds.
The park is dominated by tropical rainforest, which is one of the oldest and most complex ecosystems in the world. The dense forest canopy is home to a wide variety of wildlife, including tigers, elephants, tapirs, and several species of primates, such as gibbons and macaques.
People who go to Taman Negara can do a lot of different things, like hiking through the rainforest, camping, watching wildlife, and cruising down a river. The park is also home to several breathtaking waterfalls, including Lata Berkoh and Latah Cemperoh, which offer stunning natural beauty.
One of the main attractions in Taman Negara is the Canopy Walkway, which is the longest suspension bridge in the world that stretches for 530 meters. The walkway is suspended high above the forest floor and offers visitors a unique opportunity to explore the rainforest canopy and observe wildlife from above.
Taman Negara National Park is an amazing natural wonder that lets people see the beauty and variety of Malaysia's tropical rainforest.
In conclusion, Malaysia offers a wealth of natural wonders that are sure to delight visitors from around the world. From ancient rainforests and towering mountains to stunning islands and limestone caves, there is something for everyone in this beautiful country. Whether you're an avid hiker, a beach lover, or a nature enthusiast, Malaysia is the perfect destination to explore the great outdoors.
Useful Links
Take only memories, Enjoy your trip, & Leave only footprints

TEL