New Zealand is one of the best and most amazing countries to travel in the world. New Zealand was also named the world's second safest country In 2019. New Zealand seems to have a lower average crime rate. In addition, you won't be worried about any snakes.
New Zealand has the strange beauty of a film set because of how nature designed it. There aren't many places where you can see so many wonderful natural treasures in one compact space. Travelers can find snowy mountains, glistening beaches, coastal glaciers, lush woods, fjords, and rivers teeming with fish.
New Zealand's striking landscape makes it an ideal location for extreme sports. In addition to hosting one of the world's highest bungee jumps, New Zealand is a haven for a wide variety of other extreme sports enthusiasts.
Navigating New Zealand is a snap, thanks to the country's convenient location. Vacationers often rent cars and explore the country at their own pace, and the country's wide variety of lodging options includes anything from cozy B&Bs and eco-lodges to the most luxurious hotels in the world.
Planning your trip, you are always considering the most attractive and natural places, the best temperate climate and coolest spots, and the most beautiful and relaxing places in New Zealand. So that we collect the top scenic in New Zealand to enjoy your journey to fulfill all types of favors.
Hobbiton Movie Set Tours is one of the types of wonderlands in New Zealand. If you are Reminding New Zealand, Hobbiton will always be lined up first in your New Zealand travel list. Most people are aware that the Lord of the Rings trilogy served as a nine-hour advertisement for New Zealand's breathtaking scenery. Six films have been made based on J.R.R. Tolkien's Lord of the Rings books.
While much of the film's scenery was shot in regions that remain largely undeveloped to this day, some of the scenery also had to be constructed. As a result of the popularity of the Lord of the Rings film series, New Zealand is now home to one of the world's top special effects studios.
Some, however, were fabricated specifically for the purposes of filming and now serve as museums of national cinematic heritage. The town of Hobbiton is one such place because it was the residence of both Bilbo Baggins and Frodo. Since opening to the public in 2002, this fabled spot has become one of the two islands' top draws, with an estimated 300,000 people passing through each year. As well After your Hobbiton tour, do not forget to find the best things to do in Matamata.
Hobbiton™ Movie Set Tours official website: www.hobbitontours.com
Read more: Best Things to do in Hobbiton Tours
02Fiordland National Park & Milford Sound (The most scenic in New Zealand)
Milford Sound is a fiord on the southwestern side of the South Island of New Zealand. Fur seals, penguins, and even dolphins make their homes in this fjord. Rare black coral and other marine species can be seen at the Milford Discovery Centre and Underwater Observatory. Fiordland National Park is a collection of some of New Zealand's most breathtaking natural beauty, and it's also known as World Heritage Site.
You've probably heard about going on a boat cruise in Milford, as it's something that the vast majority of tourists do while there. One of the most common ways to get around is by taking a boat excursion. But you won't believe it when I tell you that a cruise isn't the only thing you can do in Milford Sound—there are a lot of other things to do there too!
Best Things to do in Milford Sound
Fiordland National Park
Milford Track
Dusky Sound
Doubtful Sound
Mitre Peak
Rainforests
Stirling falls
Bowen falls
Lakes
Sea kayaking
Fiordland(Narrow inlet of the sea between mountainous areas)
Spectacular walks
Helicopter and fixed-wing flights
Daytime and overnight cruises
Scuba diving
Underwater observatory
03Aoraki / Mount Cook (The highest mountain in New Zealand)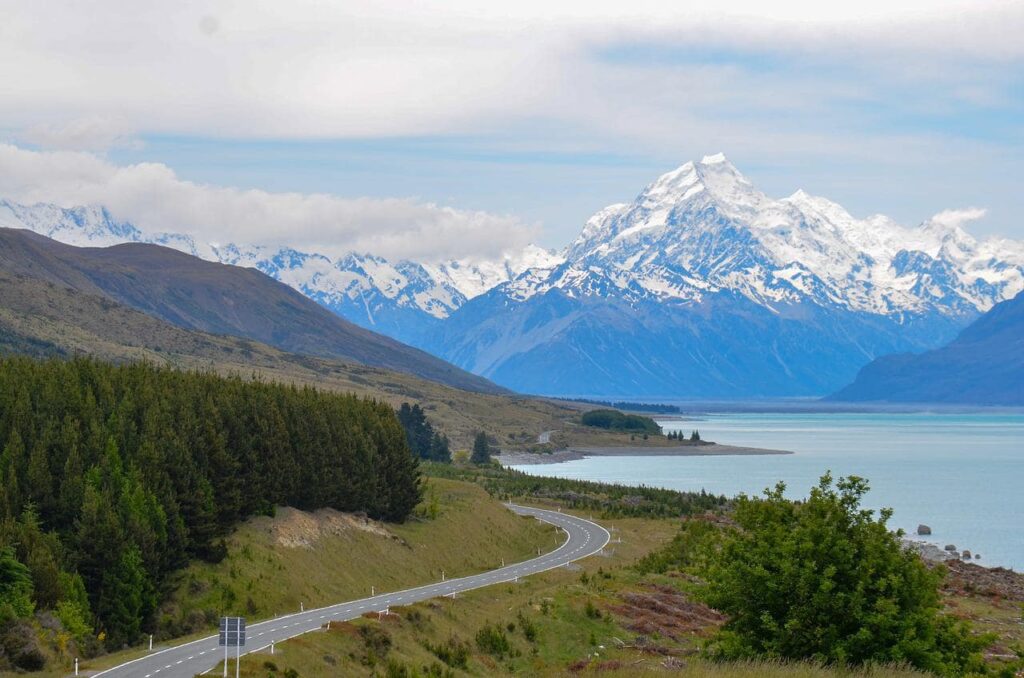 Aoraki, also known as Mount Cook, is located in the center of the Southern Alps and is home to New Zealand's tallest mountains. It was estimated to be 3,724 meters in height. It is situated in the South Island-spanning Southern Alps. In addition to being a well-liked destination for tourists, mountain climbers enjoy the opportunity to test their skills there.
As the park is home to both the country's tallest peak (Aoraki/Mount Cook) and its longest glacier (the Tasman), mountaineers flock here. The famed Sir Edmund Hillary used this area as a base of operations for preparation for his climb of Mount Everest.
More than 40 species of birds and 300 types of alpine plants can be found here, making it a paradise for wildlife enthusiasts. Mount Cook Village is a fantastic starting point for adventures in the park, including heli-skiing, scenic flights, hunting, ski touring, hiking, and stargazing.
04Abel Tasman National Park
Whether you're just passing through on a day trip from Nelson or planning to spend some time in the area, the Abel Tasman National Park is a must-see. Abel Tasman National Park and its accompanying Abel Tasman Coast Track are a wilderness reserve and one of the South Island Great Walks in New Zealand. This beautiful 51-kilometer trek is located in one of the sunniest parts of the South Island, winding along the dazzling Tasman Bay from Marahau to Separation Point.
Visitors can snorkel or kayak in isolated coves along the way; take trips that offer the opportunity to spot dolphins, seals, penguins, and a broad assortment of birds; trek through cool forests, and experience panoramic views from the steep coastal cliffs.
The weathered rock formations are beautiful, notably Split Apple Rock, a massive granite boulder that has been split in half. The trek may be completed in 3 to 5 days, and many different types of lodging are available, from tent sites to basic cabins to luxurious hotels. Exploring the coast with a sea kayak is another common activity. Visitors to the national park can't drive inside its boundaries, so they have to walk or take a water taxi to get where they need to go.
05Waitomo Glowworm Caves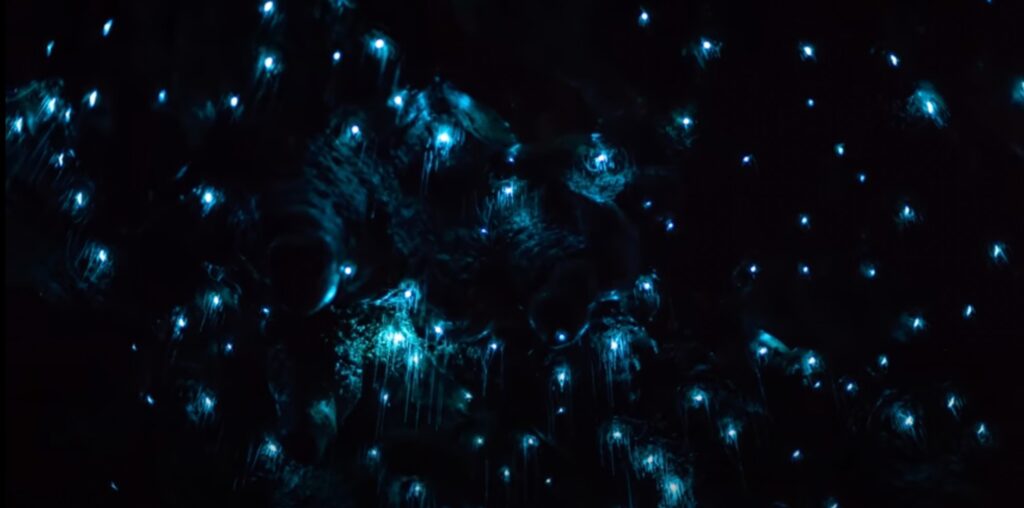 Waitomo Glowworm Caves is a tourist attraction located in Waitomo, which is located on the North Island of New Zealand. Waitomo should be on everyone's North Island itineraries because it is conveniently located close to Auckland, Hamilton, Rotorua, Taupo, and Tauranga.
The Waitomo Caves are the primary reason for this town's notoriety; they are often considered to be among the top tourist destinations in the entire nation. When you go underground, you'll discover a maze of tunnels and underground rivers that are home to the enchanted light worms.
The population of the glowworm species Arachnocampa Luminosa, which can only be found in New Zealand, is the reason for the area's notoriety. This cave is a component of the Waitomo streamway system, which also includes the caves known as Lucky Strike and Tumutumu Cave.
Even though this is the most well-liked thing to do in the town, Waitomo is home to various other attractions and activities; hence, you should give yourself plenty of time to explore the area.
Suggested Trailoka: 5 Most Relaxing Things to do in Whangarei, New Zealand
06Lake Tekapo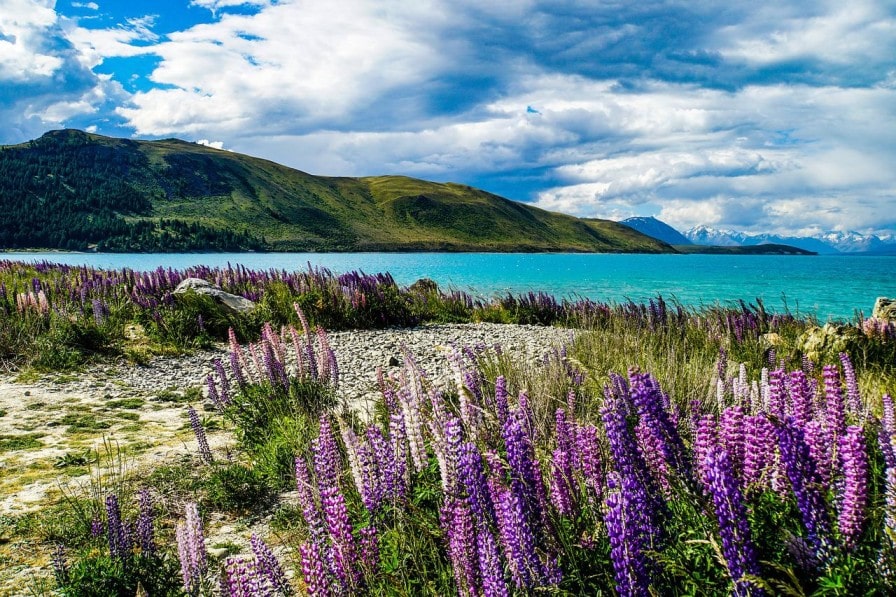 A small township known as Lake Tekapo may be found in the central region of New Zealand's South Island, at the southernmost point of the lake that bears the same name. Lake Tekapo is replete with luxurious accommodations, delectable dining options, and a plethora of exciting activities, ensuring that visitors will never be bored during their time away from home.
Lake Tekapo and Mt. Cook National Park both have a lot to offer visitors due to their proximity to New Zealand's highest peak, Mount Cook, as well as their stunning mountain scenery and clear night skies. Lake Tekapo is also home to the clearest night sky in New Zealand.
Located in the Mackenzie Basin to the southwest of Christchurch, Lake Tekapo is roughly a three-hour drive away. The village looks north over the beautiful turquoise lake to the dramatic Southern Alps. Because of the fine rock flour that is suspended in the water, Lake Tekapo has an intense milky-turquoise color.
07Sutherland Falls (Highest Waterfall in New Zealand)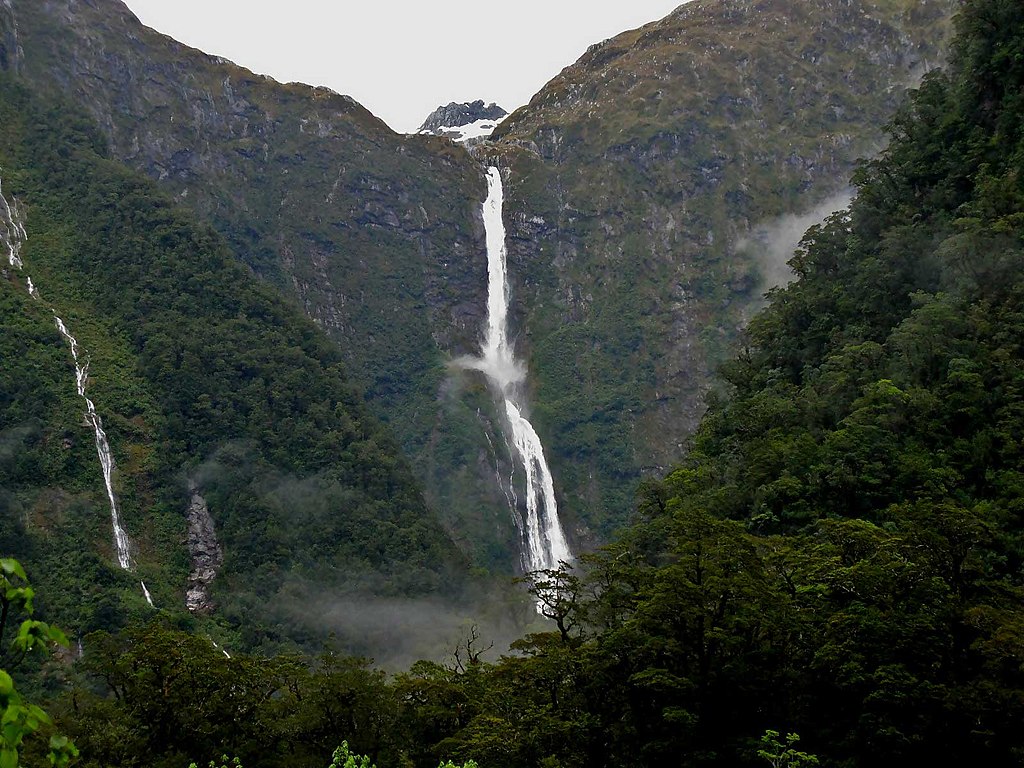 The South Island of New Zealand is home to a waterfall known as Sutherland Falls, which is located close to Milford Sound. Depending on how you define a waterfall, the Sutherlands Falls has a total drop of 580 meters and are regarded as the tallest waterfall in New Zealand since they are broken up into three steps by a rock.
Donald Sutherland, a Scottish pioneer who lived in the area in 1880, was the one who first spotted a glimpse of water through the woods in the distance and gave the falls their current name. The Sutherland Falls is not easily accessible, although they can be seen by hiking the Milford Track, taking a beautiful flight, or viewing the movie The Hobbit, which was directed by Sir Peter Jackson.
08Mount Taranaki
The dormant stratovolcano Mount Taranaki, also known as Mount Egmont, is located in the Taranaki region on the western coast of New Zealand's North Island. After Mount Ruapehu, this is the second-highest peak on the North Island.
At a height of 2,518 meters, Te Maunga is not just one of the world's most symmetrical mountains but also one of the most impressive. Mount Taranaki's secondary cone, Fanthams Peak, rises to a height of 1,966 meters and is easily seen from the mountain's southern slopes.
There are three road entrances to Mount Taranaki: Pembroke Road leading to Stratford Plateau. Egmont Road leads to North Egmont, and Manaia Road leads to Dawson Falls. The Pembroke Road entrance is the highest point of access, complete with an observation platform and car parking facilities for the ski area. Taranaki is a great place to visit because it has so many attractions.
09Roys Peak
There is a mountain between Wanaka and Glendhu Bay called Roy's Peak, one of the most well-known in New Zealand. The trail is a full day's hike long and provides stunning panoramas of Lake Wanaka and Mount Aspiring/Tititea. Most people are interested in "that shot," in which you appear to be standing on a cliff's brink amidst towering mountains.
There are even more breathtaking peaks to the left of the frame, making the scene even more stunning than it already is. It's a sight to behold, and if you time it right, the sunrise will add a touch of magic to the experience.
But Roys Peak isn't just that one area; it has a lot more to offer overall. Even while the trail doesn't provide much in the way of variety, the view keeps getting better and better the higher you go. Once you reach the top, you'll have the opportunity to take in the entire mountain range.
10Bay of Islands
The beautiful Bay of Islands is located approximately three hours north of Auckland and is the place to go to experience a laid-back and relaxed atmosphere, breathtaking coastal scenery, and a glimpse into the local culture. This is by far the most traveled vacation spot in the entire nation. The bay is home to more than 140 islands that fall inside the subtropical zone; spending the day touring some of these islands is a fantastic way to spend time on the water.
These waters are rich in nutrients, so they are home to various marine life, including dolphins, penguins, whales, and marlin. Additionally, the area is a popular destination for sport fishing. Visitors have the opportunity to sea kayak along the coast, trek the numerous island trails, sunbathe in peaceful coves, tour Cape Brett and the iconic rock formation known as Hole in the Rock, and discover subtropical forests where Kauri trees flourish.
Kerikeri, Opua, Russell, and Paihia are excellent starting points to explore the rest of the harbor and its surrounding islands. Those who would rather remain on dry land can spend their time lounging on sandy beaches or discovering the attractions of Kerikeri (famous for its oranges and kiwis) and Russell. The Treaty Grounds, where the ancient Treaty of Waitangi was signed, are also a great place to learn about New Zealand's past and are located in adjacent Paihia.
Bonus Spots
Cape Reinga Lighthouse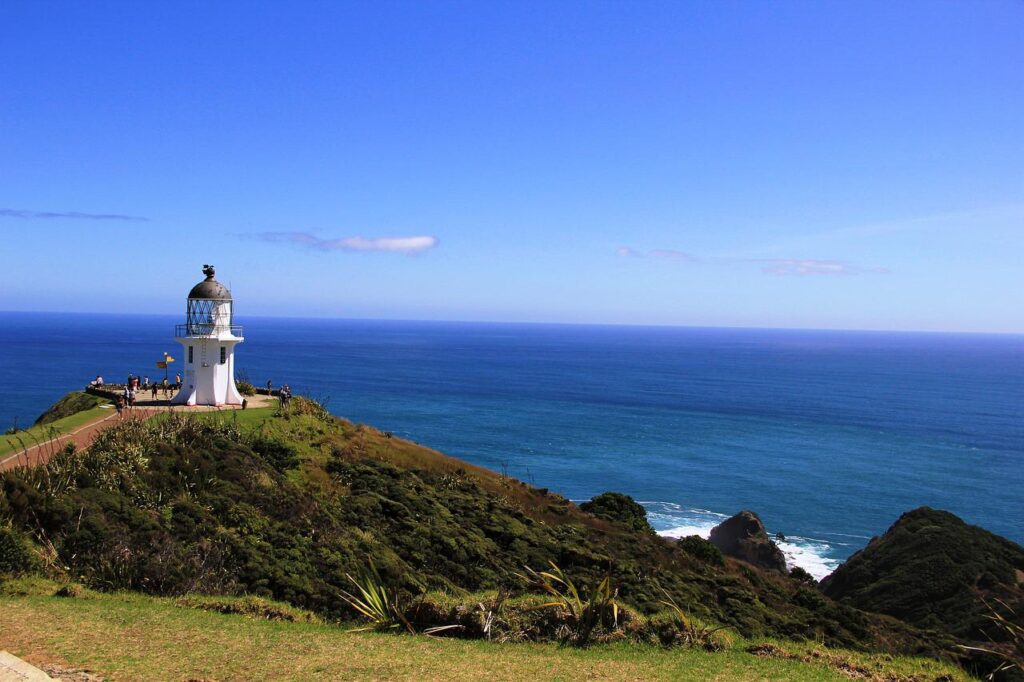 You can find a lighthouse known as the Cape Reinga Lighthouse on the northernmost tip of New Zealand's North Island. Marine New Zealand owns and manages it. Even though visitors can't go inside the lighthouse, it's a famous tourist attraction and a symbol of New Zealand.
Nugget Point
On the coast of Otago, one of the most well-known and recognizable formations is called Nugget Point. This precipitous headland may be found in the most northern point of the Catlins coastline, along the road that leads from Kaka Point. It is crowned by a lighthouse and is surrounded by rocky islets.
Queenstown & Lake Wakatipu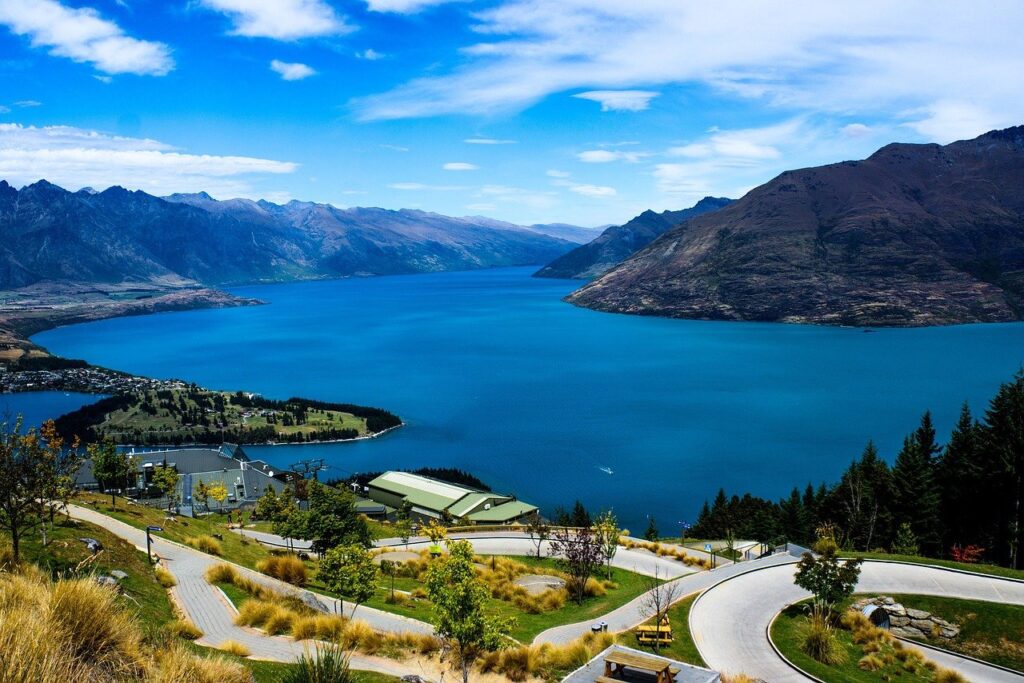 Queenstown's prized possession is the beautiful Lake Wakatipu. The lake is a wonderful location to take in all that Queenstown has to offer, whether you're visiting in the summer or winter. Located close to the southwestern corner of Otago and the border with Southland. The Maori settlers who first referred to the lake did so under the name Whakatipu wai-maori, from which the English name Lake Wakatipu was derived. Enjoy the sunset after a day of seeing the area's various attractions at this entry point to the several rivers that empty into Lake Wakatipu.
Take only memories, Enjoy your tour, & Leave only footprints

TEL
Share with Your Travel Pocket List
Hobbiton Tours
Fiordland National Park & Milford Sound
Aoraki / Mount Cook
Abel Tasman National Park
Waitomo Glowworm Caves
Lake Tekapo
Sutherland Falls
Mount Taranaki
Roys Peak
Bay of Islands
Cape Reinga Lighthouse
Nugget Point
Queenstown & Lake Wakatipu