As a traveler and nature lover, if you are looking for the most beautiful places in New Zealand, Matamata is one of the best you should add to your travel bucket list. This is located on the North Island of New Zealand, surrounded by the Kaimai Ranges Mountains. The Lord of the Rings Hobbiton movie sets has made Matamata a must-see on any tour of the North Island. And yet, apart from the Hobbit, what else are things to do in Matamata, New Zealand? Now that you've found this guide to things to do in Matamata, you can start planning your trip confidently.
The Waikato village of Matamata is not only home to a well-known Lord of the Rings filming location but is also a short distance from several fantastic hikes, fascinating historical sites, delectable delights, and other attractions. You can explore art galleries, gardens, and the biggest waterfall on the North Island by foot, hike hills for breathtaking vistas, sample some New Zealand cheese, and much more.
The tallest waterfall on the North Island, Wairere Falls, is located in the neighboring Kaimai Ranges, which are crisscrossed by routes suitable for hikers of all skill levels. Matamata is conveniently located near the trailhead for the Hauraki Rail Trail, a popular route for bikers. Staying on a local farm is a great opportunity to get a feel for rural living, and you should also try out some of the area's restaurants, where fresh, locally sourced foods are highlighted on menus with cider or craft beer.
Take advantage of the chance to spend a day at Firth Tower, one of New Zealand's most impressive open-air museum complexes, featuring 13 separate structures. Through imaginative storytelling, explore the culture of the area through the eyes of its residents-air museum complexes featuring 13 separate structures. Through imaginative storytelling, explore the culture of the area through the eyes of its residents. Lake Karapiro and the Karangahake Gorge are easily accessible from Matamata. The Opal Hot Springs is the perfect place to unwind at the end of the day. Typical rural New Zealand, with a few urban touches like restaurants and cafes to suit any taste.
To get a full picture of what Matamata, New Zealand, has to offer, it is helpful to learn about the top ten attractions and free things to do in Matamata.
01 Explore the Wairere Falls
Take a day trip out of Matamata to the North Island's Wairere Falls. The path to Wairere Falls winds through a fairy-tale landscape of moss-covered rocks and exposed tree roots. The North Island's tallest waterfall, plunging an astonishing 153 meters (502 ft), is a three- to four-hour hike away . If you're interested in seeing the falls from a different angle, you can extend your trek by another 40 to 45 minutes down a less-maintained path. If you are driving down Te Aroha-Okauia Road, you can also get a good view of the falls. Keep an eye out for the stunning Taurepo blooms if you happen to be in the area during the springtime.
From the parking lot, follow the beaten path down to the water. Get to the top of the gorge by climbing the stairs at the cliff's foot. You may see the groves of Nkau, Piriri, and Kohekohe as you make your way along the track. Visit the viewing bay for breathtaking views of the waterfall's foot. Pools form here in the summer, making for a fun place for tourists to cool down. When the weather warms up, the river and its many swimming holes can be explored at length along the path.
The breathtaking view of the falls tumbling down the rocky cliff that is a portion of the Okauia fault line is well worth the effort it takes to reach the top. The reward for your effort is a stunning panorama of the Waikato countryside. There are numerous spots to swim or paddleboard in the shallows and enjoy a picnic along the route, as well as several little wooden bridges across the stream. As well, Wairere Falls is one of the best free things to do in Matamata.
Official website: www.doc.govt.nz
02 Matamata Heritage Trail
The Matamata Heritage Trail is a another best things to do in Matamata and great way to learn about the history of the area while also taking in some beautiful gardens. The Matamata trail is 5.3 kilometers long and winds through the city's green spaces and historical landmarks. Matamata is an integral part of a heritage route that connects the western Waikato communities of Te Aroha (a historic spa town), Morrinsville, and Matamata. Matamata, Te Aroha, and Morrinsville are all connected by the Matamata-Piako District Heritage Trail, which travels between them and stops at various points of historical interest.
One of the most interesting sights along the journey is the i-SITE center, which has a Middle-earth motif. The i-SITE is a popular starting point for the 1 hour and 40-minute circle since it provides easy access to heritage trail maps. After passing through the Kaimai Ranges, the trail continues to Okauia, Matamata, Morrinsville, and finally, back to Te Aroha. Parks and gardens are among the attractions, as is a magnificent bank building from 1919 and the historic Railway Plantation from 1855.
Heritage sites: www.mpdc.govt.nz
03 Firth Tower and Historical Village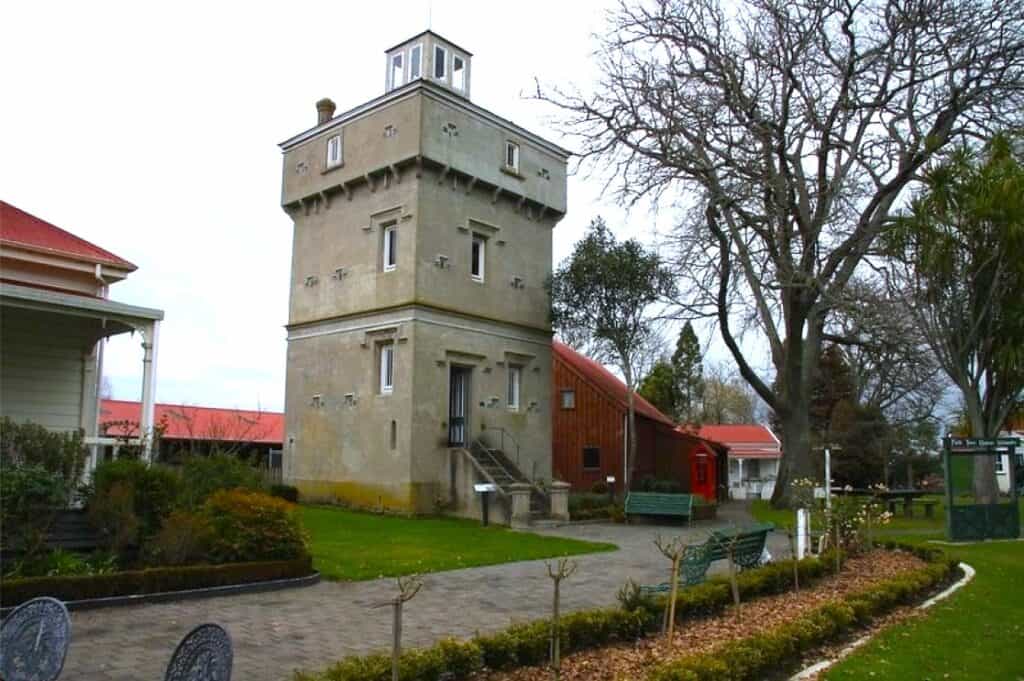 The Firth Tower is the next activity on our list of the top things to do in Matamata. Explore the Firth Tower Museum's historical structures, vibrant gardens, and displays. Along with 13 other nearby structures that are currently home to exhibitions, the Firth Tower, built in 1882, is close to the heart of Matamata. The tower is located on grounds that resemble a verdant park and are ideal for picnics, weddings, and other occasions. You can explore the gardens for free or pay a nominal charge to see the buildings.
The tower and nearby structures, which Josiah Clifton Firth built as a lookout and defense, are home to a rich trove of equipment, furniture, and other artifacts that offer insights into the area's early pioneer history. Take a wander around the serene grounds or visit the ancient building for a modest fee; tours are offered.
Official website: www.firthtower.co.nz
04 Opal Hot Springs
Opal Hot Springs may be reached by taking a detour immediately north of Firth Tower and continuing on that road for about 2 kilometers (1.2 miles). The distance from Matamata is only 6 kilometers (3.7 miles). In addition to the natural hot springs, Opal Hot Springs is also home to a recreational area with regular camping sites.
It's heated and similar to an outdoor swimming pool. Additionally, there are two mineral hot pools where you may relax. These pools will warm you up in the winter or relieve your pains after a long day of adventure. There is one sizable pool with cool water and a reserved private pool. A children's play area, a sandpit for kids to play in, and a BBQ area are also there. Visiting this location is fun for the whole family. Additionally, lodging in cabins can be reserved here. Additionally, they are some of the least expensive hot tubs in the country.
Official website: www.opalhotsprings.co.nz
05 Hobbiton Movie Set Tours
The Hobbiton Movie Set Tours is an example of the unique New Zealand attractions available to tourists. Hobbiton is always at the top of the list when planning a trip to Matamata. Most people know that the stunning landscapes of New Zealand have been showcased in the nine-hour Lord of the Rings trilogy. The works of J.R.R. Tolkien's The Lord of the Rings have been adapted into six feature films.
One of the best special effects studios in the world is located in New Zealand because of the success of the Lord of the Rings film series. However, some were built for the sole purpose of filmmaking and are now preserved as national cinematic history museums. Hobbiton, where Bilbo Baggins and Frodo have made their homes, is one such place. Since its 2002 public debut, this legendary site has become one of the top attractions on the two islands, attracting about 300,000 visitors annually. Also, during the Hobbiton trip, you can taste special beer and foods, get memorable gifts and enjoy their culture and history.
Read more: Best Things to do in Hobbiton Tours & Matamata
Official website: www.hobbitontours.com
06 TRAPD Escape Room (Solve Puzzles at Matamata)
Make one of Trapd Escape Chambers' incredible themed rooms your next struggle in life to escape! If you enjoy solving mental puzzles, this game is certainly for you. TRAPD offers escape game enthusiasts the chance to test their skills in three different scenarios, including one featuring a string of stagecoach robberies, the puzzling disappearance of a TV personality, and a race against time to save an imminent aircraft disaster. Up to eight players from each team can participate in a given game. And in order to escape the locked chambers, you and your buddies have only one hour to find all the hidden hints, work out the puzzles, and solve the mysteries. You should be prepared for many challenges because this escape game is more complex than you might assume.
More details: www.waikatonz.com
07 Piako Gliding Club (Fly in a Glider Plane)
The Piako Gliding Club should be visited by anyone who enjoys flying. It is possible to reserve a gliding experience at this club in Matamata if you are interested in any flying activities. Conditions for gliding are made possible by updrafts from the Kaimai Ranges. For gliding activities, Matamata is a well-liked vacation spot.
The Piako Gliding Club offers the chance to experience the wonder of flying. While the club primarily specializes in providing instruction for glider pilots, guests can experience soaring during their trial flights.
Official website: www.glidingmatamata.co.nz
08 Walk the Rapurapu Kauri Track
You will need to walk through a variety of forests, including exotic forests and native bush, in order to reach some of the most southernly growing kauri in New Zealand. The one-way trek takes 1 hour and 30 minutes and follows a stream, which you will have to cross multiple times. Before accessing the boardwalk, a creek provides some of the most spectacular views of the kauri. The Kaimai Summit, which is only 4 kilometers distant, is reachable via a pleasant stroll.
Official website: www.doc.govt.nz
09 Taste Some New Zealand Cheese & Visit Kaimai Cheese Company Limited
Our itinerary for Matamata continues with a delectable treat for the taste. Since dairy production is New Zealand's primary economic activity, the country must be doing something right. The New Zealand cheese at Kaimai Cheese in Waharoa will satisfy even the most discerning cheese connoisseur. You can even see the cheese being made through a glass window.
The Kaimai Cheese Company Limited is based in a recreation of a New Zealand butter factory that was operational in the 1920s and is situated about seven minutes by car from the heart of Matamata. Visitors to this plant will be able to observe cheese makers at work and even sample the cheeses produced here through dishes offered on the café menu.
Official website: www.kaimai.co.nz
10 Kaimai Mamaku Conservation Park
Matamata is less than an hour away from one of the public parks in Aotearoa, New Zealand, that could be better known. Explore historic gold mining trails that date back to the 19th century. A region within the Kaimai Ranges that is dormant and sleeps soundly in its valleys and summits. The bicycle paths and short hikes are beautiful and come with a wealth of history and character.
It is fascinating to learn that New Zealand's most valuable gold strikes were found in a particular location. It is highly recommended that visitors take the time to explore Karangahake Gorge, which is located within Kami Mamaku Conservation Park. Explore the Kaimi Mountain Range, its history, and the mysteries behind the regenerating bush on a day excursion beginning in Matamata and lasting up to 24 hours.
Official website: www.doc.govt.nz
Best Time to Visit Matamata
Matamata is most enjoyable to tourists during the summer, which is from March through May. Because of the pleasant weather, everyone in town has decided to go out and enjoy themselves. You can be sure that all of the neighborhood watering holes will be teeming with life and people. Matamata is most pleasant in the summer, but this is also the busiest travel season in the surrounding area, so you may expect to pay more for lodging and transportation.
Fall (March to May)
This season feels moderate because of the combination of humidity and temperature. Between 75.1°F (23.9°C) and 61.2°F (16.2°C) are the highs, with the later months seeing cooler temperatures. With 6 to 8 days of heavy precipitation per month, rain is quite frequent. Fall is a wonderful time to hunt for offers because it is a relatively sluggish season for tourists.
Winter (June to August)
Middle-of-the-year months typically feature chilly conditions with brisk highs. Precipitation averages 8-9 days a month during these months. Matamata experiences its second-highest influx of visitors during the months of June and August, which means that housing and other types of lodging may be slightly more expensive during this time.
Spring (September to November)
Despite the wind and humidity, the average high temperature in the spring is still a pleasant 72.2 degrees Fahrenheit (22.3 degrees Celsius). From four to seven days per month, precipitation of some kind is common. Since fewer people travel during this time of year owing to the weather, lodging costs may be lower.
Summer (December to February)
Travelers in search of balmy weather will find that Matamata does not disappoint at this time of year. Temperatures around this time of year typically range from a high of 76.8 degrees Fahrenheit (24.9 degrees Celsius) to a low of 71.9 degrees Fahrenheit (22.2 degrees Celsius). It rains or snows about four to seven times a month on average. Most visitors come during these periods.
Bonus Spots
Wallace Gallery
Get Awesome Views from the Te Panui Scenic Reserve
Matamata Golf Club
Stone Hill Horse Trek
You May Also Like:
Take only memories, Enjoy your trip, & Leave only footprints

TEL