The Rocky Mountain National Park is an amazing location for taking pictures. Remember to bring your camera. Rocky Mountain National Park has so much to shoot that you could spend your entire lifetime exploring and taking pictures of this breathtaking location. With good cause, Rocky Mountain National Park is one of the most visited national parks in the US. Three hundred fifty miles of hiking routes, numerous mountain lakes, and an abundance of animals are present there. You won't miss astrophotography either if you visit. So, let's explore the best photo spots in Rocky Mountain National Park.
Can You Take Pictures in Rocky Mountain National Park?
Yes, taking photos for personal use is normally permitted in Rocky Mountain National Park. Nevertheless, a permit would be necessary if the images are intended for commercial use, such as for a company or newspaper. Also, there can be some park sections where photography is prohibited for the sake of safety or the environment. Before shooting pictures in any national park, verifying with the park officials or reviewing park laws is a good idea.
Best Photo Spots in Rocky Mountain National Park
Here are some of the park's top vantage locations and some tips for taking beautiful pictures:
Trail Ridge Road: This 48-mile stretch of picturesque road features various breathtaking vistas, such as Many Parks Curve, Rainbow Curve, and Forest Canyon Overlook.
Bear Lake: The mountains that surround this gorgeous alpine lake provide stunning reflections of the landscape.
Moraine Park: This vast meadow is encircled by lofty peaks and provides breathtaking views of the neighbouring mountains.
Longs Peak: The tallest mountain in Rocky Mountain National Park, this recognizable peak offers breathtaking views from many locations, including Chasm Lake and the Longs Peak Trailhead. To get a close-up view of the peak and its surroundings, use a telephoto lens.
Sprague Lake: This placid body of water is encircled by mountains and reflects the surrounding landscape in breathtaking ways.
Tips for taking beautiful pictures at Rocky Mountain National Park:
Use a tripod
Use a polarizing filter to improve colors and help with glare reduction.
The hour after sunrise and the hour before sunset both provide soft, warm light that is ideal for taking beautiful pictures.
Look for attractive foreground components: Adding foreground components to your images, such as trees, logs, rocks, or wildflowers, can give them more depth and appeal.
Try out several compositions: If you want to get the perfect shot, don't be afraid to try out various compositions and angles.
What are the Best Trails for Photography in Rocky Mountain National Park?
Dream Lake Trail: Because of its breathtaking vistas of Dream Lake and the neighboring mountain peaks, this trail is a favorite among photographers. The trail is classed as moderate and is about 2.2 miles round trip.
The path leading to Emerald Lake: This trail provides breathtaking views of Emerald Lake and the surrounding hills. The trail is classed as moderate and is roughly 3.6 miles round trip.
Alberta Falls Trail: Views of the beautiful Alberta Falls and the neighboring forest are available from this hike. The trail is around 1.6 miles round trip.
Sky Pond Trail: This more difficult option provides breathtaking Sky Pond and Glass Lake vistas. The trail is classed as difficult and is roughly 9.8 miles round trip.
When shooting on the trails,
Start in the golden hour and use a tripod to help stabilize the camera in the best spots. Try new and different perspectives and angles to shoot while searching for interesting foreground things such as wildflowers, insects, rocks, etc.
Bring lots of water, healthy snacks, and hiking gear that is appropriate for the route you intend to trek. Always respect the natural habitat and stick to established trails.
What are the Best Times of Day for Photography in Rocky Mountain National Park?
The ideal time of day to take photos is typically in the morning due to the terrain of Rocky Mountain National Park. The warm natural light of the dawn illuminates the mountains in the early morning. This can result in spectacular photos. The greatest place to view Longs Peak's glowing backside and the sun setting over the Never Summer Mountains in the evening is at the top of Trail Ridge Road.
These are a few wonderful spots to see the sunrise:
Lake Sprague
Dream Lake
Moraine Park
Here are a few fantastic spots to see the sunset:
Bear Lake,
Forest Canyon Overlook
Gore Range Overlook
Rock Cut (all are on Trail Ridge Road.)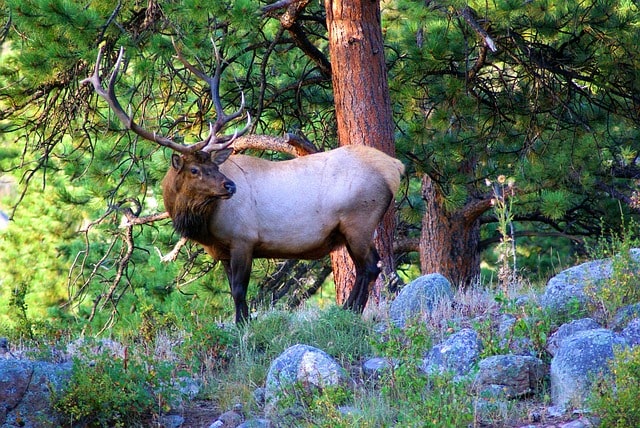 What are the Best Locations for Wildlife Photography in Rocky Mountain National Park?
Rocky Mountain National Park is home to diverse wildlife, including moose, elk, black bears, bighorn sheep, and mountain lions.
Explore the following locations for wildlife photography:
During the fall rutting season, Moraine Park's vast meadow is an excellent place to see elk. Here, the elk congregate for mating and territorial defense.
Bighorn sheep are widely regarded as having a high population in Upper Beaver Meadows. Watch for sheep scaling the rocky cliffs or grazing on the green meadows.
Kawuneeche Valley, Moose, and elk are among the many animals that call this picturesque valley home.
Don't miss Trail Ridge Road. This beautiful road offers breathtaking views of the valleys and mountains in the area as well as chances to see elk and bighorn sheep.
To get up close and personal with wildlife without interfering with their normal activity, use a telephoto lens. It takes persistence and patience to capture wildlife on camera. Use a fast shutter speed to capture the action of moving wildlife and produce clear shots. Observe and respect wildlife and its habitat. Always maintain a safe distance and steer clear of causing harm to wildlife or their habitat. Keep in mind that they live in their home and that we are just guests.
What are the Best Locations for Astrophotography in Rocky Mountain National Park?
Trail Ridge Road:
Reaching above the treetops, this trail offers unrestricted and wide night sky views for stargazers and photographers Almost anywhere along this well-travelled road, it offers views of the milky way, planets, and stars, which appear to go on forever.
Bear Lake:
Any lake is suitable for stargazing, although we advise beginning with Bear Lake. It is the best option because of its simplicity of access and lovely surroundings. The lake provides an added aspect and makes the ideal backdrop for a magnificent star reflection.
While capturing the sky in RMNP, a high-end camera isn't absolutely necessary, but it is advised to possess a good lens that can attain a wide-angle lens at roughly 20mm and a wide aperture.
Use the widest aperture that your lens will allow and a shutter speed of roughly 20 seconds.
If necessary, raise or adjust your ISO.
Use a tripod.
It is frequently advised to set a timer or use a remote shutter release to prevent even greater camera instability.
Snap pictures in RAW format.
Your white balance should be set to auto.
You May Also Like:
Take only memories, Enjoy your trip, & Leave only footprints

TEL