Every year during the fall season, Pumpkin Patches give a collection of fun from August to November. Halloween spirit is the main event, and you have a lot of entertainment you can enjoy during these periods. Also, if you are a "Lord of the Rings" fan, you will remember Hobbiton village with its pumpkin patches.
It's time to select the ideal pumpkin for cooking, carving, or painting. In the Lone Star State, there are a lot of pumpkin patches. These area farms all include pumpkin patches, and they all provide plenty of fall activities like hayrides, petting zoos, and mazes. In addition to having a nice family day, pick up a pumpkin at one of these top pumpkin patches in Texas.
Why do people go to the pumpkin patch?
A visit to a pumpkin patch will make you want to celebrate Halloween and the fall season every year. A great way for you and the kids to connect is in pumpkin patches, which are enjoyable for the whole family. Let them take the initiative in navigating the corn maze by showing them where to discover the appropriate pumpkin!
What do people do in a pumpkin patch?
Corn mazes, hayrides, petting zoos, train rides, bounce houses, and other entertaining features are offered at some. The only purpose of other pumpkin patches is to find pumpkins. Three different pumpkin patches are available: pick-your-own, previously harvested, and church grounds.
Top 10 Pumpkin Patches in Texas
01 Evergreen Farms, Elgin
Evergreen Farms is well-known for its Christmas trees, but the farm also holds a pumpkin patch every October. Even a pumpkin hunt takes place on the weekends. Kids and kids-at-heart go on a similar Easter egg hunt to find tiny pumpkins buried among the Christmas trees. In addition to these inexpensive extras, Evergreen Farms provides a pumpkin maze, a bounce house, face painting, and fire truck rides.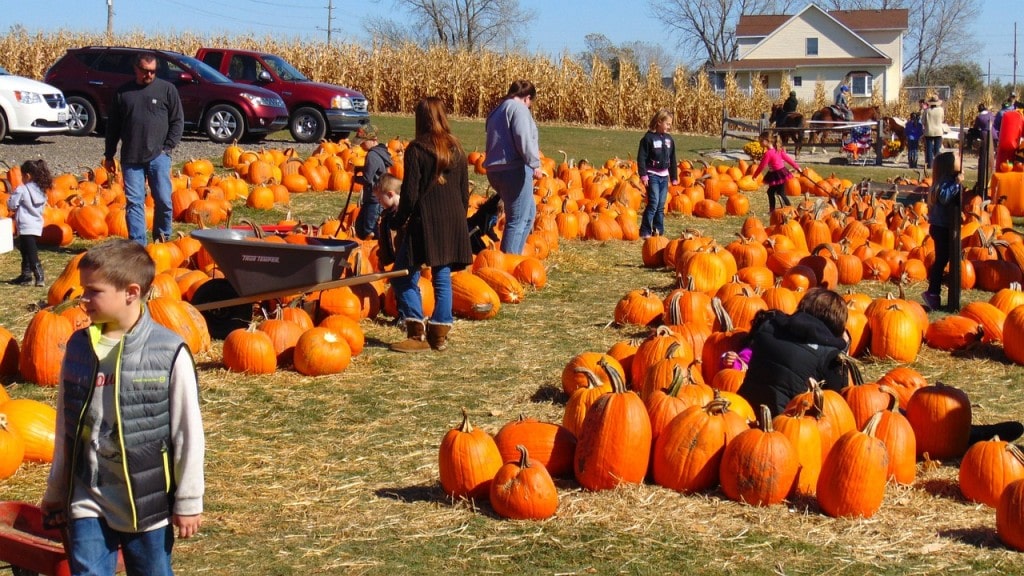 02 Autumn at the Arboretum, Dallas
One of the most stunning pumpkin displays is at Dallas Arboretum & Botanical Garden during their Autumn at the Arboretum event. Over 90,000 pumpkins and other gourds make up the one-acre pumpkin village. From the end of September through the end of November, the arboretum transforms into a picture-perfect setting. This Dallas pumpkin farm is unlike any other, offering not only a fantastical pumpkin realm but also beautiful autumn flowers.
03 Sweet Berry Farm, Marble Falls
Every autumn, Sweet Berry Farm, which is located in Marble Falls, hosts an event called the Harvest of Fall Fun. On the other hand, if you and your family are looking for something to do on a wonderful fall day, there are lots of different things that you and your family can participate in.
You can test your mettle in the corn maze, indulge in homemade ice cream prepared with farm-fresh ingredients, or stuff your scarecrow. The mini-maze, face painting, horseback riding, sand art, and pumpkin painting are all fun for kids. This farm, well-known in the summer for its delicious strawberries, is now a well-liked fall destination.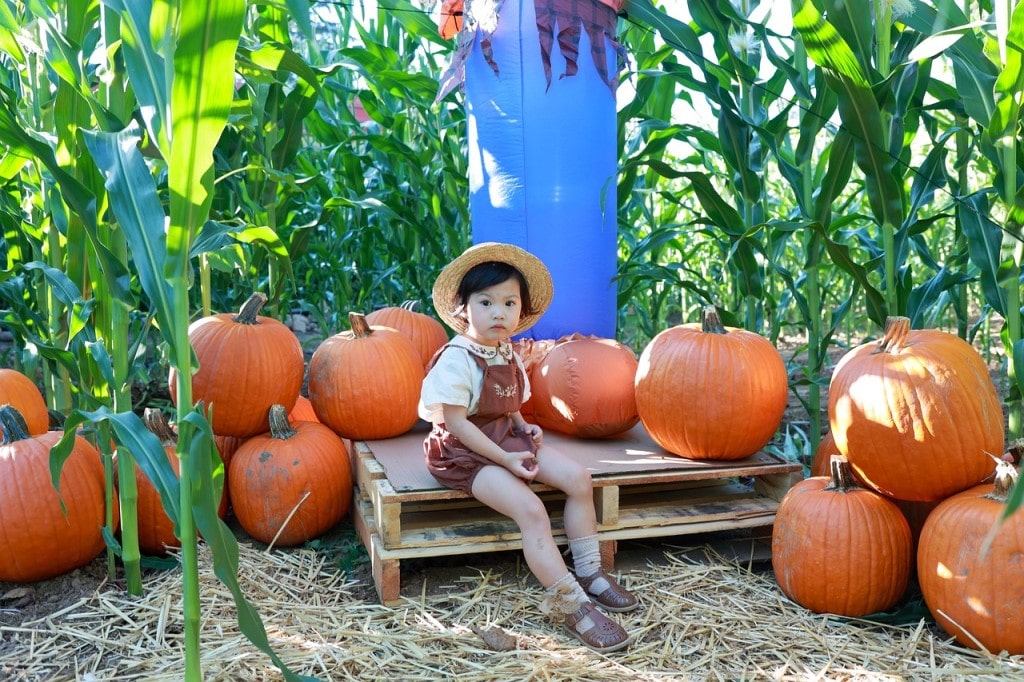 04 The Great Hill Country Pumpkin Patch at Love Creek Orchards, Medina
Apples from Love Creek Orchards are among the most well-known varieties farmed in Texas. But once autumn arrives, Love Creek Orchards welcomes visitors to the Great Hill Country Pumpkin Patch. Many families visit Love Creek Pumpkin Patch every October, and it's not only to pick a perfect gourd. Take a picnic and visit Love Creek Orchards, home to the Great Hill Country Pumpkin Patch, a popular fall destination for Medina locals because of its hayrides, hay bale maze, and petting zoo.
05 Barton Hill Farms, Bastrop
Barton Hill Farms is one of Texas's most picturesque pumpkin patches just south of Austin. Barton Hill Farms is a family-run farm in Central Texas with a large pumpkin patch and many other attractions. The parents will enjoy the Biergarten, corn hole, and BBQ. Youngsters will have a blast getting their faces painted and getting lost in the 3.5-acre corn maze.
06 The Flower Mound Pumpkin Patch, Flower Mound
The Flower Mound Pumpkin Patch at Double Oak Ranch is one of the least expensive options. Pricing for pumpkins begins at just $2, and while admission is free, parking will cost a few dollars. Explore the pumpkin patch and its many different kinds of pumpkins and gourds. This season, you can also check out the mazes, bouncy houses, hayrides, and children's playgrounds available. It's the ideal place to enjoy a crisp autumn day because of the on-site dining and drinking options.
07 The Big Orange Pumpkin Farm at Preston Trail Farms, Gunter
Bring the kids to the Big Orange Pumpkin Farm at Preston Trail Farms for the best pumpkins this fall. Children can understand the plant's life cycle by observing pumpkins develop in their natural environment. Nonetheless, Preston Trail Farms has more than just a pumpkin field to attract visitors in the fall. More than 50 farm animals can be petted at the petting zoo, and visitors don't have to pay extra to feed the animals. Check out the roping arena, the hay labyrinth that's six feet high, and the hay ride while you're there.
08 Hall's Pumpkin Farm, Grapevine
For almost twenty years, Hall's Pumpkin Farm has brought joy to the fall season for Grapevine residents. Pick a pumpkin fresh off the vine or select one of the many that have already been harvested and are arranged around the farm. In addition to picking out the perfect pumpkin, visitors may also take advantage of the hayrides and two-acre corn maze available on weekends.
09 Texas Pumpkin Fest
Texas Pumpkin Fest (LLC) has allied with the VFW in Leander to provide more activities, parking, pumpkins, and gourds than in the past. In addition to a ridiculous number of pumpkins and gourds, guests can enjoy several rides and games and be frightened by animatronic monsters and zombies in the "Tent of Terror."
For over 30 years, the Texan Pumpkin Festival clan has been cultivating pumpkin patches, and this year looks the best.
10 Shadow Creek Pumpkin Farm
Explore over 25 acres of shaded autumn farm experiences as you enter under a canopy of trees and make your way down walkways lined with pumpkins. Shadow Creek has everything a family needs for a fun day out farm animals, antique tractors and machinery, pumpkins of every size and shape, hayrides, a corn maze, a GIANT jumping pad, swings, and games. Midlothian, Texas, about 30 min south of Dallas and Fort Worth, has a traditional, Texas-proud, autumn atmosphere that the whole family will enjoy.
What is the history of a pumpkin patch?
The custom originated in the 1920s and gained traction in the decades following the end of World War II as a result of the baby boom in suburban areas. Children in the neighborhood are greeted by pumpkins that range from a simple jack-o'-lantern to more ornate displays.
In the fall, it is a very American custom to go on a trip to the pumpkin patch; however, it is becoming increasingly normal for families to go to makeshift patches set up on street corners or get pumpkins from the neighborhood grocery store. This is the story of how the American practice of visiting a pumpkin farm started!
What is the largest pumpkin patch in the world?
It is said that Bishop's Pumpkin Farm in Wheatland is the largest pumpkin farm in the world, and since there is no price for admittance, it is one of the top free tourist attractions in the area. The farm is located approximately 45 minutes north of Sacramento.
Final thought
As a pumpkin patch lover, you can find a lot of options in Texas. This is the perfect time to allocate your time to your family and more events. During your Texas journey, don't forget to visit Marshall with our "Best Things To Do In Marshall" post. During pumpkin patch activities, remember to pay attention to your children and give them freedom to play. Finally, we wish a happy pumpkin patch and a happy Halloween to you and your family.
Take only memories, Enjoy your trip, & Leave only footprints

TEL